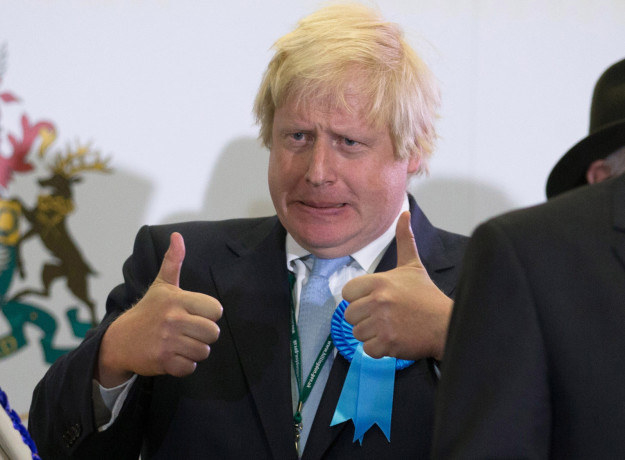 Boris Johnson wrote a newspaper column setting out the case for Britain staying in the EU just two days before he backed Brexit, it has been revealed.
The previously unpublished article, revealed for the first time by the Sunday Times today, was written in February, two days before Johnson put himself forward as a figurehead of the Leave campaign alongside Nigel Farage and Michael Gove.
In the article, written four months before the referendum, Johnson invited his readers to "shut your eyes. Hold your breath. Think of Britain. Think of the rest of the EU."
He asked them to look to the future and "think of the desire of your children and your grandchildren to live and work in other European countries; to sell things there, to make friends and perhaps to find partners there".
He continued: "Ask yourself: despite all the defects and disappointments of this exercise – do you really, truly, definitely want Britain to pull out of the EU ? Now? This is a big thing to do, and there is certainly a strong political-philosophical imperative leading us to the door."
Following its publication, Johnson defended the "semi-parodic" article, which he said "has mysteriously found its way into the paper this morning because I think I might have sent it to a friend".
Speaking to reporters outside his London home on Sunday, Johnson said that in February, "like I think a lot of people in this country", he found himself wrestling with whether or not he believed Britain should leave the EU.
"I wrote a long piece which came down overwhelmingly in favour of leaving; I then thought, I'd better see if I can make the alternative case to myself," he said.
"I set them side-by-side and it was blindingly obvious what the right thing to do was.
"I think the people made the right decision. They voted very substantially to leave the European Union and that is what we're going to do and we're going to make a great success of it."
But despite now dismissing the article as a personal exercise in decision-making, in it, Johnson wrote that there were some "big questions" that Leave campaigners would need to answer in the event of a Brexit vote. The real-life consequences of those questions, including the plummeting value of the pound and tensions with pro-EU Scotland, have characterised Theresa May's "hard Brexit" stance since her post-referendum ascent to prime minister.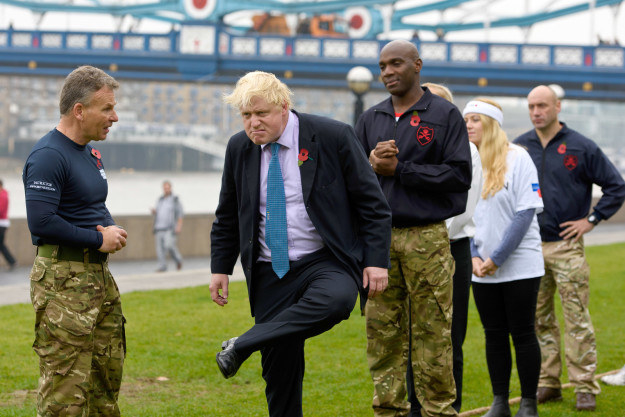 "Almost everyone expects there to be some sort of economic shock as a result of a Brexit," Johnson wrote in February. "How big would it be? I am sure that the doomsters are exaggerating the fallout — but are they completely wrong? And how can we know?"
The value of the pound has continued to drop since the referendum, reaching its lowest point yet following the Conservative party conference in October, where May and other senior ministers laid out uncompromising Brexit plans.
"And then there is the worry about Scotland, and the possibility that an English-only 'Leave' vote could lead to the break-up of the union," Johnson continued in the column published today. "There is the [Vladimir] Putin factor: we don't want to do anything to encourage more shirtless swaggering from the Russian leader, not in the Middle East, not anywhere."

Since voting to leave the EU, Johnson, who is now foreign secretary, has said of Britain's exit negotiations that "our policy is having our cake and eating it. We are Pro-secco but by no means anti-pasto."
Cake seemed to be on his mind in February as well: "Shouldn't our policy be like our policy on cake – pro having it and pro eating it? Pro Europe and pro the rest of the world?"
Laying out aims for the impending negotiations this week, however, European Council president Donald Tusk proposed a "simple experiment" to anyone who may have bought into Johnson's declared cake philosophy.
"Buy a cake, eat it, and see if it is still there on the plate," Tusk said. "The brutal truth is that Brexit will be a loss for all of us. There will be no cakes on the table. For anyone. There will be only salt and vinegar."

A source close to Johnson has said he wrote the article before writing an alternative, and ultimately published, Leave version as a way of untangling his thoughts, and much of it is sympathetic to his subsequent pro-Brexit stance.
"I can see why people might just think, to hell with it. I want out. I want to take back control of our democracy and our country," he muses in the February column. "If you feel that, I perfectly understand – because half the time I have been feeling that myself. And then the other half of the time, I have been thinking: hmmm. I like the sound of freedom; I like the sound of restoring democracy."
Johnson wrote he wished Cameron's pre-referendum negotiations in Brussels had been more successful.
"It was going to be a moment for the ringing of church bells and bonfires on beacons, and union flags flying from every steeple, and peasants blind drunk on non-EU approved scrumpy and beating the hedgerows with staves while singing patriotic songs about Dave the hero," he wrote.
"I don't think we can pretend that this is how things have turned out."
The column has now been published for the first time as part of a new book, All Out War by the Sunday Times' political editor, Tim Shipman, which looks at the in-fighting within the Conservative party around the referendum.
The book also claims Johnson "wanted to punch" Gove when his former ally launched a post-referendum leadership campaign that forced Johnson to abandon his own, and that Johnson only backed Brexit as a result of Cameron's reluctance to delay the vote.