Irish Women Are Worried Brexit Will Make It Harder To Travel To The UK For An Abortion
"We can't see Britain post-Brexit as an extension of Ireland's health service. It's not going to function like that," Ailbhe Smyth, a leading abortion rights campaigner, told BuzzFeed News.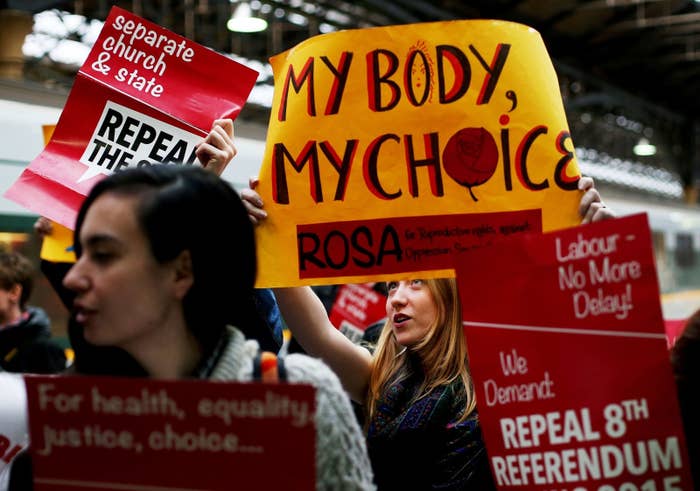 A leading campaigner for abortion rights in Ireland has expressed concern that post-Brexit border controls could make it harder and more expensive for Irish women to travel to Great Britain for an abortion.
Every year around 3,600 women travel from Ireland to the UK for abortions as a result of the eighth amendment of the Irish constitution, a law that prohibits the procedure in all circumstances unless the mother's life is seen to be at immediate risk. Abortion is also illegal in Northern Ireland, where the 1967 act, which allows women in the rest of the UK to access abortion, was never applied.
"We can't just see Britain post-Brexit as an extension of a health service
for people from this country. It's not going to function like that," Ailbhe Smyth, convenor of the Coalition to Repeal the Eighth Amendment, told BuzzFeed News.
"We have relied on Britain to 'solve' the reality of abortion for Irish women," she continued. "We take that for granted, and I am raising a question mark and saying, should we be taking this for granted? No, we should not, but I'd be willing to bet my bottom dollar that [Irish prime minister] Enda Kenny and Theresa May didn't raise the issue on her recent visit to Ireland."

The border relationship between Britain and Ireland will be a key issue in Brexit negotiations between the two countries, and Smyth is worried that if tougher border controls were brought into place, it would be more complicated to travel to the UK at short notice.
This week it emerged that plans for a "hard border" with customs checkpoints between Northern Ireland and the Republic of Ireland had been discussed by the government in Dublin, despite Kenny insisting this was not an option, which could indicate that travel to the rest of the UK could also prove more difficult than at present. If, for example, people were required to apply for an ESTA-style visa – as is currently the case for travel to America – a cost could be incurred, or travel could be delayed.
"Women are already leaving Ireland with a sense of difficulty, stigma, worry, and
distress at having to travel to get an abortion in Liverpool, Bristol, London,
or wherever," Smyth said. "The idea that there would be border controls of any kind
would add immeasurably to that."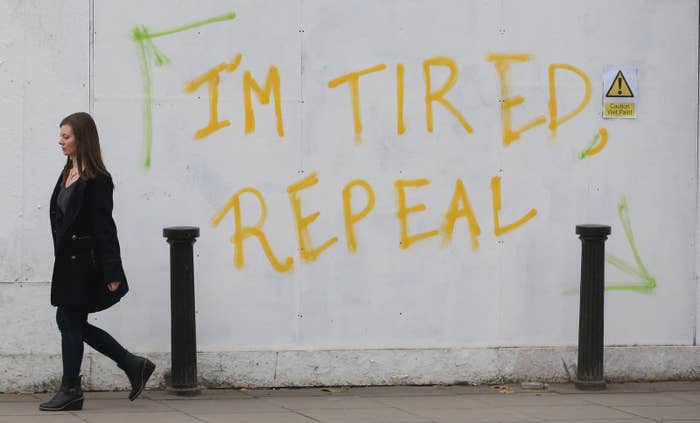 Smyth felt that the current conversation around border controls spotlighted what she considered to be Ireland's "outsourcing" of abortion to Britain.
"Women from this country have to pay the price for that outsourcing and suffer not only economically, but suffer emotionally and in terms of their wellbeing and health for this process," she said. "It's time for this now to be ended.
Accessing abortion is already fraught with complication for women from Ireland and Northern Ireland. The cost of travel to England, and paying to undergo the treatment privately, can total as much as £1,000, an impossible amount for many women to access at short notice.
Women from Northern Ireland who travel to anywhere in the rest of the UK are not entitled to free abortion services via the NHS and are also required to pay for private treatment. It is also not guaranteed they will be able to access appointments.
Leading abortion provider Marie Stopes was recently forced to place restrictions on booking appointments for Irish women in order to prioritise an increase in demand for NHS appointments for English women, although the British Pregnancy Advisory Service (BPAS), which also provides abortions in the UK, was able to offer appointments instead.
As a result, many women will turn to online providers such as Women on Web to purchase medication to carry out a chemical abortion at home, although this is also illegal and can have serious consequences. Women in Ireland and Northern Ireland face up to 14 years in prison for procuring an illegal abortion. Last year a woman in Belfast was handed a one-year suspended sentence for using abortion pills, and a mother is currently appealing against a court's decision to prosecute her for obtaining abortion pills for her then-15-year-old daughter. Thousands of abortion pills are seized by Irish customs every year, meaning they never reach many women.
"Women go ahead and they have the baby, and that's it," Smyth said. "They struggle, they cope, they manage, and they love the baby."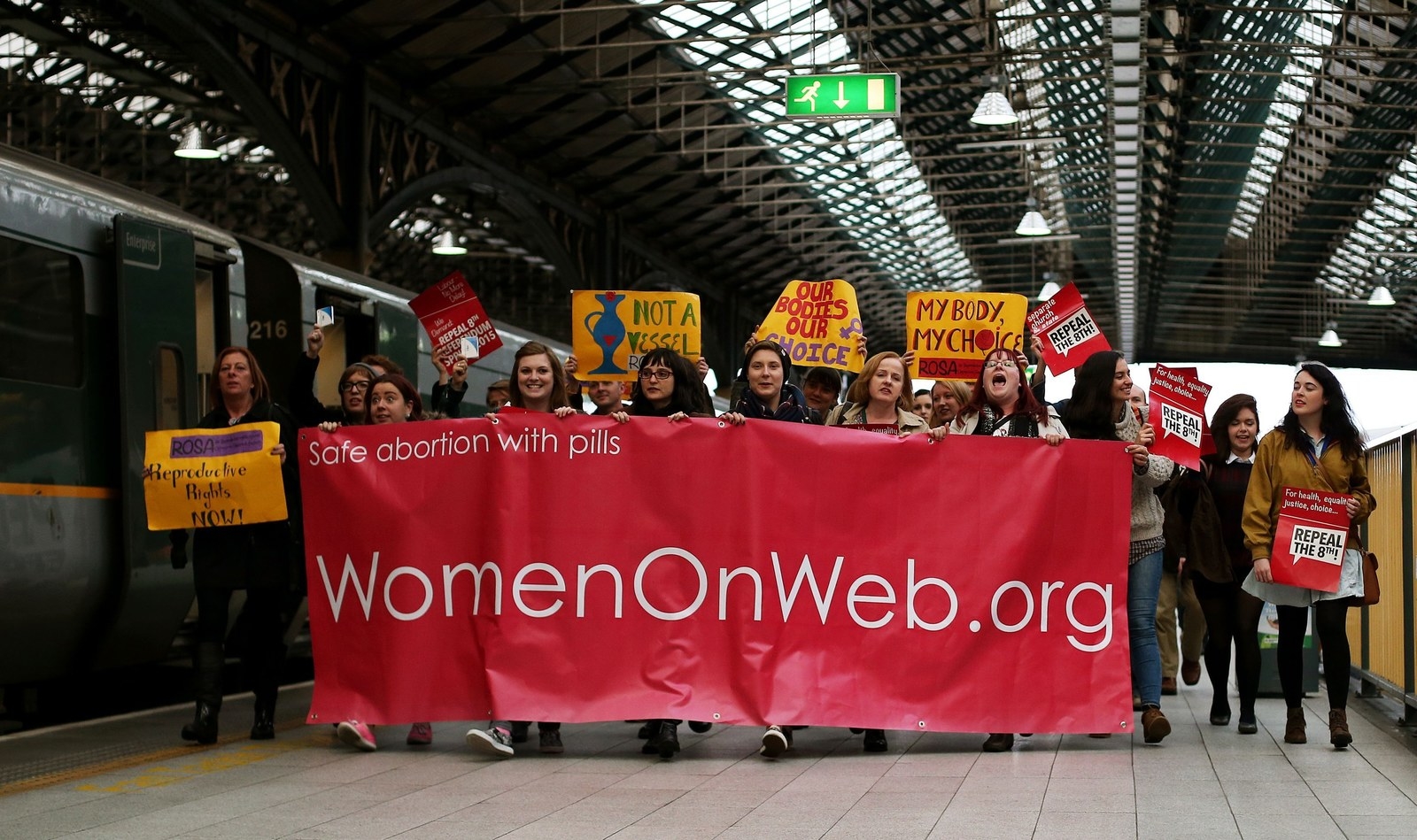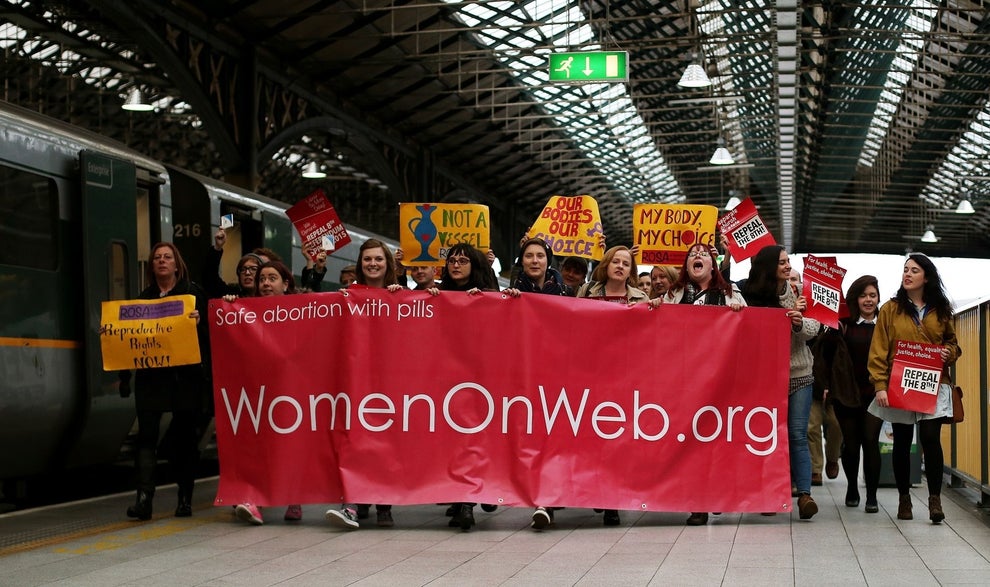 A spokesperson for BPAS told BuzzFeed News that the Irish government needs to reform its constitution to end Irish women's reliance on abortion services in the UK. "As the recent suspension of Marie Stopes services highlights, women in Ireland are totally dependent on services in Britain for access to care many of us take for granted," the spokesperson said.
"Because charities like BPAS step in to provide the care they need, Irish politicians have been able to ignore the problems women face," they continued.
"The best way to protect Irish women is for Irish politicians to legislate so women can access care at home – they should not need to travel in the first place."
They agreed that a change in border relationships between the UK and Ireland could pose problems for Irish women seeking abortions in Great Britain.
"Most women who have abortions are already mothers – they cannot simply abandon their responsibilities and leave the country. It is entirely possible that Brexit will make travel more complicated, which would create another set of obstacles for Irish women."
A spokesperson for Marie Stopes also believes that conversations around Brexit highlight the need for reform around abortion in Ireland.
"The legal time limit in the UK is 24 weeks, so if a woman needs an abortion it is crucial she is able to access care as quickly as possible," they said. "Brexit could add further levels of bureaucracy at a point when time is of the essence.
"If the governments in Belfast and Dublin do not address this glaring inequality women in Ireland will continue to suffer, and sadly it is the most vulnerable women without the money to pay for passports and visas who will be disproportionately affected."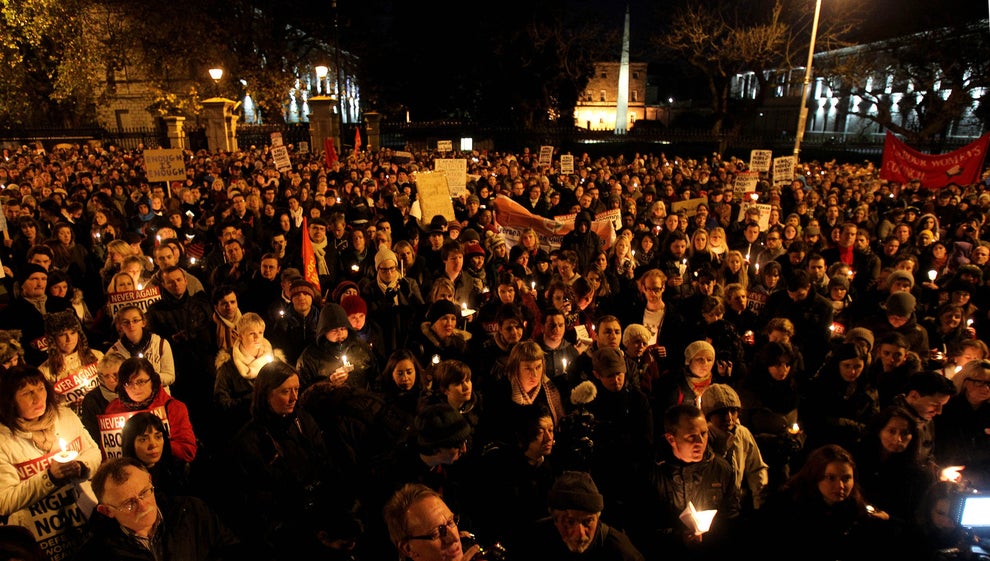 Smyth, who has been actively campaigning for a referendum on repealing the eighth amendment of the constitution since she co-founded the coalition of organisations working to highlight the issue in 2013, remained confident that a decision could be put to a public vote soon, meaning women in Ireland could access abortion services at home before border controls even became an issue.
In recent years, polling has shown a steady increase in public support for legalising abortion in Ireland, with 67% of people saying they would vote in favour of repealing the eighth amendment, according to Ipsos Mori.
"I would very much prefer that we put all the problems on the table now," Smyth said. She believes that a referendum could be on the horizon within 12 to 18 months.
"It's obviously not only because of Brexit that we need a referendum in that time,
there are so many factors involved in this, but at this stage I do think we should be having a referendum by 2018 at the latest. These are very real problems that dog women from this country."
Spokespeople for both the British and Irish governments did not immediately respond to our requests for comment.
CORRECTION
Abortion is illegal in Northern Ireland as the 1967 act, which allows women in the rest of the UK to access abortion, was never applied there. A previous version of this article stated that the same law prohibited abortion in Northern and the Republic of Ireland.