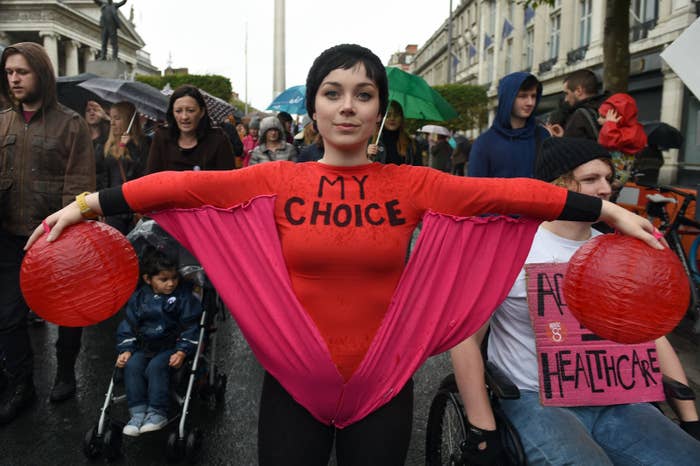 The prospect of abortion being legalised in Ireland moved a step closer at the weekend after an advisory group of members of the public indicated they would like to see radical reform to the country's abortion laws.
Abortion is currently illegal in almost all circumstances in Ireland. The eighth amendment of the constitution states that the procedure can only be carried out if a women's life is in immediate danger.
On Saturday, 87% of the 99 members of the Citizens' Assembly – a group of ordinary people established by prime minister Enda Kenny to advise on changes to the law regarding several key issues – voted in favour of repealing the eighth amendment.
Any change to the law would need to be supported by a public referendum, the terms of which would be informed by conclusions reached by the assembly and decided by a government committee that is now being established.
While campaigners for increased access to abortion had expected the assembly to support some degree of change to the law, they did not anticipate that its recommendations would sway so far in the favour of unconditional choice.
Sixty-four per cent of members felt women should be able to access abortion for any reason, as opposed to solely in the cases of rape, incest, or health concerns such as fatal foetal abnormality.
Ailbhe Smyth, the convenor of the Coalition to Repeal the Eighth Amendment – a group of more than 80 charities campaigning for abortion rights in Ireland – told BuzzFeed News she found the liberal stance taken by the assembly "incredibly heartening".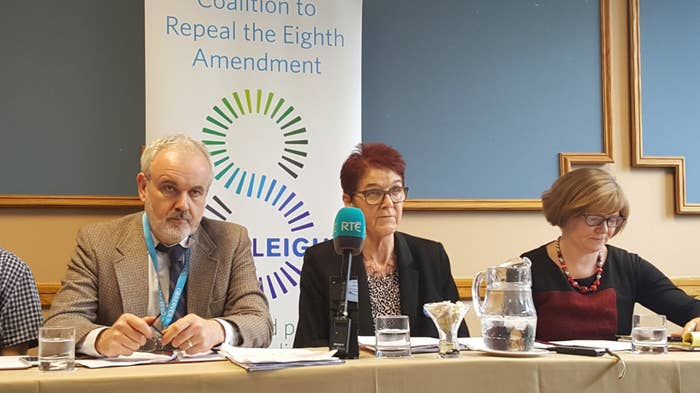 "It's a huge milestone," she said. "It's absolutely momentous to find 99 people who were in the room, who have no prior commitment to this issue, coming to the conclusion that the best way forward is ensuring women can get abortions in this country for a very wide range of reasons.

"I think most of us felt quite overwhelmed by the extent to which things like socioeconomic reasons were considered by assembly members.
"It's indicating that people are recognising very specifically and explicitly that women have abortions for all kinds of reasons, and while many of them have to do with health, in fact the majority probably don't."
Rita Harrold, a spokesperson for ROSA ("for Reproductive rights, against Oppression, Sexism and Austerity"), agreed that considering abortion rights for socioeconomic as well as health reasons was groundbreaking.
"It's a clear, progressive recommendation," Harrold told us. "I think it's really indicative of the fact that while a lot of people wouldn't necessarily want an abortion for themselves, they understand that having a child is a very difficult thing and a huge financial burden.
"In Ireland, the group most likely to live in poverty are single parents, and the majority of those are women. I think it shows a clear basis on which we can win support for repeal on that ground."
Of the 64% of members of the assembly who voted that women should be able to access abortion for any reason, 48% believed this should be permitted up to 12 weeks of gestation, and 44% agreed abortion should be allowed up to 22 weeks. 8% did not think there needed to be a limit on gestational age.
In the UK (Northern Ireland aside), although abortion is not technically legal, women can access abortion up to 24 weeks if the pregnancy poses her a mental or physical risk and at any stage if there is a substantial risk the child will be born with severe physical or mental abnormalities.
"The possibility of requesting an abortion for no reason up to 12 weeks is very positive, and while that won't suit everyone, it will help most people," Harrold said. "Most abortions are early abortions."
There had been some concern that only "small doses of abortion" would be permitted, such as in the cases of fatal foetal abnormality, where a foetus is not expected to survive the pregnancy, Smyth said. She added that she found it very interesting there had been an active move by the assembly to push for wider choice on abortion.
"I think that it's really an indication on how people's thinking is opening up and evolving very fast in this country about abortion," she said. "The topic of abortion was previously in lockdown except for in a very divisive way for such a long time."
Harrold felt that the assembly's decision "really knocks on the head the idea that we can bring in a 'good' regime of morally approved abortion".

The exact terms of a referendum would need to be decided by a government committee, a process which it's thought could take up to six months. The committee would be informed by a report on the conclusions of the Citizens' Assembly, which will be submitted by the assembly's chair, Justice Mary Laffoy, by June.
Harrold noted that considerations such as how women, particularly those of limited financial means, would access abortion services within Ireland's partially privatised healthcare system needed to be addressed. While those on low incomes are able to access health services for free at the point of use using a medical card, the issuing of such cards is means-tested and can potentially take longer than 12 weeks.
"When we say we want abortion up to 12 weeks, we want a high-quality service which is easy to access – we don't mean something that people can be excluded from," she said.
There is also concern that the government's plan to give the new €300 million National Maternity Hospital in Dublin to the Religious Sisters of Charity, an order of nuns, would severely restrict the hospital's ability to carry out abortions.
On Saturday, the bishop of Elphin said that if the nuns were to be made responsible for running the hospital, it would have to adhere to "Catholic teachings about the value of human life and the dignity and the ultimate destiny of the human person".
But Smyth remained confident the government would have to act meaningfully on the recommendations, particularly as it was the prime minister himself who had set up the Citizens' Assembly for this purpose.
"It would be really difficult for them to ignore those recommendations," she said. "They really can't do that without losing face politically and facing real public pressure."
Smyth said she and her fellow campaigners felt "vindicated" that there seemed genuine public support for the case around choice they have been arguing for decades.
"It's the right time to be doing it because people are coming to a much more open view," she said. "Now, it feels like it's very much more 'live and let live' than disapproval and judgment."