Here's Why Doctors Say Hospital A&Es Are In Crisis
Several NHS trusts declared major incidents this week as hospitals' emergency departments struggled to cope with a surge in demand.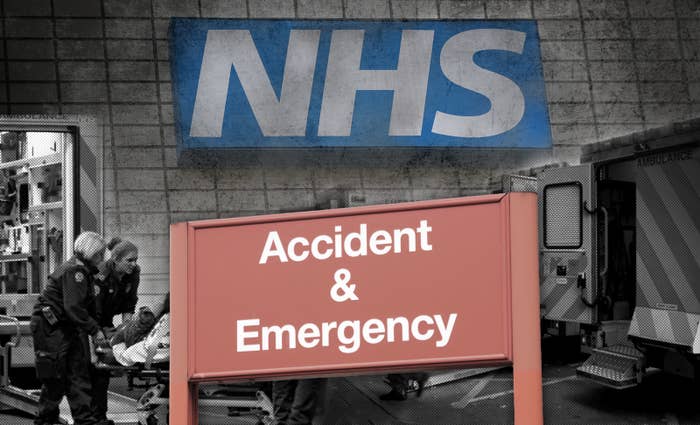 British A&E departments appear to be in crisis. Several hospital trusts' emergency departments declared major incidents this week, meaning they had capacity for only the most life-threatening injuries, while new reports of ambulances queuing to admit patients to overwhelmed A&Es also emerged.

Winter is always an especially busy time for the health service. As Katherine Murphy, chief executive of the Patients Association, told BuzzFeed News, "The cold and icy weather means people are more susceptible to infections and are more prone to accidents."

But with the NHS under more pressure than ever, as medical staff face an increasing number of patients with decreasing resources, the system appeared to be buckling as an icy January began.
A spokesperson for NHS England told BuzzFeed News that "the NHS's tried and tested plans are currently managing the ongoing pressures of this winter".

But according to doctors on the front line, accident and emergency departments were being hit especially hard.
"I had the worst night shift I have ever worked last night," said Dr David Rouse, an emergency medicine and intensive care registrar. "I've never seen so many patients waiting to be seen."
"It's been horrendous and entirely predictably so," Dr Dan O'Carroll, an A&E doctor from the West Midlands, told BuzzFeed News.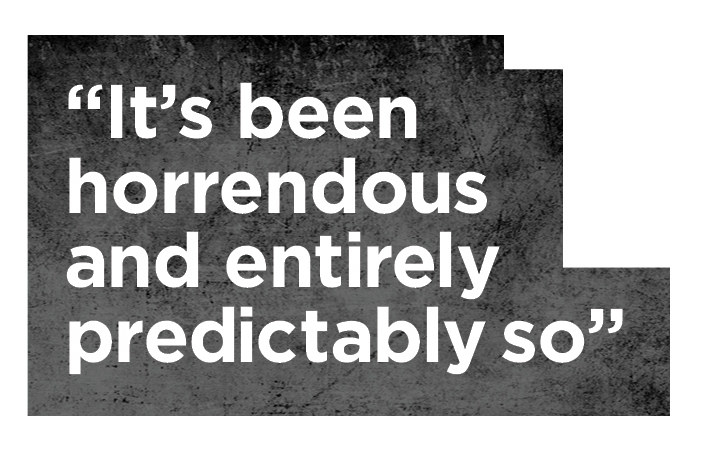 "Staff are working beyond the limit with shifts having to be extended and no breaks," he continued. "Frail elderly patients are being left in corridors as there's no physical space to see them. It's getting worse every year."
Murphy told us the Patients Association found it worrying that "this year there has been a noticeable clamour of voices from health and social care professionals that the workload is unmanageable".
So why is 2017 is already shaping up to be harder than ever in A&E?
There aren't enough hospital beds to meet such high levels of demand.
When BuzzFeed News asked a number of junior doctors what their greatest fear was for hospitals this winter, almost all told us there were simply not enough beds for the growing number of patients who needed them.
"There is no escalation money to open beds or extra resource as there has been in previous years," Stella Vig, a consultant surgeon, said.
A report by the Nuffield Trust found that last year 95% of hospital beds were occupied every single day last winter, already 10% above the safe recommended level of bed occupancy. On one Monday last January, 4 out of 10 hospital trusts reported bed occupancy levels of over 98%.
Higher bed occupancy makes it harder for A&E departments to admit patients within the four-hour target, resulting in longer waiting times and patients waiting on trolleys. O'Carroll told us he worried there was a "danger of us never consistently hitting the target ever again".
Dr Taj Hassan, president of the Royal College of Emergency Medicine, also believed the four-hour target was "deteriorating" in many trusts. "Unless more beds are made available throughout the system, and measures are taken to tackle exit block, the problem is unlikely to ease and indeed will certainly worsen," Hassan said in response to the Nuffield report.

This year, sustainability and transformation plans (STPs) designed to wipe out a £22 billion funding deficit in the NHS mean bed numbers could actually be cut even further, despite rising demand.
A poll of clinical commissioning groups (CCGs) reported by The Telegraph last autumn showed that 1 in 3 intended to close or downgrade A&Es over the subsequent 18 months, leading senior NHS figures to call on the Treasury for a cash injection to alleviate the crisis.
In November's budget, however, not only was no more funding granted, but also the NHS was not mentioned once in the 72-page Autumn Statement document.

A recent analysis of STPs by The Guardian found that thousands of beds are set to be lost in A&E and maternity care as units are downgraded or closed.

Acute district hospitals in Derbyshire, Bristol, north Somerset, south Gloucestershire, and southwest London looked likely to lose hundreds of beds each. Macclesfield, Milton Keynes, Teesside, and Hinchingbrooke were to have their emergency departments downgraded, while Bedford hospital would lose its A&E entirely.
"This is the reality of the NHS under the Tories: escalating pressures on A&Es while the NHS is experiencing the biggest financial squeeze in its history," Labour's shadow health secretary, Jonathan Ashworth, told BuzzFeed News. "Head-for-head NHS spending is set to fall."
Hospitals are struggling to discharge patients because of cuts to social care.
Social care services, which provide medical support in the community, have become dangerously overstretched. This means patients are forced to stay in hospital when they are no longer in critical conditions but can't be safely discharged without sufficient support at home.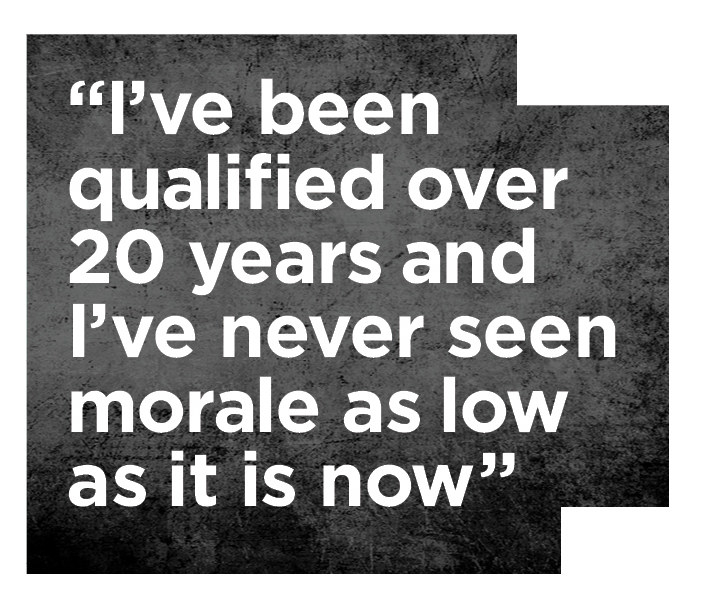 O'Carroll told us that during an excessively busy shift this week, he was "unable to discharge medically fit patients due to no social care".
Medical leaders and politicians have for months warned that social care is on the brink of collapse.
"Because social care budgets have been cut, there is not the correct care in the community, so patients are not discharged when they need to be," Dr Rosena Allin-Khan, Labour MP for Tooting and a former A&E doctor, told BuzzFeed News when we spoke to her last summer about mounting pressure in emergency departments.
"That means people can't move through A&E quick enough."

This week the Isle of Wight Hospital Trust also said it was struggling to free up beds. In a statement, a spokesperson explained: "The hospital has a limited number of beds and it is a challenge to manage the high number of people who are acutely unwell alongside those who could go home but cannot be discharged.
"We have a number of individuals who are medically stable but who cannot be moved out of the hospital for a number of reasons."
Despite calls for urgent funding to social care as the crisis came to a head around the time of the Autumn Statement, no extra money was allocated to the NHS.
Richard Murray, director of policy for independent health think tank The King's Fund, predicted that the oversight would exacerbate already intense pressures on the health service.

"This will impact on some of the most vulnerable people in society and so goes against the government's commitment to creating a country that works for everyone," Murray said.
Shadow health secretary Ashworth told us he believed that social care cuts are short-sighted.
"The upcoming cuts to community pharmacies will exacerbate problems," he added.
"The sad truth is Theresa May stubbornly ignores the warnings. It's time for the prime minister to urgently provide the NHS and social care sector with the funding settlement they need."

Ambulances are queuing outside A&Es because there's no room to admit new patients.
New data released this week showed that more than 6,000 patients per week in London were left stuck in ambulances outside A&E departments that were too full to admit them.
In Portsmouth on Monday, it was reported that a queue of 20 ambulances was waiting to admit patients outside Queen Alexandra Hospital's A&E.
"Patients are being cared for by ambulance staff while they await handover into the care of the hospital staff," a spokesperson for South Central Ambulance Service told Portsmouth local paper The News.

There has also recently been a huge increase in the number of ambulances that are turned away and sent to other hospitals. Data collected by The Guardian showed that in December, "redirects" had increased by 73% compared with the previous year.

Meanwhile, demand for ambulances is growing. Between 14 and 20 November, London Ambulance Service reported a 15% increase in patients in the most severe need compared with the same period the previous year. Staff attended 11,322 call-outs, and expected demand to grow throughout the winter.
But with ambulances stuck outside A&E departments caring for sick patients they're unable to admit, there are even less available to attend new calls.
"Regrettably the knock-on effect of the demand and the turnaround issues means an unfortunate delay for our patients as we try and handover our patients into the hospital so that we can assist our next patient," South Central Ambulance Service's spokesperson said.
There aren't enough A&E doctors to care for a rising number of patients.
A bitter battle between junior doctors and health secretary Jeremy Hunt over changes to doctors' working terms and conditions has exacerbated a recruitment crisis in the NHS.
Tough specialties such as A&E are where rota gaps are showing up the most. A recent report by the Commons health committee highlighted a shortage of more than 3,000 doctors in A&Es in England.
"If you have too little capacity you get sick people backing up in A&E departments and the system begins to unravel," Dr Sarah Wollaston, chair of the health select committee and Conservative MP for Totnes, said in response to the report.
But many worry that in the buckling health service, too few new doctors will be attracted to emergency medicine, and that doctors already working in A&E could quit in the face of mounting pressure.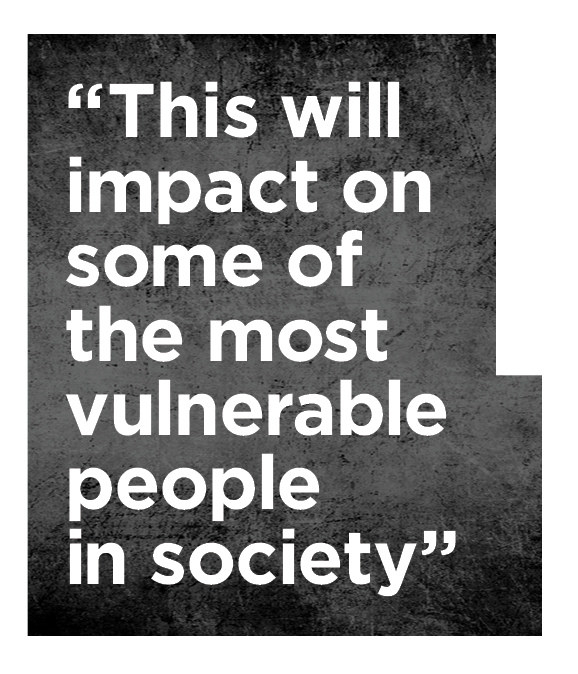 "I've been qualified over 20 years and I've never seen morale as low as it is now," O'Carroll told us. "What's happening now is not sustainable. If I had any other option, I'd take it."
As a result, hospitals are actively encouraging people not to visit A&E except in the case of "genuine life-threatening emergencies".
Recently updated official NHS guidance states that patients should attend a hospital's A&E only if they are experiencing "genuine life-threatening emergencies", including loss of consciousness, severe bleeding "that cannot be stopped", persistent or severe chest pain, and breathing difficulties.
When death does not seem imminent, it is recommended that patients visit an urgent care centre, minor injury unit, or walk-in centre, or make a GP appointment.
Several hospitals published similar requests as major incidents were declared in response to overrun emergency departments this week.

An announcement by Tameside General Hospital near Manchester said staff apologised for the inconvenience caused to patients, but said it needed to direct "resources to the most seriously ill patients in the department".
In London on Monday, 700 people visited Northwick Park Hospital, Dr Charles Cayley, medical director at London North West healthcare NHS trust, told the Evening Standard.
The latest guidance by the trust, which includes Northwick Park, Ealing, and Central Middlesex hospitals, urged those planning to attend A&E to consider the seriousness of their condition. "We are asking the public to help our staff and visit ED for serious and life-threatening injuries and conditions only," a statement read.
While there are many injuries that don't require urgent medical attention, and doctors BuzzFeed News spoke to admitted that many patients they saw did not need to attend A&E, there was concern that the crisis would deter patients who did need emergency care from seeking it.
The spokesperson for the Patients Association said they were "particularly concerned for vulnerable patients who may find it more difficult accessing services in the cold weather and who may be put off seeking advice and help, but who are in need of medical attention."
But with cuts to community medical services and shortages of GPs on top of the strain hospitals are under, patients could struggle to access non-emergency medical care.
"We believe that more needs to be done to highlight the alternative options to attending A&E, including promoting use of community pharmacists," the Patients Association spokesperson said.
"We are calling on the government to make sure that community and hospital care services have the necessary funding during peak periods and that a national staffing strategy is introduced to ensure there are enough healthcare professionals able to treat patients in need."