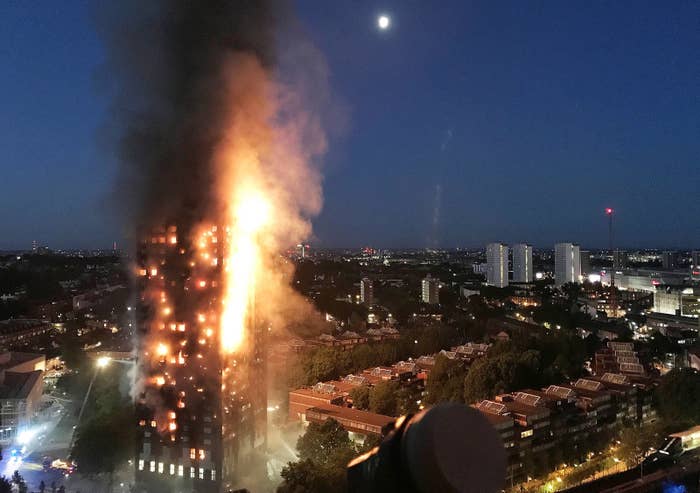 Grenfell Tower, in north Kensington, caught fire shortly before 1am on Wednesday morning.
Hundreds of residents have been evacuated, many still wearing their pyjamas, and are being offered shelter in shops, community centres, places of worship, and people's homes nearby.
These fundraising pages have also been set up so that wherever you are, you can help send emergency supplies to those holed up at shelters:
This page was set up by Eartha Pond, a local councillor for nearby Queens Park.
"It is imperative that we support our neighbours in a time of need," she wrote.

"It is unquestionable within the community of Queens Park every resident will know someone impacted physically or psychologically.
"Let's demonstrate our solidarity and show how GREAT Britain can really be!"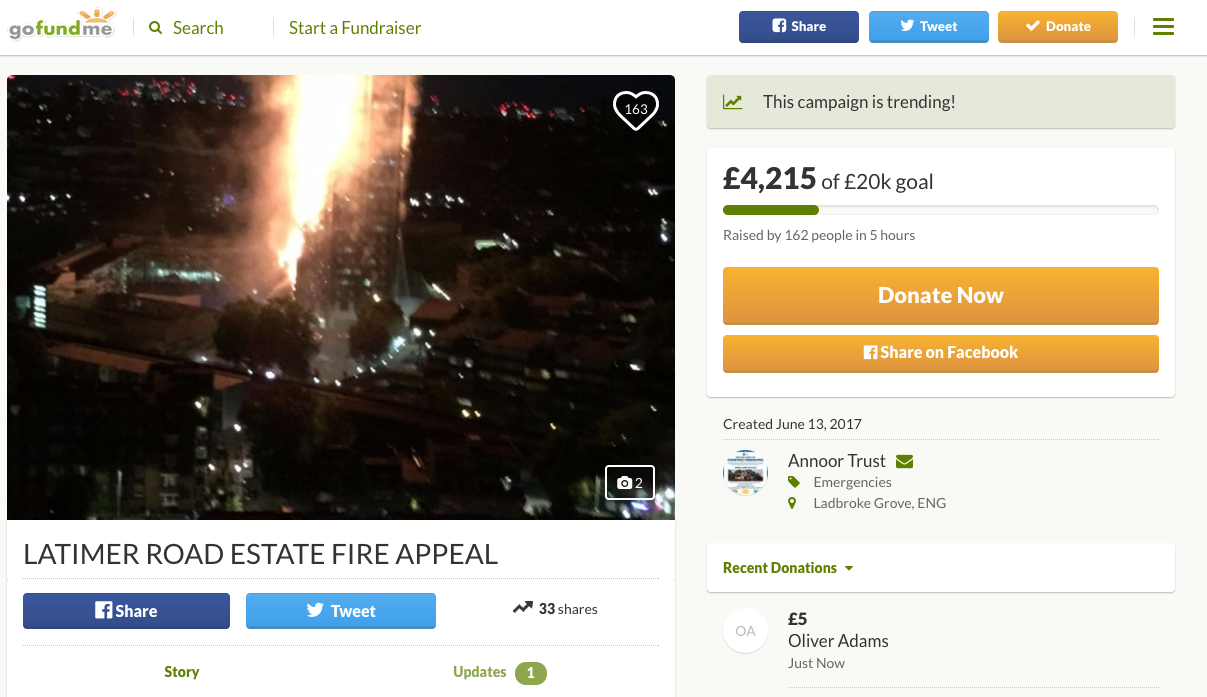 This page was set up by a local Muslim group, Annoor Masjid & Annoor Cultural & Community Centre Entire Team & Friends. Funds will go towards emergency food and clothing, as well as paying immediate accommodation costs for those who have lost their homes.

"We have no idea when we'll need the help of our neighbours," a message on the page reads.
"Let's be the best of neighbours and help them recover from this terrible tragedy. Dig deep and give whatever you can."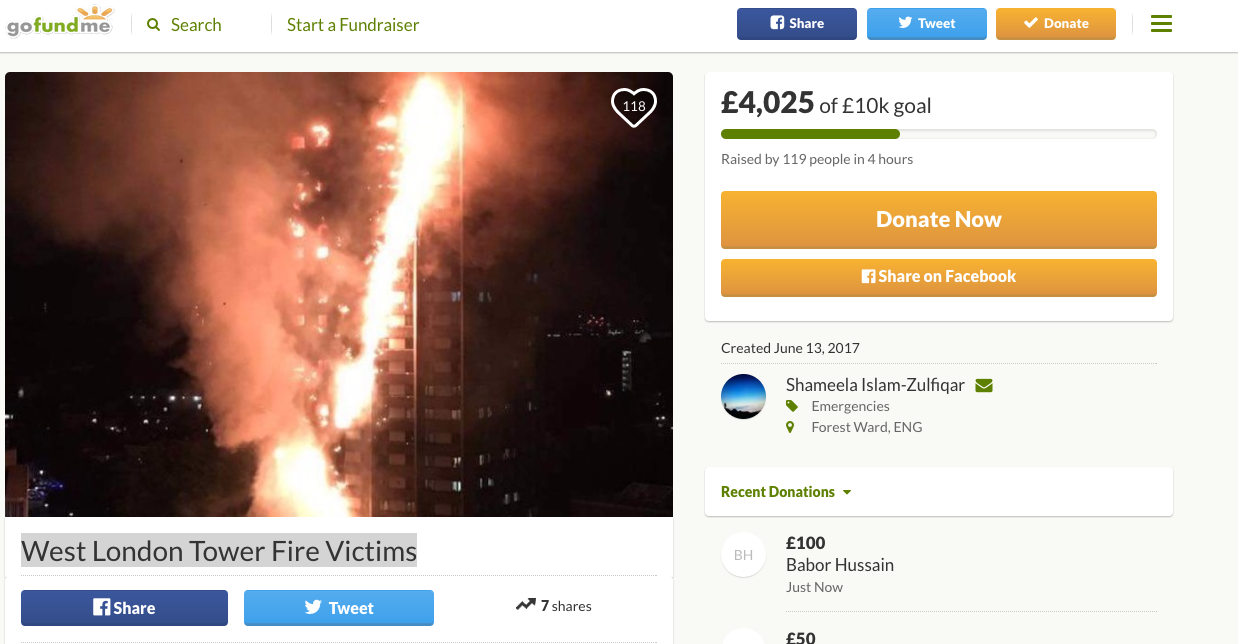 This page was set up by Shameela Islam-Zulfiqar on behalf of the local Muslim community.
"This is an emergency fund to help raise money to alleviate the needs of the families affected," Islam-Zulfiqar wrote. "We have friends and family helping in the relief efforts in London who are on the scene and working directly with families affected by the fire.
"Many Muslim families also lived in the tower block. It is a duty for us as the Muslim community to be at the forefront of helping ALL families affected in their hour of need especially in these last few precious days of Ramadan.
"Please donate generously."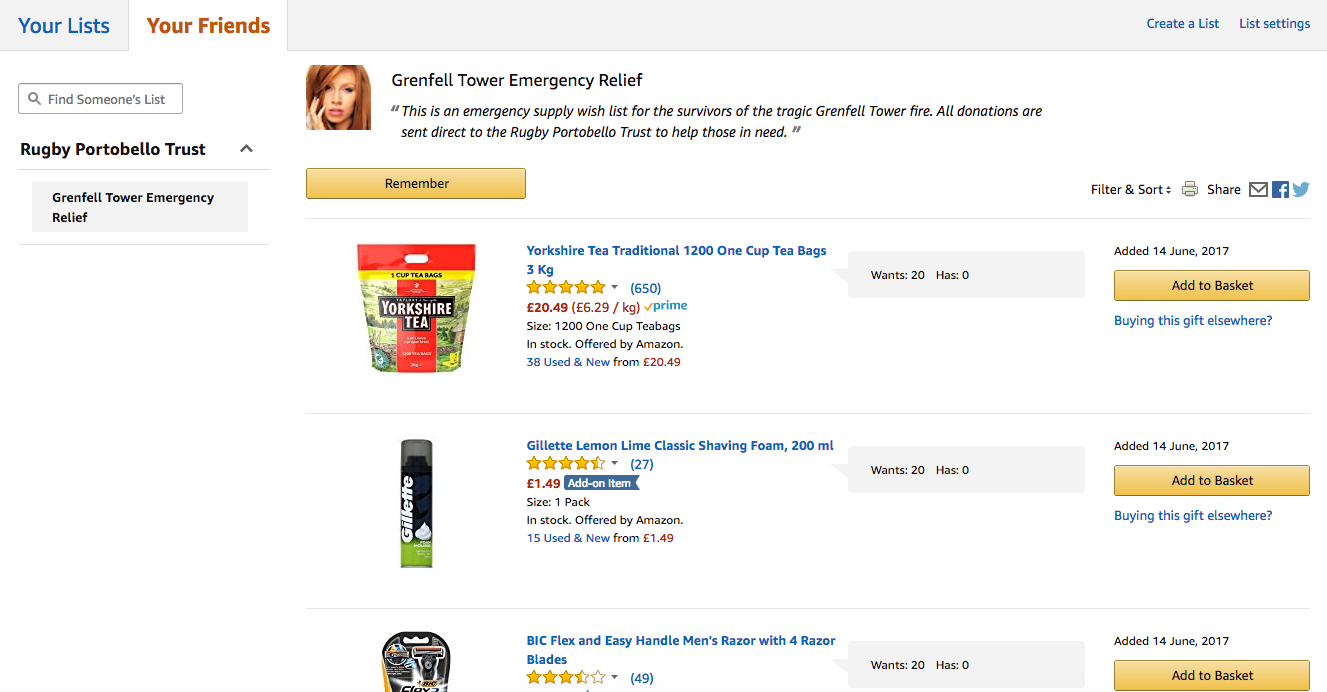 This Amazon wish list was set up to send emergency supplies to the local Rugby Portobello Trust, where many of the evacuees are being offered shelter.
On it you can buy teabags, toiletries such as soap, toilet roll, and sanitary products, and basic clothing such as T-shirts and socks, and they will be delivered directly to the shelter.
The fund is an ongoing project to raise money to support Londoners in need.
The newspaper's editor George Osborne tweeted a direct appeal for donations to the fund that would go towards supporting residents of the Grenfell Tower in the aftermath of the fire.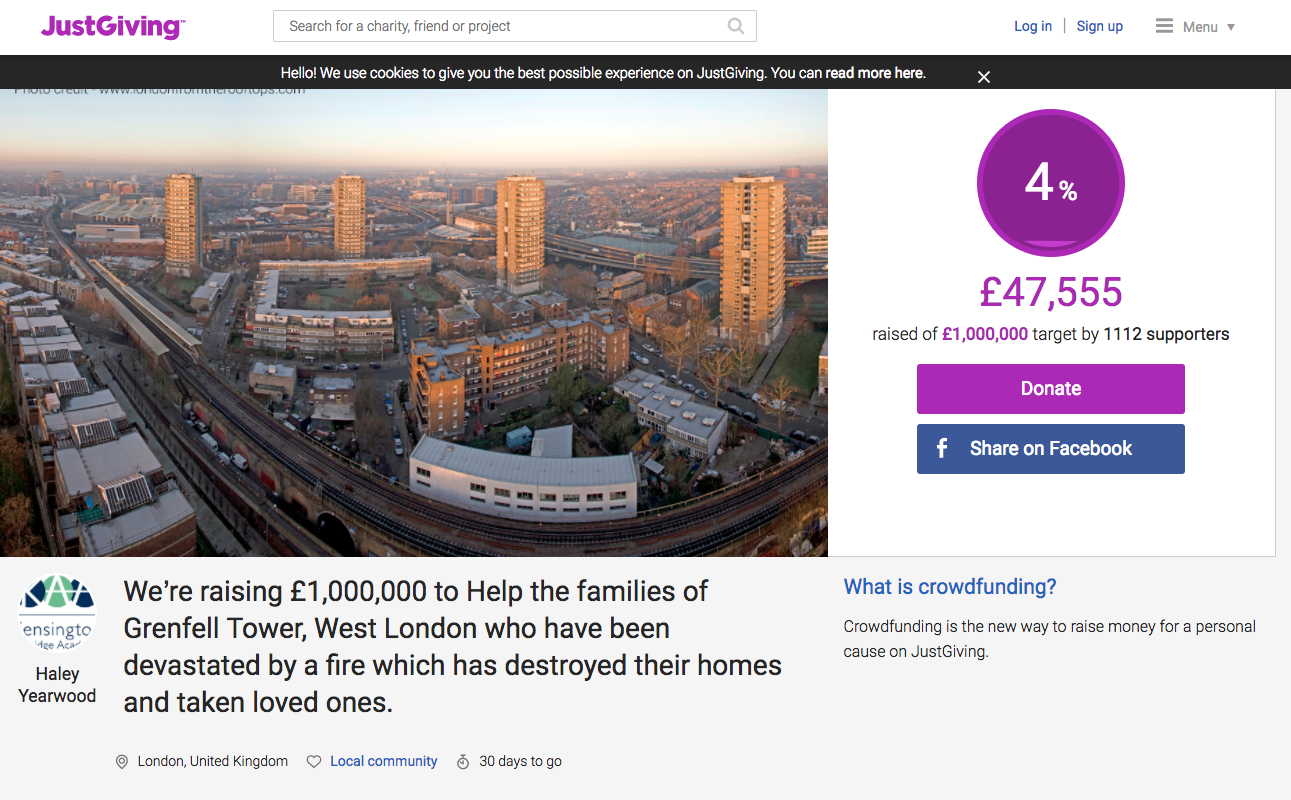 Local primary school teacher Haley Yearwood set up a fund to help residents in the aftermath of the fire.

"In this tight-night community, many families have lost everything they own, whilst others have lost their lives," she wrote on the fundraising page.

"Others no doubt will have lost family members, friends and colleagues.
"The money raised will be for those residents of Grenfell Tower affected and will hopefully, even in some small way, help them with whatever they may need in the aftermath."

"Thoughts and prayers to everyone affected."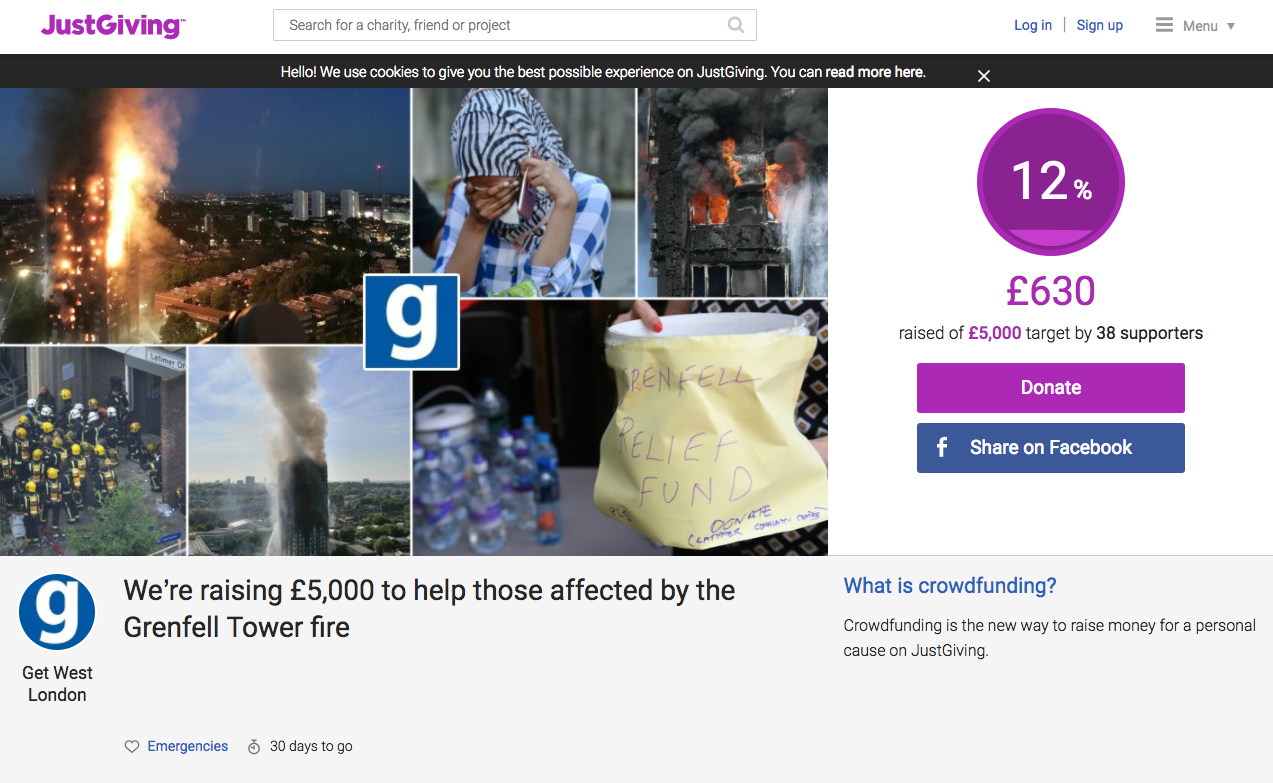 The local news outlet set up a fund for residents on Grenfell Tower on Wednesday.

"Although we'll never be able to replace their loved ones, memories and homes, we can help them rebuild," a spokesperson wrote.
"We can show them that there's a whole country of people willing to support them as best as we can."
The London-based charity, which supports families, set up an emergency appeal for victims of the Grenfell fire on Wednesday.

"Many of those who survived the fire will be setting up in new homes in the coming weeks, having lost all their possessions," a spokesperson told BuzzFeed News.

"Family Action has nearly 150 years' experience of giving grants to those most in need, including the basics for setting up a new home.

"We will use that extensive experience to ensure that 100% of the donations we receive are given quickly and efficiently to support victims of the fire."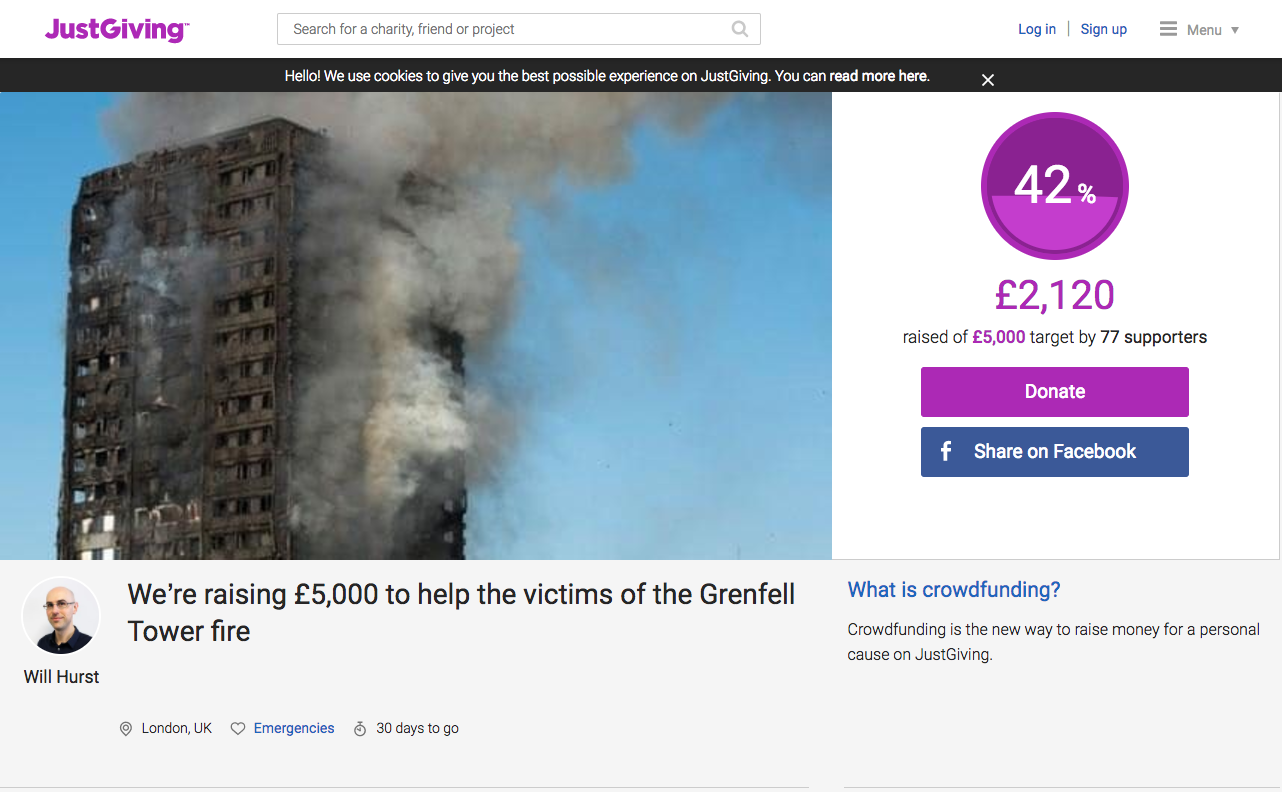 The trade magazine, which is holding its annual AJ100 awards tonight, said it was important to support the victims of the Grenfell tragedy at a time when it was also regognising the achievements of the industry.
Spokespeople for GoFundMe and JustGiving have confirmed to BuzzFeed News that all of their fundraising pages featured here have been verified as genuine.
"JustGiving has once again seen a swell in generosity following the dreadful fire at the Grenfell Tower in West London in the early hours of this morning," a spokesperson for the crowdfunding site told BuzzFeed News ."As with all emergency situations, we will be holding funds while we work with page owners to ensure that all money makes it to those in need."