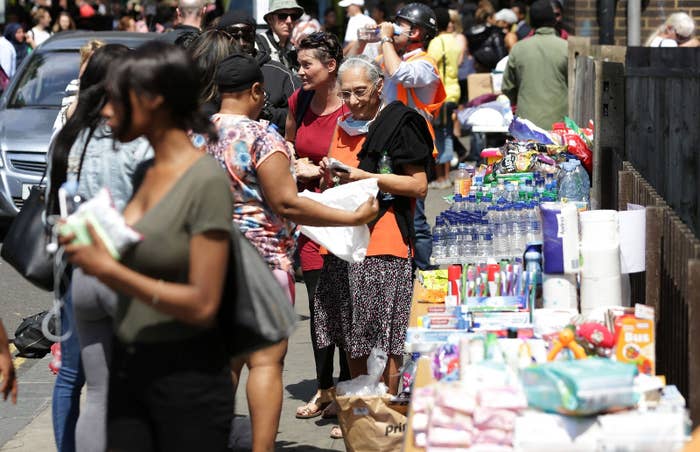 Churches and community centres near the Grenfell Tower, which was engulfed by a fire in the early hours of Wednesday morning, have received an overwhelming response to their efforts to support residents who have been affected.

The blaze took hold in the tower block in North Kensington, west London, shortly before 1am, meaning most people would have been asleep at the time.
As dawn broke on Wednesday morning, churches and community centres around the North Kensington area, including St Clements Church, Clement Attlee Estate Hall, Central Gurduara Sikh Temple on 62 Queensdale Road, and The Rugby Portobello Trust opened their doors to evacuees from the tower.
Shelters also issued appeals for donations of toiletries, food and clothes for the survivors of the fire, many of whom would have escaped wearing only pyjamas.
Members of the public queued to donate supplies, following a hugely supportive response from members of the community.

By Wednesday afternoon, several the named drop-off points had received so many donations that people offering more had to be turned away.
Those wising to donate are now being redirected to Westway Sports Centre on Crowthorne road, who are accepting donations.

Nearby Fulham Football Club had also started coordinating charitable donations on Wednesday afternoon.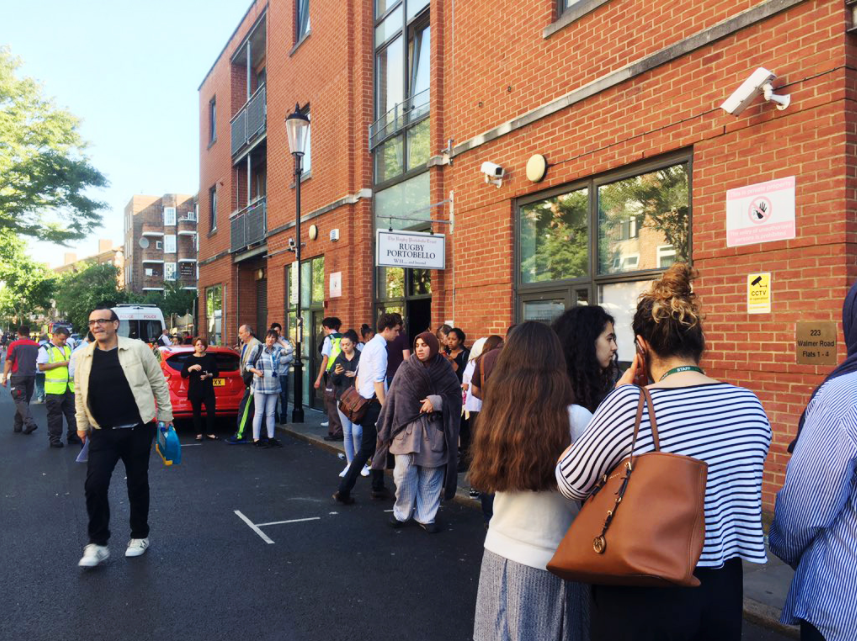 Nikki Brun, who has been volunteering at the Latimer Road donation centre told Buzzfeed News that they had received plenty of donations, but needed more hands to help deal with them.
"We have a lot but what we need more than anything else are people to help sort!," she said. "Volunteers are desperately needed."
Local Muslims were also reportedly on hand to help those who were evacuated from the tower as many were awake for Suhoor, a dawn meal that takes place during Ramadan.

A nearby mosque was also offering shelter and assistance to those affected.

Aid charity Islamic Relief UK said that it was sending 6,000 bottles of water to shelters receiving evacuees as well as donating £10,000 from the Islamic Relief Emergency Fund to help those affected.
"Our thoughts go out to those residents and those affected by the Grenfell Tower fire. Islamic Relief is assessing how we can help the many affected by this tragedy," a spokesperson said. "An Islamic Relief team is on the ground right now to see how we can help."
Celebrities living in the area also offered Aid. Singer Lily Allen tweeted offering tea, a lift or a bed to anyone in need.

Paloma Faith, who lives North Kensington tweeted her dismay at the tragic events of Wednesday morning. "Terrible fire just a stones throw from where I live today," she wrote. "My heart goes out to all the victims and their families and friends." The singer also reportedly donated baby clothes to local shelters.
Local businesses also made efforts to support those affected by the fire. Chef Jamie Oliver offered free food at his restaurants in nearby Notting Hill and Westfield in Shepherds Bush to those affected.

Telecoms company Talk Talk, which has an office just down the road from the tower, was among those offering shelter and phone company EE also tweeted that anyone who needed shelter or to use a phone should visit one of their nearby shops in Kensington High Street, Notting Hill, Queensway, and White City.
A lot of people simply offered a cup of tea and a place to rest for people who had been forced to leave their homes.

Amy Charles, from Maida Vale, told BuzzFeed News that she's offering spare rooms to those who need it.

She also said that West London as always been a close knit community, and people are coming together to help the victims and their families.
"We can help the sick and we can't help the dead but people have come together in different ways," Charles said.

"Some people are giving out clothes, money and even accommodation. It doesn't matter whatever it is, food, toys, everyone is just gathering together and taking it down".

"I've spoken to a young lady whose sister lives on the 23rd floor, she has small children over there - and they're trying to get through to her but nothing. Parents, friends, families - they're all devastated on the Latimer Road"

On a Facebook page set up by the Rugby Portobello Trust, where many Grenfell residents are currently sheltering, several members of the public offered rooms in their houses to people who have been left homeless by the fire.

"I have a double bed and a single bed available," Robert Isaac from southeast London wrote. "When I [finish work] I can come over and take the people home with me if required."

Hermione Ruck Keene in nearby Fulham also opened her home to the needy. "I have a spare room in Fulham and can offer accommodation for as long as needed," she said. "I can also help on the ground - I'm DBS checked and can help look after children or anything else that is needed."
Channel 4 reporter Paul McNamara captured a moving video of one local resident handing out sandwiches to members of the emergency services working to deal with the aftermath of the fire.
As ash and debris filled the air in the area surrounding the smouldering tower, a local shop handed out dust masks to protect those who were evacuated.

The British Red Cross, whose volunteers were on the scene, praised the community spirit Kensington residents had shown in rallying round to help those whose homes had been destroyed by the fire.
"Nine volunteers from the British Red Cross are providing practical and emotional support, including breakfast items, at a rest centre for residents affected by the terrible fire in Chelsea this morning," Jon Pewtner, senior emergency response officer for the British Red Cross, said in a statement.
"More are on standby to provide further support to emergency services throughout the day."


"The atmosphere here is tense – people are worried about loved ones and many are coming to the realisation that they have lost their homes," Pewtner continued.

"The community is rallying round, with residents collecting food, drink, and clothes, and everyone is asking each other if they can help or if they need food.

"There is a good, strong community spirit."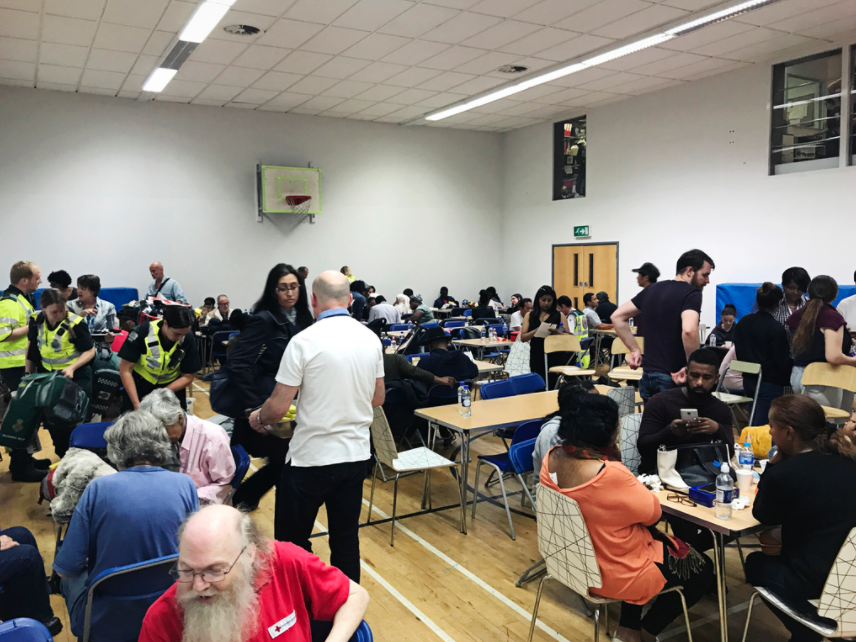 Several crowdfunding pages were also set up following the fire to allow those who do not live locally to help the people affected.
GoFundMe pages to raise money to support those who have lost their homes were set up by a local councillor and a local Muslim organisation, and another on behalf of Muslim families in the area.
An Amazon wishlist to direct emergency supplies including clothing, toiletries, and tea-making supplies to the shelter set up by the Rugby Portobello Trust was also online so that people all over the world could make donations.