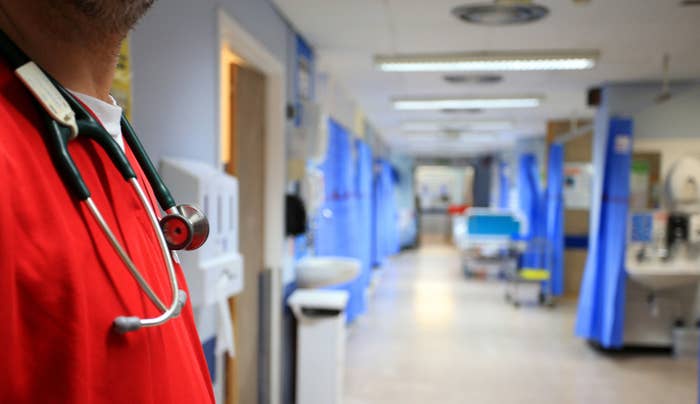 Doctors are calling on the government for renewed action in tackling the crisis in the health service after the latest NHS England Data showed record A&E waiting times, as well as delays for treatments, ambulance care, and discharges from hospital.
"This is exactly what happens when you systematically downgrade the NHS until it has some of the lowest numbers of beds and doctors per head of any country in Europe," Oxford-based junior doctor Dr Rachel Clarke told BuzzFeed News.

On Thursday, NHS England published performance data for December 2016 that showed that 86.2% of patients were admitted, transferred, or discharged from A&E within four hours of arrival – short of the 95% target – while A&E attendances were up 4.1% on the same period the previous year.
Time that patients who were fit to be discharged but were forced to remain in hospital amounted to 195,286 days, compared with 154,008 days in December 2015, which was widely considered to be a result of inadequate social care.
The number of patients referred for treatment within 18 weeks also missed the target, while 1,228 patients were waiting more than 52 weeks. The December figures were published alongside January figures, which were leaked to the BBC, showing the worst ever A&E waits on record.
Doctors have long warned that such a crisis was inevitable without increased staffing in both hospitals and community services, as well as extra beds. Clarke said that health secretary Jeremy Hunt's previous assertion that issues existed in just "one or two hospitals" was disingenuous.
"If we cannot rely upon the government to be candid about what is really happening on the ground, we have no hope of improving things for patients," she said.
Following the publication of NHS England's damning data Hunt did concede that the problems were significant, telling the BBC there were "no excuses" for the difficulties that had been highlighted.
"It is incredibly frustrating for me," Hunt said. "I am doing this job because I want NHS care to be the safest and best in the world. That kind of care is completely unacceptable. No one would want it for members of their own family."
NHS England attributed the shortfalls in the number of patients being seen and treated in adequate time to the usual rise in demand during winter months.
"NHS frontline services came under real pressure in December with A&E, ambulances, and NHS 111 all helping record numbers of patients and callers," Matthew Swindells, NHS England's national director of operations and information, said. He praised the "professionalism and dedication of doctors, nurses, and other staff in A&E" for treating a vast number of patients within the expected time.
But doctors said that the overstretched system could not simply be put down to high winter demand.

"The figures released today not only confirm how bad the situation is now but that it has been for a long time now, and has not been properly addressed by the government," Dr Nadia Masood, an anaesthetist from London, told BuzzFeed News.
"The NHS has been on the cliff edge for years now because it has been neglected by our government," she continued. "It doesn't look as if the government [is] willing to have an honest debate with the public, and admit how much the NHS is struggling."
Dr Tom Oates, a nephrologist from London, agreed. "I think it is important to see these figures confirm what all frontline care providers have known for a long time: that A&E and other 'front door services' are on their knees," he told us. "Many
elective services, particularly outpatient clinics and services, are being
cancelled at my current hospital in order to divert senior doctors to the
frontline."
On Friday Hunt acknowledged that improvements to NHS care had been "disappointingly slow," adding that progress was being made in some areas, such as cancer survival, and that £4 billion had been invested in the health service this year.
"The prime minister has been very clear. We recognise the pressure's there. We recognise there is a problem about the sustainability of the social care system," Hunt said. "That has to be addressed and we are going to do that."
Dr Rishi Dhir, a London-based surgeon, told BuzzFeed News he felt "vindicated" by the figures, which proved issues that doctors had been raising for a long time.

"We are trying to look after patients and look out for their welfare and safety, and I find it very disappointing that the government doesn't want to listen to frontline staff," Dhir said.
He said he believes there was "a much higher political agenda" in allowing hospitals to face such pressures. "How do you privatise something which is as loved as the NHS?" Dhir asked. "You show that it's a service in failure, and then you bring in the white horse of privatisation as a viable alternative. This is completely and utterly self-perpetuated."
But doctors believed this was still not enough in light of the kind of demand they were facing on the front line. "I'd like the government to actually acknowledge there is a problem rather than hiding behind this smoke-and-mirrors funding increase over this parliament and admit that in real terms it is a cut," Dr Dan O'Carroll, an emergency medicine specialist in Birmingham, said.
"We as doctors have a duty of candour to own up to mistakes. Where is the accountability at the top, and the acknowledgement that real people are coming to harm on a daily basis?"

Clarke agreed. "We need the government to stop trying to spin away the crisis in the NHS and face up to it instead," she said. "We need an honest conversation with the electorate about how bad things are currently in the NHS and how, unless funding is increased, they are set to get worse."
She added that it was "downright dangerous" that Hunt had, in her opinion, been evasive about the crisis. "People are literally dying on corridors the winter," Clarke said. "The government needs to confront that fact and address it urgently with an injection of desperately needed cash for health and social care."
Jon Ashworth, Labour's shadow health secretary, also felt more needs to be done to improve NHS services. "These are some of the worst figures we have seen. Experts are saying that standards are being pushed back 15 years or more," he said.
"The government has failed the NHS right across the board. Urgent action is required and Labour is calling for a sustainable funding package for health and social care to be brought forward in the March budget, so that the NHS and its patients never have to go through a winter like this again."
Masood said she believed it was the duty of doctors to continue to speak out about the crisis. "It is our responsibility as NHS staff to lead on this and be open with the public about what we need to keep the NHS running according to the principles upon which it was founded and which so many of us still believe in," she said.