Buckingham Palace has said it is "misleading and dishonest" of The Sun to publish images of the Queen and Queen Mother, appearing to give a Nazi salute.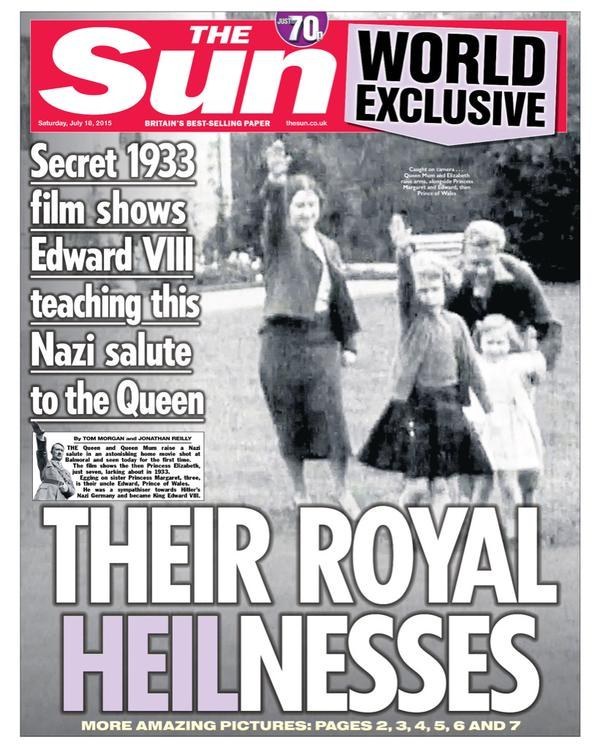 The images, taken from a newly discovered reel of cine-film from around 1933-1934 show members of the Royal family, including The Queen, aged around 7, her mother, Princess Margaret and Prince Edward raising their arms in a Nazi salute.
According to The Sun, Prince Edward once described Hitler as "not a bad chap" and was known to have connections to the rising Nazi party before he became King.
Buckingham Palace has not denied the authenticity of the footage, according to BBC Royal correspondent Sarah Campbell, but said that there are "questions over how this video has been released."
However, Buckingham Palace told BuzzFeed News that they will not be investigating how The Sun obtained the footage at this stage.
The Sun has refused to say how it obtained the footage, but defends their decision to publish it, calling it an "important and interesting story," according to the BBC.
The Palace said that the family is simply referencing a gesture that they would have seen in newsreels at the time.
In a statement, the Palace said, "It is disappointing that film, shot eight decades ago and apparently from Her Majesty's personal family archive, has been obtained and exploited in this manner."
The spokesperson for the Palace added "Most people will see these pictures in their proper context and time. This is a family playing and momentarily referencing a gesture many would have seen from contemporary news reels. No one at that time had any sense how it would evolve. To imply anything else is misleading and dishonest."
According to the Palace's statement, the publication of the images is particularly disappointing because "the Queen and her family's service and dedication to the welfare of this nation during the war, and the 63 years The Queen has spent building relations between nations and peoples speaks for itself."
The controversial story has been making waves on Twitter, where some have recognised that the gesture was widely and more innocently used at the time.
A child can not necessarily be held responsible for their actions, some have comically pointed out.
Others have found The Sun's revelations somewhat questionable.
While some are seemingly not so convinced by the Palace's defense.