A British Court Won't Send A Hacking Suspect To The US Because It Doesn't Think He'd Survive A US Jail
Lauri Love, who is accused of hacking the FBI, the US central bank, and NASA, appealed to face trial in his home country. The High Court ruled in his favour, saying "he would be at far lower a risk of suicide" in the UK.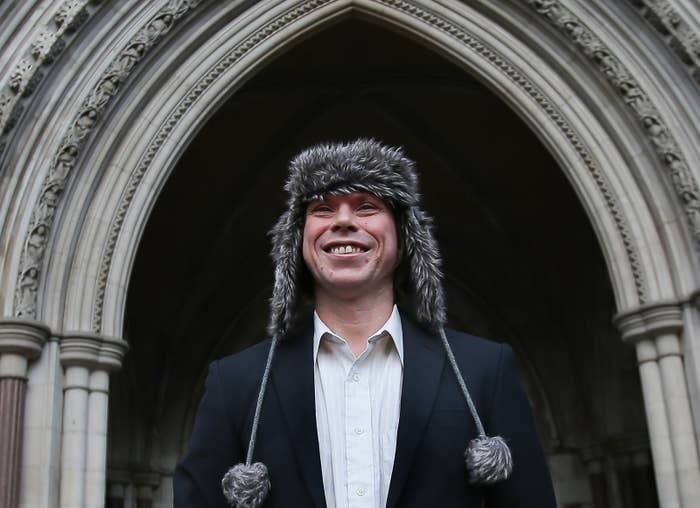 The High Court has ruled that hacking suspect Lauri Love will face trial in Britain and will not be extradited to the US.
Love, who has Asperger's syndrome, argued to be tried in the UK, where he is believed to have committed the crimes.
He has also experienced depressive illness, and his appeal was granted partly on the basis of concern he would kill himself if sent to the US, where prison services are not believed to have the same standard of mental health provisions as they do in the UK.
"It's important beyond my own life because of the precedent that's been set," Love told BuzzFeed News at the Royal Courts of Justice in London following the judgment.

"There will be other people who are accused of things that have an international scope but need to be tried in their own country so that they have the protections that would be afforded to any other defendant."
Love, 32, from Suffolk, is accused of hacking systems of US organisations including the FBI, the US central bank, and NASA. Lawyers have said he could face a sentence of up to 99 years in prison if he is found guilty.

The decision by Lord Burnett of Maldon – the lord chief justice – and Mr Justice Ouseley followed a hearing in November.
In their judgment, they said it was accepted "the experience of imprisonment in England would be significantly different for Mr Love from what he would face in the United States".
"The support of his family, in particular, would mean that he would be at far lower a risk of suicide in consequence."
Love said that he believed it was important that Britain retained sovereignty when it came to trying its citizens. "Just because another country is more powerful, they can't put their foot in the process and say 'We don't like the way you get your results – we want our results this way,'" he continued.

"I'm not expressing an anti-American sentiment, I'm expressing a sentiment that justice must be administered locally where possible."
He feels that computer crime laws in individual countries will need to be "harmonised" in order to deal with cases like his that may arise in future.
"The internet is transnational and for that there needs to be a process of legal development," Love said.

He added: "America needs to realise that it's not exceptional any more and it can't exercise territorial jurisdiction."

Laura Hughes, a friend of Love's who was supporting him in court, told BuzzFeed News: "It's important because it means America hasn't got hold of our legal system. For every British person, that's so important."

On Radio 4 this morning, Alexander Love said his son had been "very distressed", and went on to say: "The metal health provision in American prisons, from what I have read, is woefully inadequate compared to ours."

"If someone is accused of having committed a crime here in the UK, this is where they should stand trial," a spokesperson for the human rights charity Liberty said during November's hearing.

Following the ruling, Love seemed relieved, cheering with supporters outside the courtroom and promising celebrations at a local pub later this afternoon.
Love told BuzzFeed News that the result would have a positive impact on his mental health, and allow him to focus on the future.

"It means that I'll be less depressed and less suicidal, which gets in the way," he said.

"I can concentrate on my studies in electrical engineering at university and concentrate on my own private security work and all the other things I try and do to make the world a better place.

"It's freed up space in my brain that I will hopefully channel into constructive, positive things."