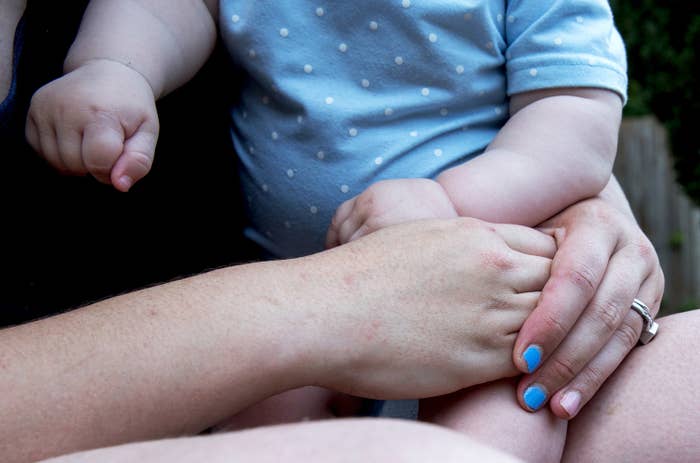 In the tough first few months after giving birth to her first baby, June* didn't realise that the reason she was struggling was because she had postnatal depression.

"I was just feeling so overwhelmed, I couldn't do anything, and feeling this absolute guilt, like I was letting her down and like I wasn't a good mum," she told BuzzFeed News of the time after she had her daughter.
"I just felt so anxious," June continued. "Being a mum was becoming a chore to me and I wasn't coping.
"I just thought, I can't do this. I can't be a mum."
Postnatal depression is a mental health condition experienced by 10 to 15 out of every 100 women after they have a baby, according to the Royal College of Psychiatrists. Its symptoms include feelings of sadness and anxiety, disengagement, difficulty bonding with the baby, tiredness, and sleeplessness.

Like many new mums, June didn't consider that she was depressed, and dismissed her feelings as the normal difficulties of having a baby.
"I didn't really clock it for a long time," she said. "I thought depression was just when you cry all the time or are really sad."
June described her daughter, who is now 11 months old, as an "easy" baby, and when she was depressed she worried others would dismiss her struggles as a result.
"My husband would say things like, 'I don't understand how you could feel like this, she's such a happy baby' – and that didn't help," she remembered.
A sense of pressure to be a perfect parent also stopped her from speaking up straightaway. "I felt like I wasn't living up to people's standards," June said. "People make comments all the time – and whether or not they mean it to come across or bitchy or judgy, it does."
June said that everything, from the way she decided to give birth – via planned caesarian – to how long she might breastfeed her baby, felt scrutinised.
"I don't know if it's because everyone's insecure, but there's so much judging," she said.

"I hated breastfeeding, and if I hadn't got it after two weeks I would have moved to the bottle.
"Unless you're into some really kinky stuff, nobody has ever sucked your nipple that hard. The baby comes away with mouthfuls of blood."
When preparing for parenthood, June said, she had expected to recognise postnatal depression if she experienced it, but it was eight months after the birth before she spotted that something was wrong.
"My husband came home from a night shift one Sunday, and the baby was just crying away on the sofa, and I was sitting on the other end of the sofa crying too," she recalled. "I think it was that moment when he thought, oh, let's talk about this."
June managed to seek out help herself via Pandas, a charity that supports those experiencing postnatal depression in a number of ways, including through WhatsApp groups and email hookups with other women who've experienced postpartum mental illness. But her condition wasn't picked up by her GP, or by her health visitor and midwife.

She is not alone in her experience. According to a new report released today by the National Childbirth Trust (NCT), an alarming number of women experiencing mental health issues following childbirth do not have them picked up by medical professionals who could help.

In a survey of over 1,000 new mothers with children under 2 years old, NCT found that over 50% of them experienced a mental health issue during pregnancy or before their child turned 1, including postnatal depression, anxiety, obsessive compulsive disorder, post-traumatic stress disorder, and postpartum psychosis.
Of those women, 42% did not have their symptoms recognised by a doctor or other medical professional.
The research found that, in particular, symptoms were being missed during the six-week check, a routine appointment to check on the health of the mother and baby shortly after birth.
Of the women surveyed, 43% said they didn't feel comfortable raising emotional issues at that time, as they believed their doctor was not interested or sympathetic, while 24% said they felt there simply wasn't enough time in their appointment. Forty-six percent worried that health professionals would view them as incapable mothers if they disclosed a mental health issue and that their baby could be taken away.
These findings resonated with June, who remembered having a particularly difficult six-week check with her health visitor and midwife, where she said she felt as though their main concern was whether her pet dog would pose a danger to her daughter, and that her emotional health seemed like an afterthought.
"I get it – they've got to have concerns about having a dog around a baby, but that's what the entire focus was," she said. "They checked the baby's weight and my caesarian scar, but it just felt like I was at the bottom of the pile.
"It didn't feel like I could open up about how I was feeling."
She also found it difficult talking to her GP, again playing down how she felt for fear of being judged.
NCT said its findings highlight the importance of improving the six-week check, and that in order to do that, GPs and other medical professionals need to be much better resourced so that more time can be spent focusing on the needs of new mothers.

"GPs are under incredible pressure, so it's no wonder that this crucial opportunity to uncover any mental health problems is being missed," Sarah McMullen, head of knowledge at NCT.
Professor Helen Stokes-Lampard, chair of the Royal College of GPs, said she agreed that the six-week check was vital in opening up conversations between new mothers and health professionals, but noted the difficulties time pressures posed for GPs.

"It's incredibly hard for GPs to explore all the physical and psychological factors affecting our patients' health within the time constraints of the consultation as it stands," Stokes-Lampard said.
"We need these checks to be much longer as standard, so that we are able to give the same attention to the new mother as we do to the baby – but this needs more resources for our service, and more GPs.
"We need the pledges made in NHS England's GP Forward View, including £2.4 billion extra a year for general practice, and 5,000 more GPs by 2020, to be implemented as a matter of urgency in order to address this."
While the government has pledged to recruit an extra 10,000 doctors by 2020, NHS GPs have expressed concerns about the immense pressure they face, which they believe is exacerbated by issues with recruitment and staff retention. Midwives worry that staff shortages will only be made worse if fewer students choose to enter the profession now that training bursaries have been scrapped.
Mary Ross-Davie, a director at the Royal College of Midwives, said NCT's research served to highlight the challenges midwives face in providing mental health care to new mothers. "It is clear that a concerted effort is needed to improve care for women and this means investment in midwives and other health professionals so that we have the right numbers, with the right skills to be able to offer advice and the right support for these women," she said.
Ross-Davie said it was important for women to consistently see the same midwife to enable them to build a relationship so they are comfortable raising emotional concerns.
"It is critical to stress the importance of this because suicide remains a leading cause of maternal death, with the first six weeks after the birth a time of particular risk," she continued. "Mental health problems can have a devastating impact on mothers, their babies, and families."
Dr Alain Gregoire, chair of the Maternal Mental Health Alliance, which works closely with the Royal College of Midwives, said the NCT survey matched their own findings that the NHS is often not meeting its own quality standards on new mothers' mental health.

"GPs are often doing their best but more resources and training are desperately needed," Gregoire said. "We want to see improvements in the GP surgery as well as across the rest of the healthcare system, so that women and their families get access to the quality of services they should expect from the NHS, no matter where they live."
Professor Lesley Regan, president of the Royal College of Obstetricians and Gynaecologists, said it is "unacceptable" that some new mothers struggle to find mental health care.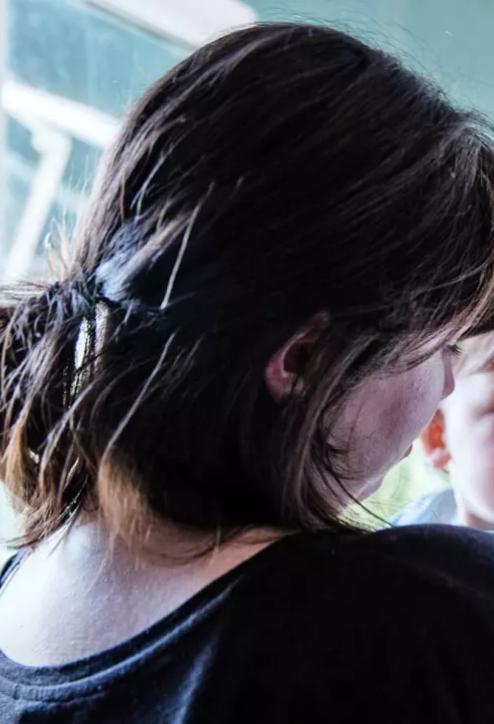 It is "crucial" that women have access to specialist community mental health services during the perinatal period – the weeks before and after birth – she said.
"We must listen to the voices of these women and learn from their experiences and take immediate action to improve health services for them and their families."
June said that speaking up about her condition and finding support from others who had experienced postnatal depression through Pandas had helped her immensely, and that she is "doing much better" as her daughter approaches her first birthday.

"There's so much stigma around mental health and everyone suffers quietly, but nothing's going to change if we don't talk about it," she said. "We all have days where we struggle after having a baby. For those of us with PND, we have more days."
*June has requested that her name, which was originally published in this article, be removed to protect her privacy.