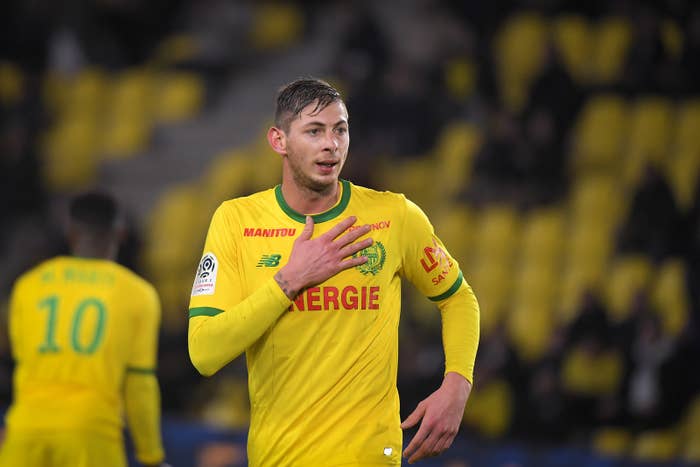 Argentinian football player Emiliano Sala and pilot Dave Ibbotson, who is from Lincolnshire in the UK, are not believed to have survived after the light aircraft they were traveling in disappeared near the south coast of the UK on Monday night.

Sala, 28, was signed by Cardiff City from Nantes football club on Saturday, and was traveling from Nantes to join the team in Cardiff.

A search and rescue operation has been ongoing since the Piper Malibu plane, flyling from Nantes in western France to Cardiff, disappeared from air traffic radar near the Channel Islands on Monday evening.
On Thursday, Guernsey police said that their search had ended without any trace of the aircraft having been found, and that any chance Sala and Ibbotson would still be alive was "extremely remote."
"There has been over 24 hours of continuous searching, with 80 hours combined flying time across three planes and five helicopters," harbour master captain David Barker said in a statement. "Two lifeboats have also been involved, as well as assistance from various passing ships and fishing boats."
"The chances of survival at this stage are extremely remote."

Barker added that the next of kin of both men had been informed.

On Wednesday, Guernsey police said that floating objects were found in the water near where the plane is believed to have disappeared shortly before search operations were temporarily suspended on Tuesday night, but they were not able to confirm whether they were related to the missing plane.
Police said their search operation, which resumed at sunrise on Wednesday, was focussed on four possibilities:

"1. They have landed elsewhere but not made contact. 2. They landed on water, have been picked up by a passing ship but not made contact. 3. They landed on water and made it into the life raft we know was on board. 4. The aircraft broke up on contact with the water, leaving them in the sea," Guernsey police tweeted.
"Our search area is prioritised on the life raft option."
Cardiff City executive director and CEO Ken Choo said that training had been called off and thanked fans and those involved with the football club for their support.

"We continue to pray for positive news," Choo said in a statement.

Earlier, Cardiff City chair Mehmet Dalman told the Mirror: "We are awaiting confirmation before we can say anything further. We are very concerned for the safety of Emiliano Sala."

Lifeboats from Alderney and Guernsey in the Channel Islands began conducting a search of the area the plane is thought to have been in when it disappeared on Monday night. Two helicopters were also deployed by HM Coastguard.

"A search and rescue operation is currently under way off the north of Alderney after a light aircraft disappeared from radar several hours ago," Guernsey police said in a statement.

"Two helicopters alongside the Guernsey and Alderney lifeboats are searching for it."
Sala had been due to arrive in the Welsh capital on Monday night, following the record £18 million signing, according to Sky Sports News.

On Saturday, Sala said he was pleased to be moving from Nantes to Cardiff.

"I'm very happy to be here. It gives me great pleasure and I can't wait to start training, meet my new team-mates and get down to work," he said in a statement.
"For me it feels special [to be the club's record signing]. I have come here wanting to work and to help my team-mates and the club."
This is a developing story. Check back for updates and follow BuzzFeed News on Twitter.‏