A massive sinkhole appeared in a cul-de-sac in St Albans, Hertfordshire, at around 1.30am this morning, the local fire brigade said.
Hertfordshire Fire and Rescue Service said on Twitter that nobody was trapped in the sinkhole, but that two people had been taken to hospital.
Gas and electricity supplies to the road have been cut off, and cars are trapped, Sky News reported.
Police estimated that the hole was around 8 x 10 metres wide and several metres deep, according to the Huffington Post, and incorporates the driveway of one of the surrounding houses.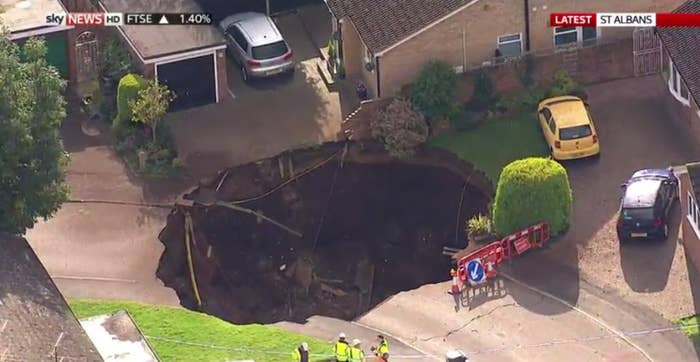 A spokesperson for Hertfordshire police said: "Residents have been evacuated as a precaution and all utility services (such as gas and water) are being checked and turned off. A reception centre has been set up for the residents who have been evacuated from their homes at Batchwood. There is currently no access for vehicles to the close."
The St Albans Review reported that some residents were only able to leave the street through another resident's garden.
Last year, a nine-metre wide sinkhole opened up beneath a house in nearby Hemel Hempstead. The hole was eventually filled in, but residents of six houses were evacuated for more than two weeks, according to the BBC.