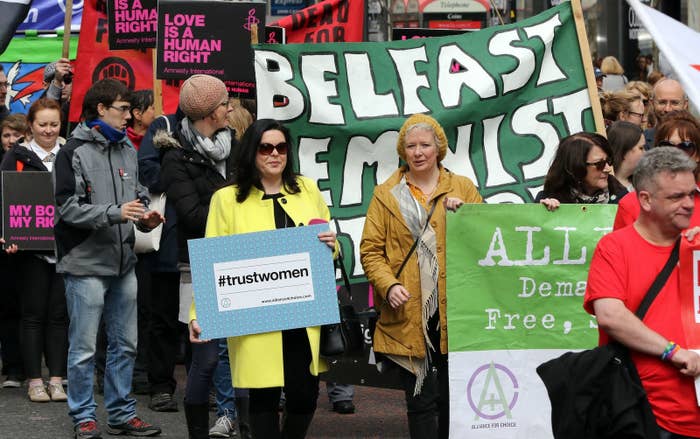 Vulnerable women will be left to "suffer in silence and fear" following a police crackdown on the illegal purchase of abortion pills in Northern Ireland, campaigners have said.
On International Women's Day, the Police Service of Northern Ireland (PSNI) carried out a series of raids at addresses in Belfast – including the workplace of an artist involved with abortion rights campaigning – in connection with the alleged illegal purchasing of prescription medication online.
A number of items were seized for further examination, but no arrests were made.
There is concern that rather than preventing women in Northern Ireland from having abortions, police raids targeting abortion pills, which are considered safe by the World Health Organization even outside of a clinical setting, will simply drive women who can't afford to travel to England for the procedure to seek terminations in more dangerous ways.
"There's a worry about what measures a woman will take if the only safe options are now out of reach because of risk of being prosecuted or arrested, or for financial reasons," a spokesperson for Alliance for Choice, a group focused on lobbying the Northern Irish government for legislative change on abortion, told BuzzFeed News.
"Women could end up putting themselves in serious danger."
Helen Crickard, a Belfast-based artist and abortion rights campaigner whose studio was searched by PSNI in the raids, told BuzzFeed News she also believed stricter measures against the pills would drive abortion further underground.
"Nothing is going to stop abortions, they are always going to happen," she said. "Women in desperate situations might instead might seek backstreet abortions.
"People will take drastic measures."
Abortion in Northern Ireland is illegal in almost all circumstances unless a doctor is acting to save the life of the mother, as the Abortion Act 1967, which allows greater access to terminations for women in the rest of the UK, was never applied there.
As a result many women from Northern Ireland facing crisis pregnancies will travel to England to legally access abortion. They are required to pay for the procedure privately, which can cost £330–£410 up to 14 weeks and up to £1,350 at 20 weeks and beyond, as free NHS abortion services are not extended to women from Northern Ireland.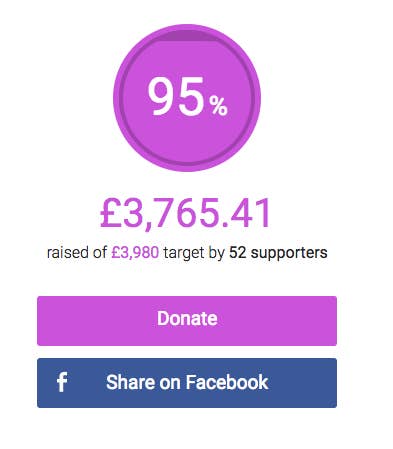 Abortion Support Network (ASN) is a UK-based charity that helps fund costs for women from Northern Ireland and the Republic of Ireland – where abortion is also illegal – who can't afford to travel to England for the procedure. It launched an emergency appeal on Thursday and had surpassed its fundraising target twice over within hours of being set up.
One anonymous donor gave £1,000 to help women who might now be too afraid to order abortion pills online.
Mara Clarke, ASN's founder, told BuzzFeed News: "When these things happen, it's so outrageous that people want to make a difference. I love people!"
She added: "Arresting people for this, charging people, searching people's homes is despicable, and we love being the beneficiary of the outrage. Our goal is to be made obsolete by law change."
When a woman in Northern Ireland was prosecuted in relation to the alleged online purchase of abortion pills last year, and another woman, who is currently appealing her conviction, was put on trial for obtaining the pills for her 15-year-old pregnant daughter, Clarke said the number of women from Northern Ireland contacting ASN for support grew by more than 10%.
She believes that as a result of the raids, ASN will again see an increase in the number of women contacting the charity, both from Northern Ireland and the Republic of Ireland, where there will be a knock-on effect of women fearing prosecution.
Clarke said the police crackdown could further endanger vulnerable women facing crisis pregnancies: "If the PSNI is saying don't take safe-but-illegal pills, what they're saying is leave the country or have a baby you don't want, and it's going to drive people for whom neither of those things is a possibility to do less safe things to try and terminate."
ASN hopes to be able to fund as many of those women as possible to travel to England to access abortion safely instead, but Clarke said that campaigners lobbying the government for change will be vital in the long run.
"We know that well over 1,000 women from the Republic of Ireland and Northern Ireland use these pills every year," Clarke said. "If 1,000 of those people come to us instead, even half those people, we're going to run out of money!"
On Monday, a bill to decriminalise abortion in the UK, where the procedure is still technically illegal, passed the first stage of its long road through Westminster, but politicians in Northern Ireland worry that reform might not extend to them.
Clare Bailey, a Green party member of the Northern Ireland assembly, said movement on abortion law in England, Scotland, and Wales only highlighted the disparity that women face in Northern Ireland.
"It's time for Westminster to update abortion law, and I'd just beg them to spare a thought for those in Northern Ireland who have nothing to update," Bailey told BuzzFeed News.
"Abortion should be a health issue between a woman and her GP – certainly not between a woman and the judge or the police."
Alliance for Choice added that last week's raids would spur its efforts in lobbying the government in Northern Ireland to allow free, safe, and legal abortion.
"This isn't good enough for women and this isn't good enough for pregnant people, and I think people in Northern Ireland have become really woken up to that over the last few years," a spokesperson said. "Once people realise what women have to go through here just to access basic reproductive healthcare, they will want to push for change."