Police have released shocking footage of a 12-year-old girl throwing herself out of a moving car after it was stolen in London.
The girl's 11-month-old brother was also strapped into a car seat in the vehicle, which was stolen in the Enfield area of the capital on 2 July.
The baby was later found unharmed after being left on a doorstep in a residential address in Cheshunt, Hertfordshire.
The girl had been waiting with her brother in the car on Kempe Road while their mum went into shops nearby.
When an unknown man got into the car and drove it away at speed, the frightened girl threw herself out of the passenger door into the road and ran away.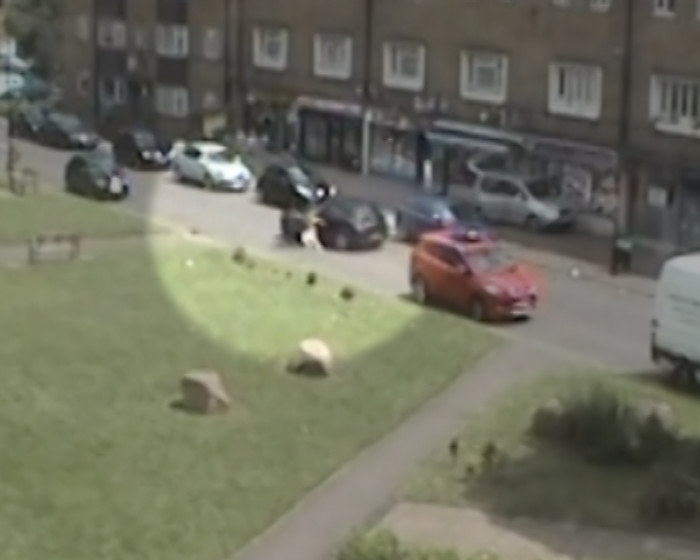 Officers treated the girl for minor injuries at the scene after her mother contacted local police, but she did not require hospital treatment.
The car was later found abandoned near to where the baby was left, but the suspect is yet to be found.
The incident was captured on CCTV and has been released by Metropolitan police in an appeal for the thief, thought to be a white teenage male, to come forward.
"It is of paramount importance that we find the person responsible immediately and I am appealing to anyone who has any information that could assist with the investigation to get in contact," Detective Inspector Chris Rixon of Enfield CID said.
"The suspect is an opportunist who showed little regard for the welfare and the safety of the children. What happened is every parent's worst nightmare and I'm specifically appealing for the suspect to give himself up now before it is too late."
Rixon also appealed to friends and family of the suspect for information.
The person who stole the car "put the lives of two young children in jeopardy," Rixon said, "and I would hope that seeing and hearing what he put them through will make them think twice about harbouring such a callous and dangerous criminal.
"It's not too late to do the right thing and come forward and speak to the police."
Officers also praised the bravery of the girl as well as thanking the family who contacted them after finding the baby boy at their front door. "They took such great care of him and both the police and the child's mother are very grateful," Rixon said.
Anyone with information is asked to call Enfield CID on 020 8345 3323 or the police non-emergency line on 101.