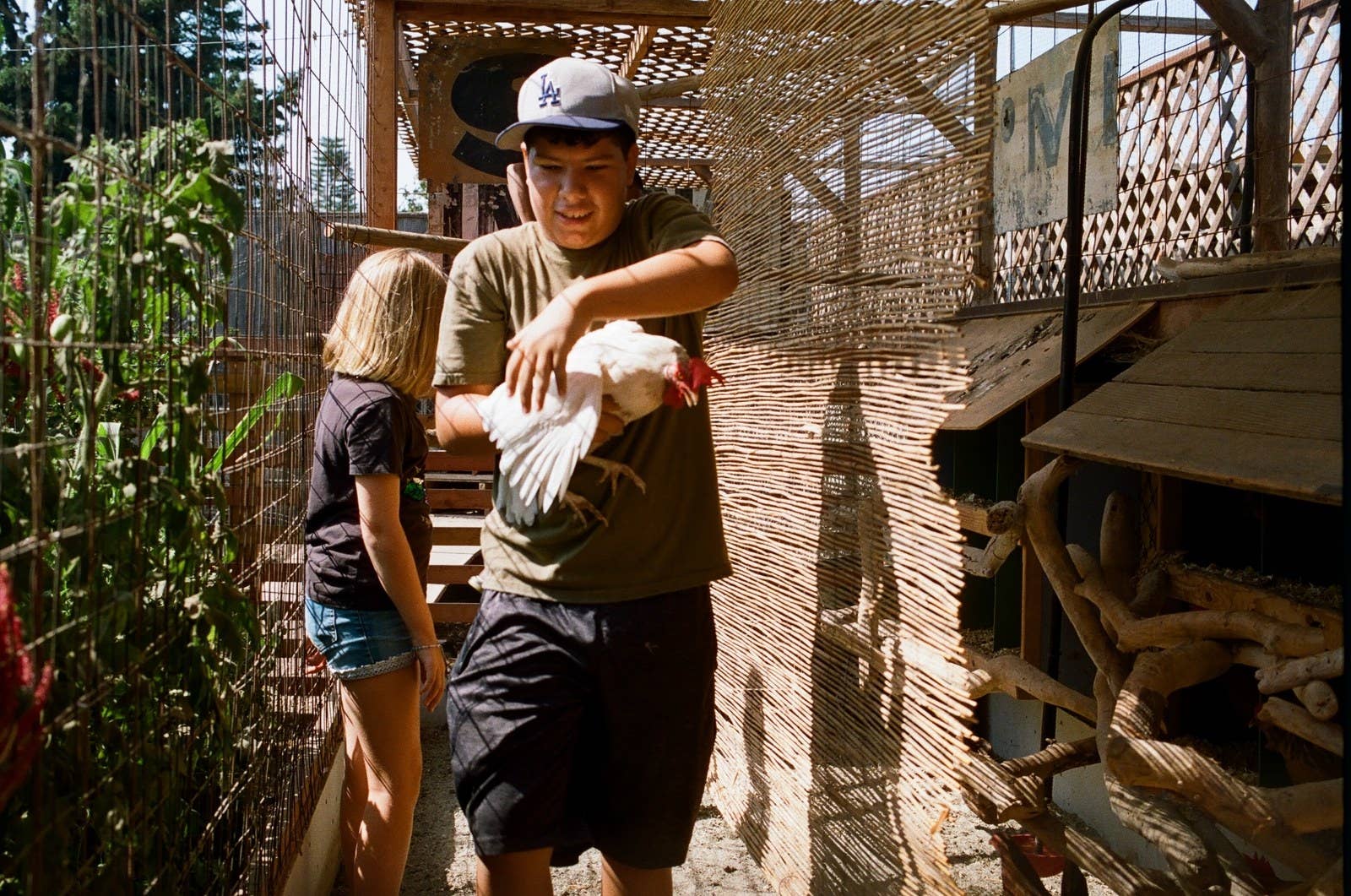 Sitting on about a third of an acre, Moonwater Farm blends in with the other homes on a sleepy street in the Richland Farms neighborhood of Compton, California. This little enclave has been zoned for residential agriculture and farmland for over 100 years, which will come as a surprise to those who quickly dismiss the city for its high incidence of crime and gang violence.
Practically hidden behind freely growing sunflowers and lush foliage, the property was purchased in 2011 by Kathleen Blakistone and her husband, Richard Draut, and over the past few years became what is today: an oasis of goats, chickens, compost piles, aquaponics, gardens filled with fresh produce, and a children's summer camp.
On a hot morning in late July, photographer Emily Berkey visited the farm to capture what it means to campers to have this neighborhood sanctuary in the middle of a tough city. "The house across the street has a tire swing hanging from the old tree in its front yard and a house down the block has horses in stables in the back. The only sounds on the quiet block are chickens clucking, birds chirping, and the rhythmic creak of springs from a trampoline on which a neighbor kid is bouncing."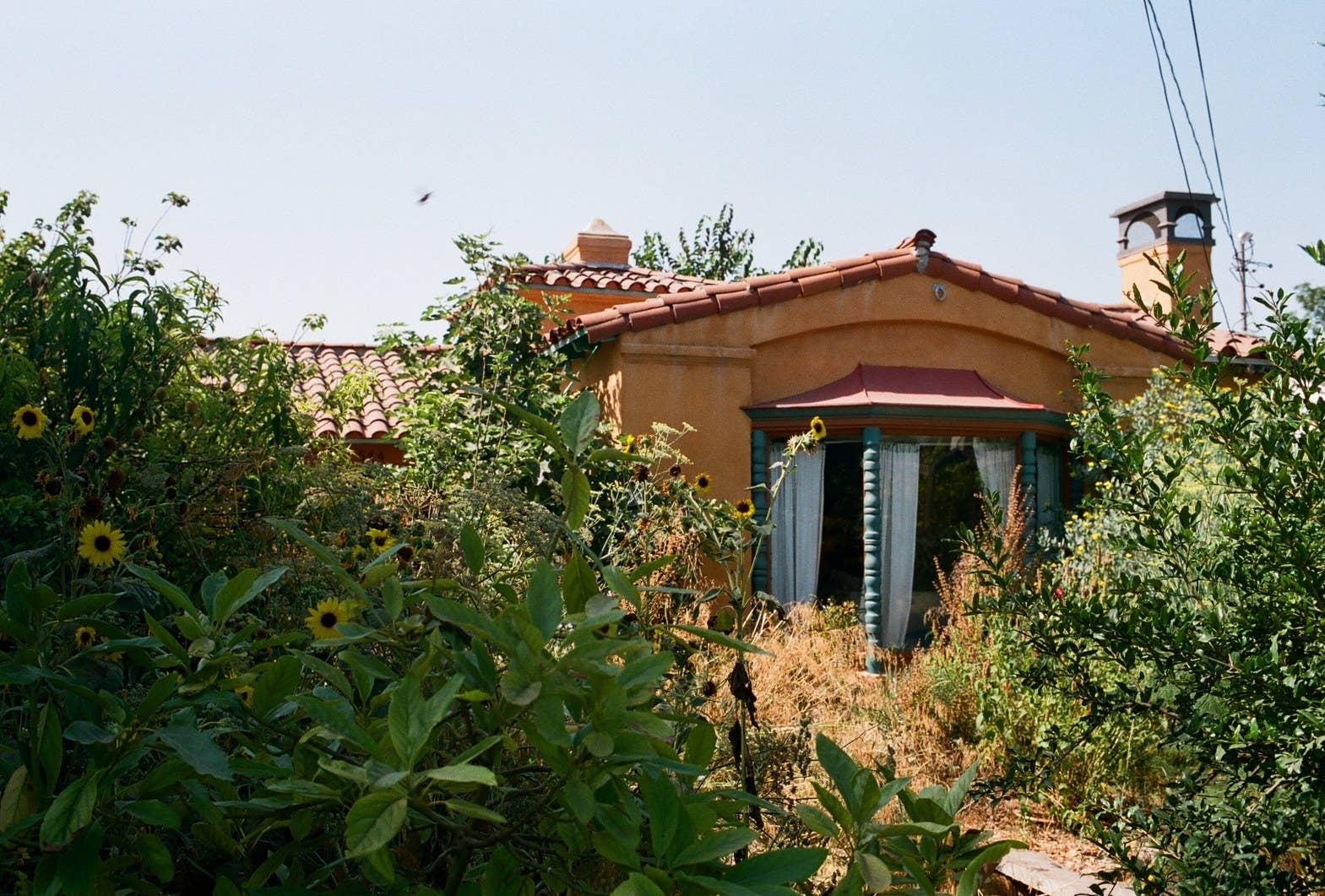 "Originally my husband and I were going to do our encore career on this property, which was growing lettuce aquaponically ... in the backyard, and you can see that's not what happened," said the farm's cofounder Blakistone. "And we just took a big left turn and realized it was going to be a lot more interesting growing people than lettuce."

In the three years since the birth of the first camp, its attendance has grown steadily, and Blakistone has big plans for it in the future. "At farm camp it's 8–14 [years of age], and I just got enough population now that I might be able to do a teen class next year. I'd want that to be youth-led." She's also thinking about uses for the space in a context beyond summer camps. "We're starting to host events and really looking to support minority-owned businesses, and have this be a space for wellness and healing and ritual and not necessarily our programing, but what does the community want to see and do in the space?"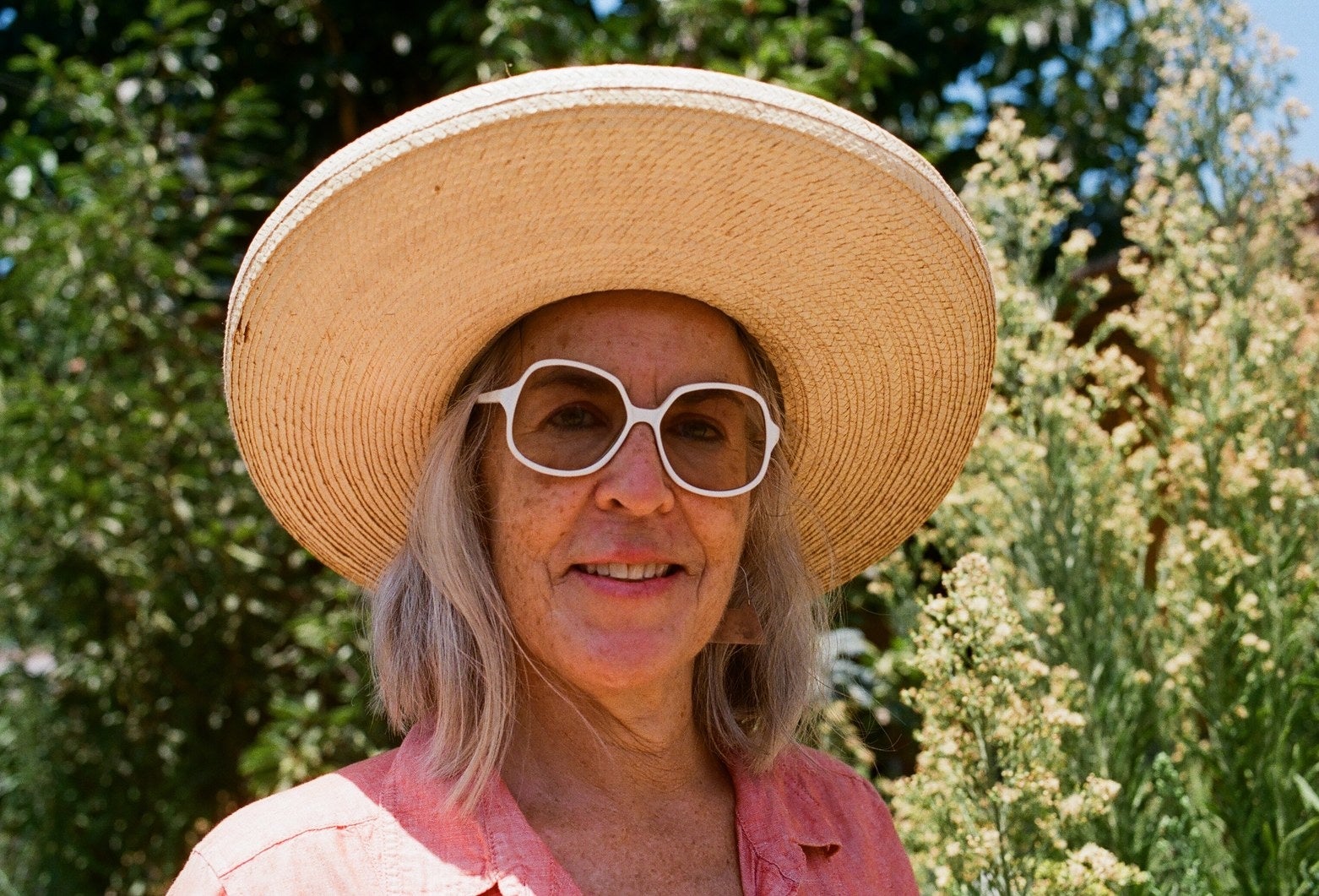 This is the first time many of the campers have been hands-on with farm animals, and their experiences go well beyond those of a petting zoo. With the goats, the kids are taught to trim nails and dispense lice medication. For the chickens, they learn to catch them, maneuver them in and out of their dens, and administer tea tree oil treatments. As they become more confident in their tasks, they're proud to share their learnings. "These chickens are fakers. You see them hiding, pretending like they're laying eggs? They're fakers," says 12-year-old Finley.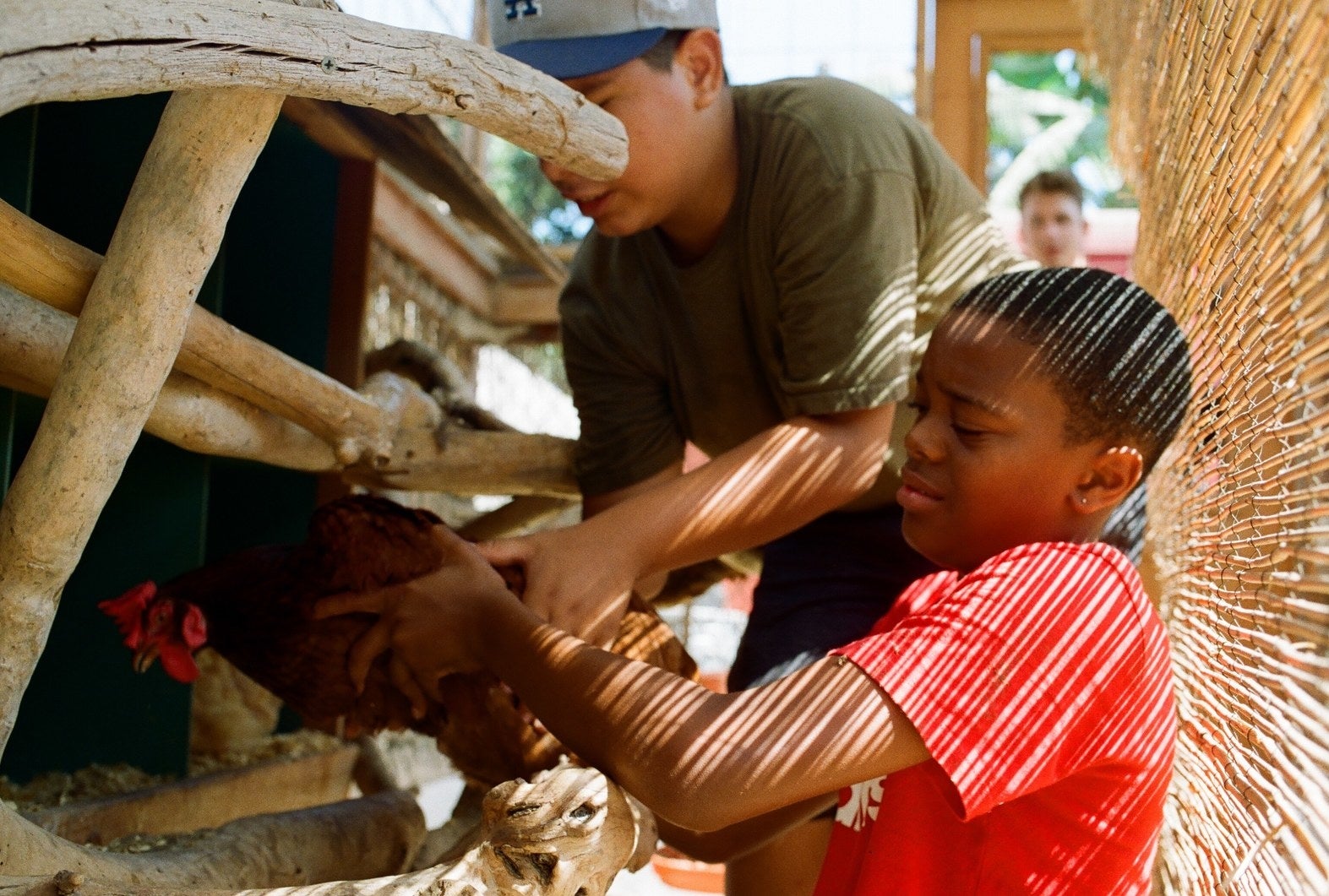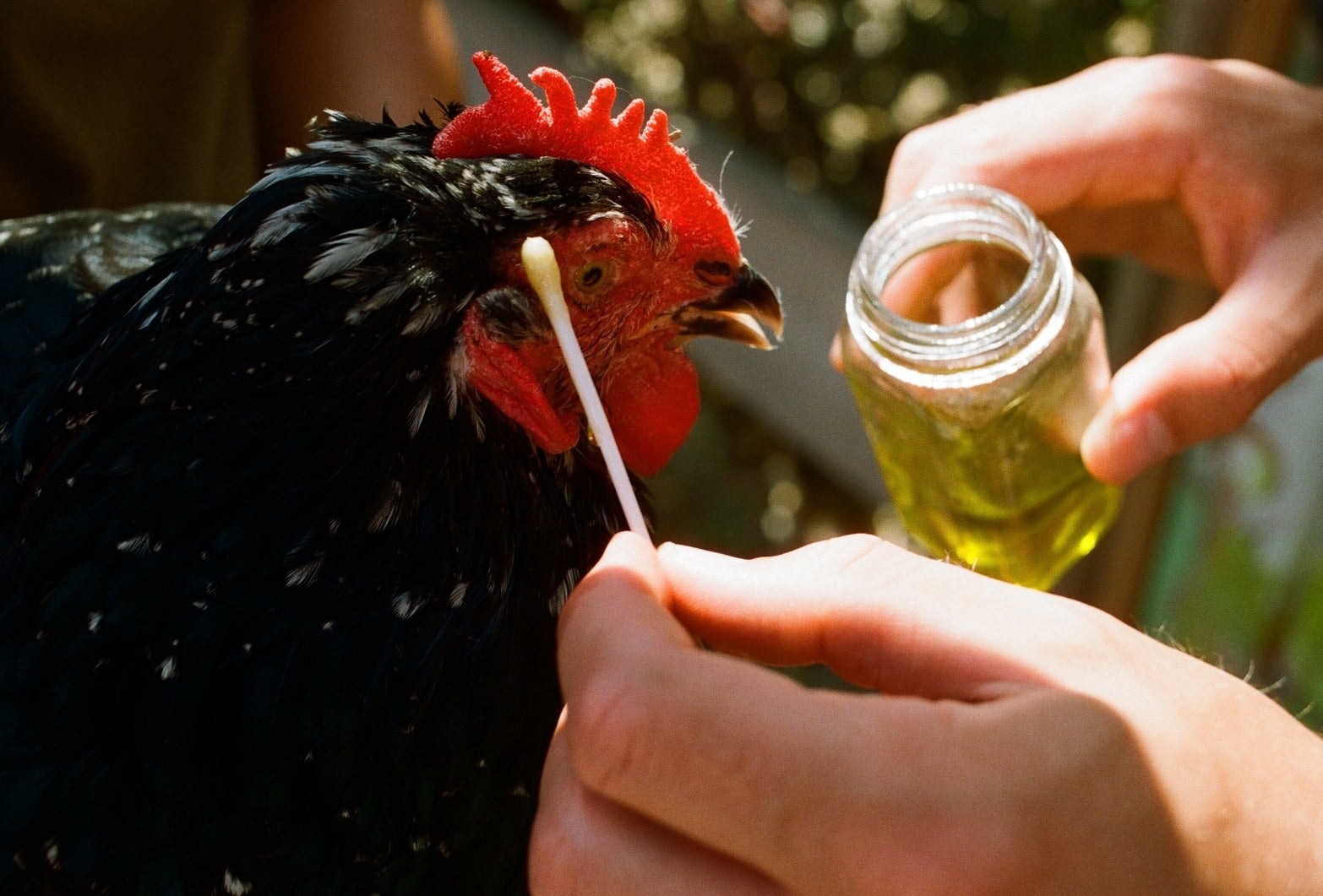 Another important camp activity is learning to cook healthy meals using Moonwater Farm–grown produce. Guest chef Kyle Johnson, a teacher and the founder of Market LOVr, said he enjoys educating the kids about the importance of eating local and sustainable. "I've been teaching kids how to cook in high school for about the past three years. Always plant-based stuff. ... The kids [at Moonwater Farm] have been pretty receptive to the food. I make sure they contribute to every layer of the meal that they can, and I always try to encourage them to feel like they made the meal and I just orchestrated it. ... About 40% of today's meal will be from the garden."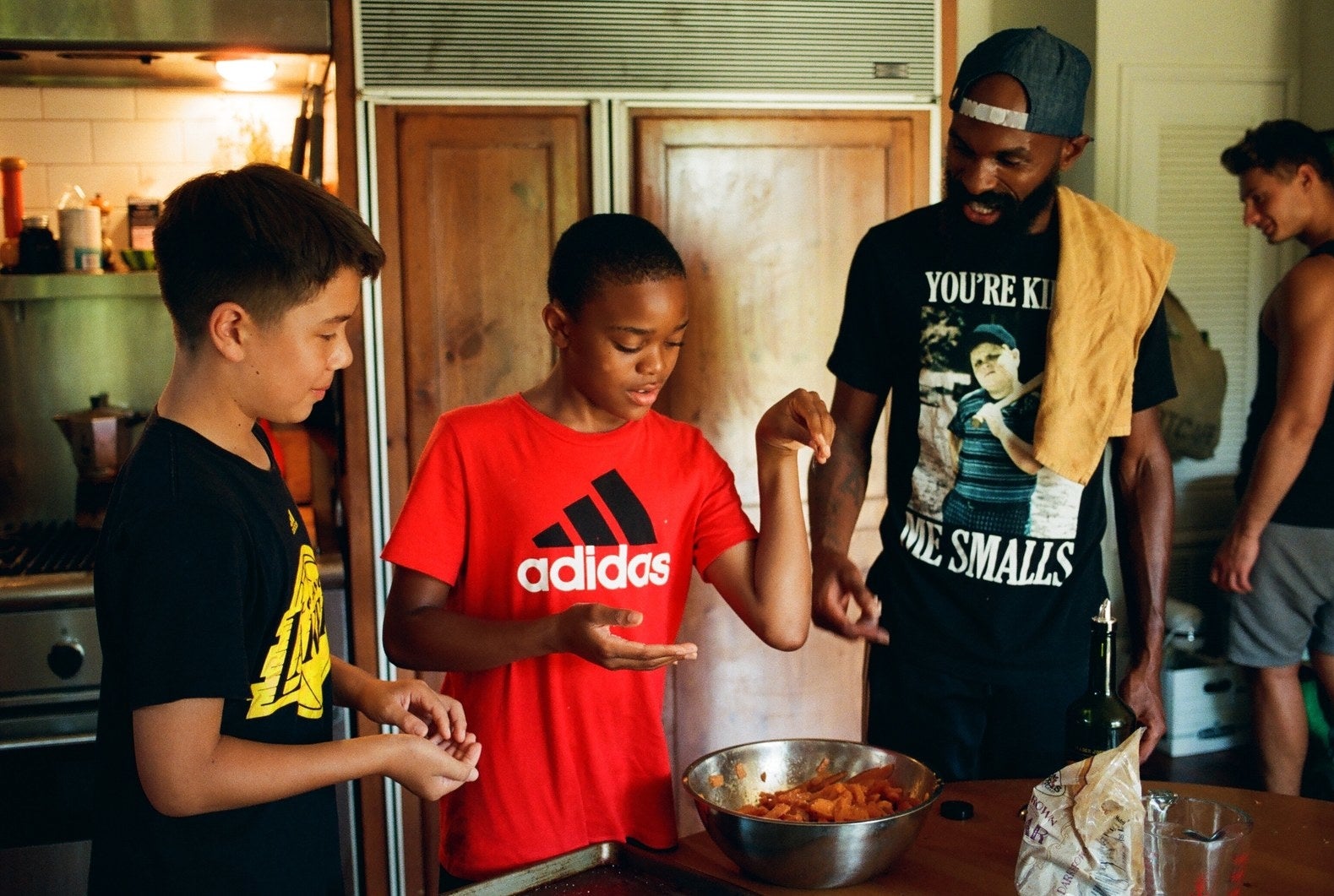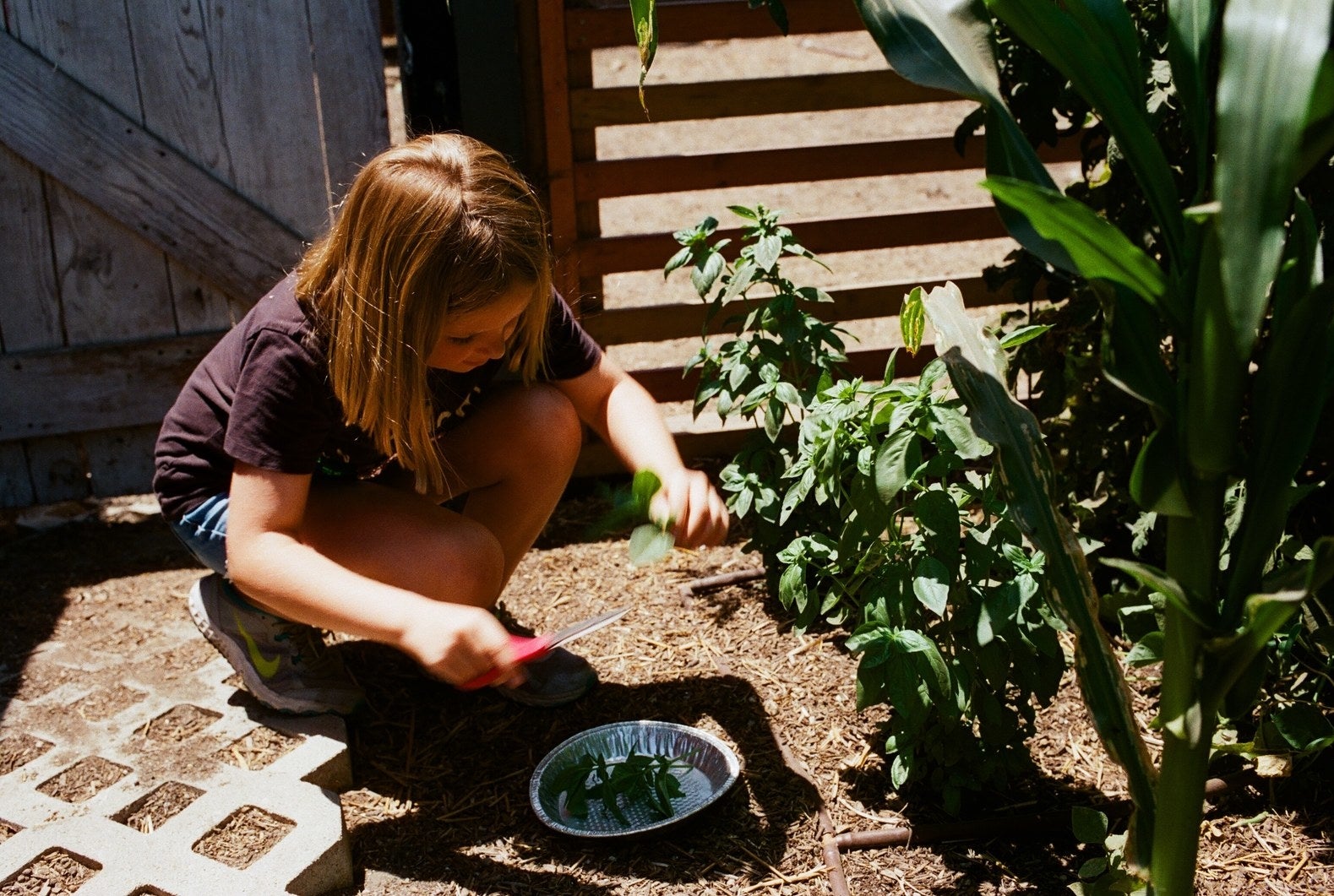 It's clear the camp provides an invaluable service to these kids, by packaging the education in an enjoyable way that keeps them engaged. "It's my only week… I wish I could come longer," said first-time camper, 8-year-old Duncan, whose favorite activity is catching chickens. Finley, a repeat camper, invited his best friend, Jackson, to attend with him this year, "because Jack doesn't really do stuff like this. He plays basketball and a lot of sports. I do too; we play sports together. But sometimes I do this to get away from sports."
Joy, 10, said she was skeptical, but ended up preferring Moonwater Farm to the alternative of being at home all week, where she would be "playing and doing nothing, really. ... I was expecting that I wasn't really going to like it at first, but I did because everybody's nice and it's pretty."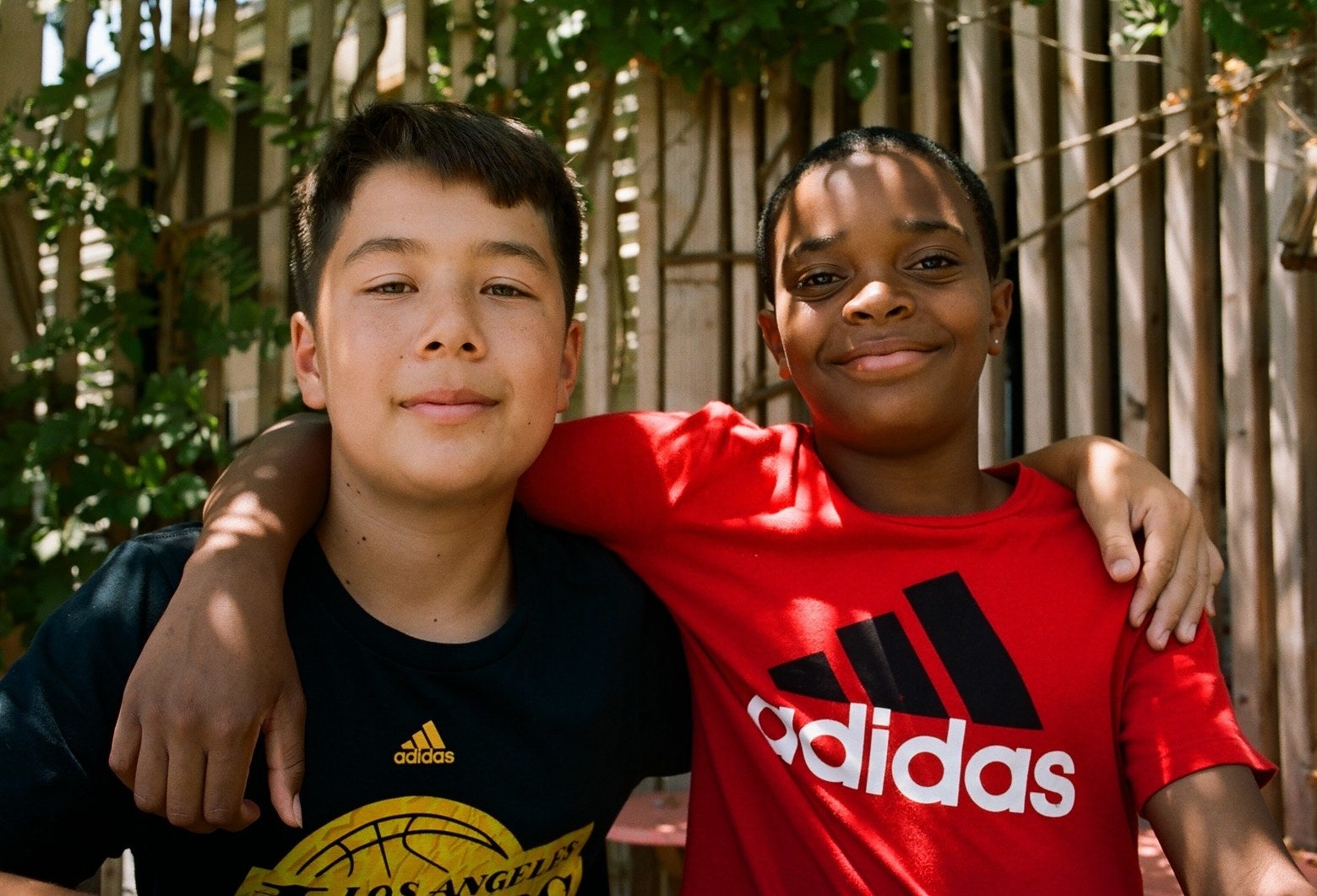 For Yancy Deron, camp counselor and founder of Hands in the Soil, "The most rewarding aspect of working at Moonwater Farm ... is being in flow with the kids and being able to be somewhat of a loose mentor for the week and share different experiences they can relate to. Even being a person of color and a little bit younger, that helps them break down and allows them to say, 'Okay, I'll try it,' or 'Okay, I'll listen.'" Deron's a horticulture teacher during the school year, and said that's what drew him to the camp in the first place. "Really, all I want to do in life is teach kids, make music, and plant vegetables."