1.
For starters, if you thought Vegas wouldn't deliver on the prideful nightlife, hold on to your hats boys and girls...
2.
And the parties just continue to get bigger… and bigger… and bigger...
3.
There are pool parties FA DAYYYZ (OK, maybe only on weekends, but still).
Remember that time when Las Vegas was in a desert? Well, there are still great ways to cool off and have fun. Start your Saturday off with daybeds and DJs at Tropicana's Xposed! pool party, and celebrate your "day of rest" with Luxor's Temptation Sundays.
4.
And the girls DO NOT mess around with their fun in the sun.
5.
Because cowboys come from coast to coast to get their "yeehaw" on.
This ain't your typical rodeo, because it's 1,000x better. The Bighorn Rodeo is a yearly, weekend-long LGBT rodeo for everyone to get their cowboy fix. And when the rodeo isn't going on, there are poker tournaments, Western-themed bar crawls, and of course, pool parties.
6.
BECAUSE ICONS ARE ACTUALLY LIVING THERE TO FULFILL YOUR DREAMS!
LISTEN UP, PEOPLE! Godney herself Britney Spears has now had a residency at Planet Hollywood for two years, and Olivia Newton-John just began her long stay at The Flamingo until the end of August 2014.
7.
And every other iconic "diva" in between for you to lose your MIND over.
Leave it to the professionals. One of the best and most iconic drag shows on the strip, Divas Las Vegas showcases the best of the best when it comes to famous female impersonators. All your favorite divas, all in one place. Done.
8.
Because the hotels know what's up to make sure everyone has a "gay ol' time."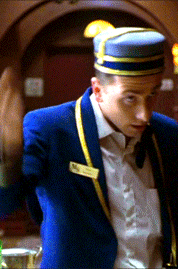 Wynn and Encore offer an exclusive LGBT concierge to help you plan your activities! And hotels including Mandalay Bay, Caesars Palace, and the gay-exclusive Blue Moon resort, are all highly ranked for their services to the LGBT community!
9.
Because it's the largest place for athletes to really get their game on.
10.
Because Gay Days is practically everything you've ever asked for.
11.
And finally, we know how to throw one hell of a pride that only Vegas can get away with!
While all pride parades are awesome, no one does it quite like Vegas.