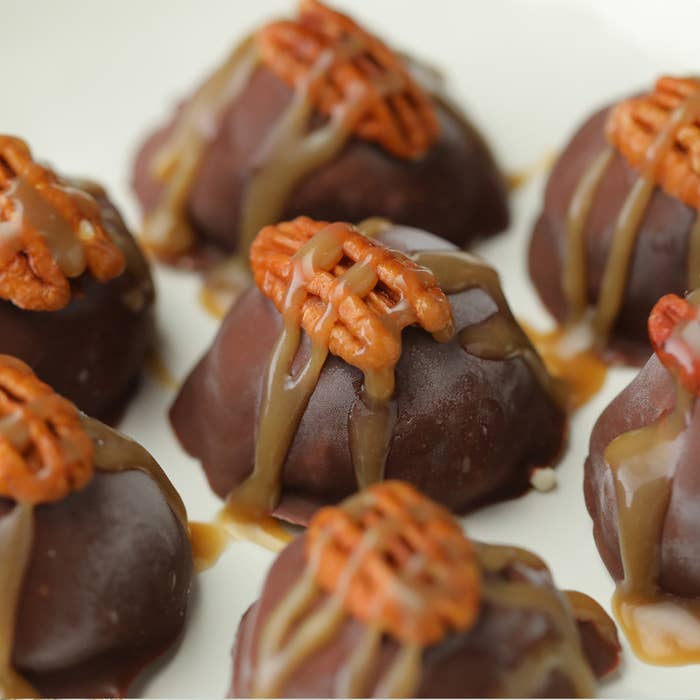 Ingredients
Caramel
1⁄4 cup butter
3⁄4 cup brown sugar
1⁄4 cup ​Land O'Lakes Rich & Creamy Heavy Whipping Cream
1 teaspoon vanilla extract
1 & 1/2 teaspoons flaky sea salt
Cheesecake filling
1 (8-ounce) package cream cheese, softened
3⁄4 cups Land O'Lakes Rich & Creamy Heavy Whipping Cream
1 teaspoons vanilla extract
1⁄4 cup sugar
1⁄2 teaspoon salt
Topping and garnish
1 & 1/2 cups chocolate chips
1 tablespoon coconut oil
1 cup pecan halves
Preparation
1. Make caramel: ​In a medium saucepan, melt butter. Add brown sugar and whisk for a minute. Add heavy cream and vanilla extract. Continuously whisk for 1–2 minutes until the caramel comes together. Add salt, whisk, and remove from heat to let cool.
2. Make cheesecake filling: In a large bowl, beat the cream cheese with a hand mixer for a minute. Add in heavy cream and continue beating until smooth. Add vanilla extract, sugar, and salt, then beat for another minute.
3. Using a silicone spatula, fold a 1⁄4 cup of the caramel into the filling. Take care to slowly fold it in, so that streaks of caramel remain. Drizzle in another tablespoon of caramel and swirl in. Filling should be lightly marbled with caramel. Place filling in freezer for 30 minutes to firm up.
4. Remove from freezer and use a tablespoon-sized scoop to remove the filling and place on a parchment-lined sheet tray. Freeze bites for at least 2 hours.
5. Melt chocolate chips and coconut oil together in the microwave. Use 30-second intervals, stirring in between, until the chocolate is melted and smooth.
6. Use a fork to lower each cheesecake bite into the chocolate and coat. While the chocolate is still wet, place a pecan half on each bite. Drizzle all the bites with the remaining caramel. Let set for 10 minutes, then serve.