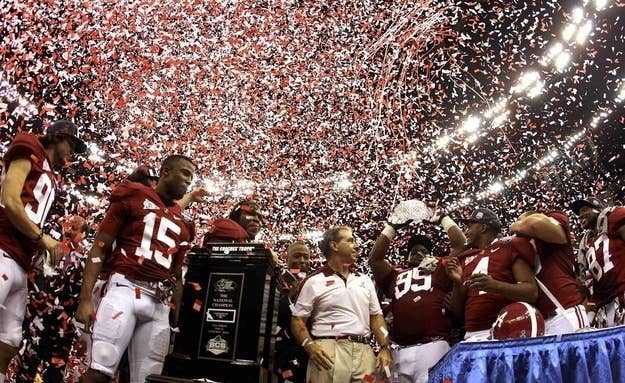 Rejoice: the BCS Championship — a hieroglyphically complex, idiotic kingmaking tango in which two SEC football teams are arbitrarily anointed candidates for a championship — has belatedly been replaced with a four-team playoff. NCAA football is finally joining modern society, but they're doing it in the feeblest way possible. And without further moves by the NCAA, the real effect of what seems right now like a monumental change will be slim.
The reason that the BCS Championship scenario has lasted this long isn't so much a matter of "if it ain't broke, don't fix it" as it is "if it's making you rich, keep letting it make you rich." Last year, the REGULAR SEASON matchup of Alabama-LSU got an 11.9 rating, which is World Series/NBA Finals level, and a large part of this is because, considering the way the BCS works, most people thought of that game more or less as the national championship. The assumption was that the loser wouldn't be able to endure the gauntlet of the SEC and make it to the championship without dropping another contest; it was an all-or-nothing scenario. And because of the uncertainty involved in an establishment that takes teams to the guillotine after some losses but not others, this same feint plays itself out ad nauseam. There's no structure; it's one constant fall from a precipice after another. The stakes are never clear, and it's hard for anyone who isn't already a fan of a big football school (count me in this group) to get a grip on what they're supposed to be paying attention to.
Instead, what the BCS Championship game did was limit accessibility to the sport and its virtues. The whole point of athletic organizations like the NFL, NBA, MLB, NHL, and NCAA — aside from making money, of course — is to structure and organize the experience of following sports. But with college play, unless you have the steadying anchor of a favorite team, the personnel turnover and the enormous number of schools makes it an tricky thing to get a grip on. Aside from the most obvious threads that emerge, like the Heisman Trophy races or wild-card teams like Boise St. and TCU, it can be difficult to pinpoint what deserves your attention. And to get emotionally invested in underdogs makes no sense; you'd come to like a streaking team only to see it arbitrarily shut out of the final game.
What playoffs do in other sports is focus fan attention in a crowded sports market. The thing is, even with the four-team playoff, college football isn't there yet. As great as it is for the overall level of justice in the world that the BCS has been put to pasture, a three-game postseason is not going to narrow college football's storylines far enough for unattached fans like me, the ones who went to schools with god-awful football teams and grew up in states with god-awful football teams. That's especially true considering that college ball is an inferior form of the NFL. Admittedly, the same can be said of college basketball vis a vis the NBA. But in college basketball, transcendent players can stick out (it's a sport that spotlights individual success), becoming folk heroes and phenoms, their games can't-miss events. In the massively complex, dynamic environment of football, individual majesty still exists, of course, but not to the same degree, and not with that sort of lightning-rod clarity (there are exceptions to this rule, of course, i.e. Cam Newton). And, most importantly, college basketball has March Madness, a month-long, 68-team bonanza of narrative creation.
In sports, the longer the narrative, the more fans get sucked in. No one does stories better than NCAA basketball. When you have Western Kentucky and George Mason and Davidson making epic runs against top-notch competition, or Northern Iowa knocking off Kansas via the heroism of Ali Faroukhmanesh, or even conventional powerhouses like the University of Connecticut, a multiple-time championship winner, triumphing seemingly entirely because of the swerve of Kemba Walker's undefendable step-back, the sport opens up to viewers in a way that it never could otherwise. These stories emerge the NFL as well: just last year, the 9-7 New York Giants came in as major underdogs and clawed their way through a host of superior teams — Eli Manning's "put-upon cipher who makes good" triumph wouldnt've existed if the NFL season ended with a championship game between the Patriots and the Packers. So while a four-team, three-game tournament will in almost all seasons keep an undefeated team from getting egregiously shut out of the chance to play for a title, it won't develop stories. And let's face it: crowning the "best" team king is not what makes sport great.
An eight-team playoff, which is enough to ensure the inclusion of at least one or two unusual teams, would be superior. It wouldn't be so monumental an undertaking as to put unsustainable pressure on the schools — if the schedule seems too long, cut one of the rote massacres from the beginning of the season. All the major bowl games would have a (financial and logistical) place, and there could still be the other bowls for the non-tourney teams. Most of the big-time conferences would be represented, and, if so desired, we could even move away from the human element of selection committees — or the computer element of an algorithm — toward permanent spots for conferences. An eight-team bracket would goose an egalitarian and fun-as-hell blossoming of college football into something the whole country could rally around. And — dare I say it? — a New Year's football bracket might even help the NCAA eclipse the NFL.