Jason Collins Vs. Tim Tebow Coverage Represents Old Vs. New ESPN
Bob Ley throwing some punches here.
Bob Ley, one of the last two original SportsCenter anchors still at ESPN, tweeted this earlier today about NBA player Jason Collins' announcement that he was gay.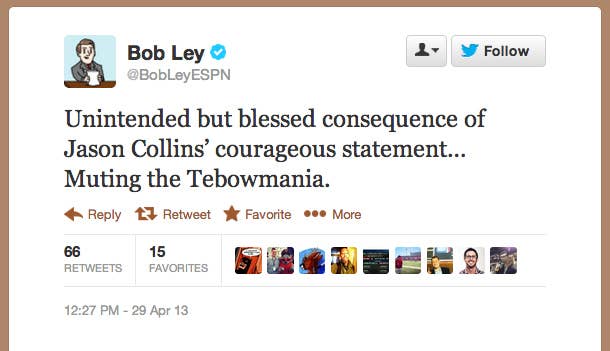 But when you look at the front page of ESPN's website at the time of Ley's tweet, something looks... strange.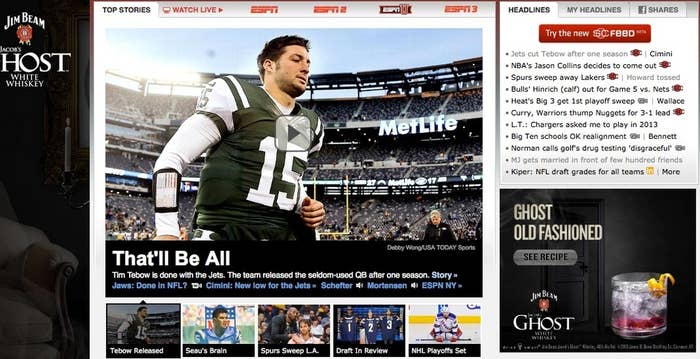 Bill Simmons, who does NBA studio coverage for ESPN/ABC and is the editor in chief of ESPN's Grantland, retweeted Ley. Simmons was suspended from Twitter in March for criticizing the network.

The lead story is Tim Tebow being cut by the New York Jets; the news about Collins, which was reported by Sports Illustrated, is relegated to a link on the "Headlines" tab of the sidebar.
ESPN's heavy focus on Tebow has long been a controversial topic at the company. Deadspin's John Koblin wrote a long piece about the company's institutional mandate to talk Tebow as much as possible, even when he was sitting on the Jets' bench. After criticism from the media and ESPN's own personalities, the company's president, John Skipper, admitted that they "stayed on it relentlessly and too long," and he was eventually echoed by ESPN Vice President John Walsh.
The 1 p.m. SportsCenter is leading with the Collins news, but ESPN's site continues to go with Tebow.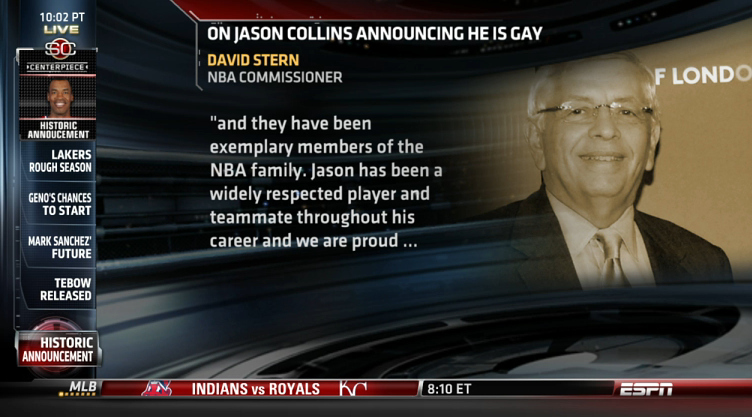 UPDATE: around 1:30 p.m., ESPN.com switched to an even weirder lead story — a fourth-round pick in this weekend's NFL Draft named Ryan Nassib. Collins remains in the sidebar.