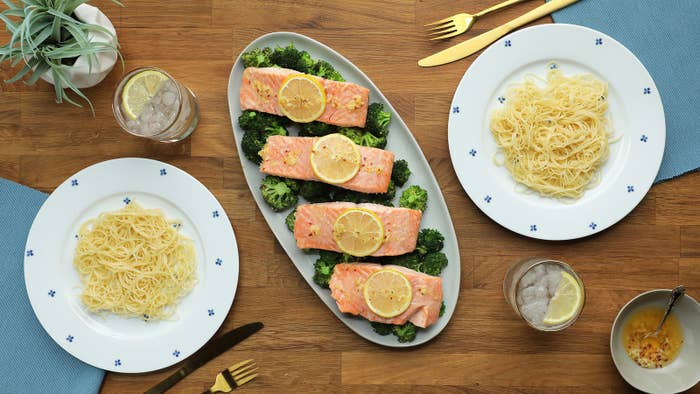 Sheet-Pan Garlic Salmon & Broccoli
Servings: 4
INGREDIENTS
11⁄2 pounds Kroger Brand Atlantic Salmon Fillet, cut into 4 (6-ounce) fillets Salt, to taste

6 cups Kroger Brand Broccoli Florets

3 tablespoons unsalted butter

5 garlic cloves, minced

3 teaspoons lemon zest

1⁄2 teaspoon crushed red pepper flakes (optional)

1⁄2 teaspoon salt

4 lemon slices

1⁄2 lemon (to juice)

1⁄2 pound Private Selection Angel Hair Pasta

PREPARATION
Preheat the oven to 425°F.

Cut the Kroger Brand Atlantic Salmon into 4 (6-ounce) fillets.

Place the salmon fillets in the center of a parchment-lined baking sheet. Season with salt on both sides. Top each fillet with a lemon slice.

Scatter the broccoli around the salmon on the baking sheet.

Combine the unsalted butter, garlic, lemon zest, optional red pepper flake, and salt. Microwave on high for 30 seconds or until butter is melted. Stir to combine. Reserve 1⁄3 of this butter mixture to use later on the pasta.

Pour the garlic butter evenly all over the broccoli and salmon. Gently toss the broccoli to distribute the garlic butter.

Bake in preheated oven for 8–10 minutes.

Bring a large pot of water to a boil. Season the water generously with salt.

Add angel hair pasta and cook until al dente, about 3–4 minutes. Drain.

Squeeze the lemon over the salmon and broccoli.

Serve the salmon and broccoli with the angel hair.