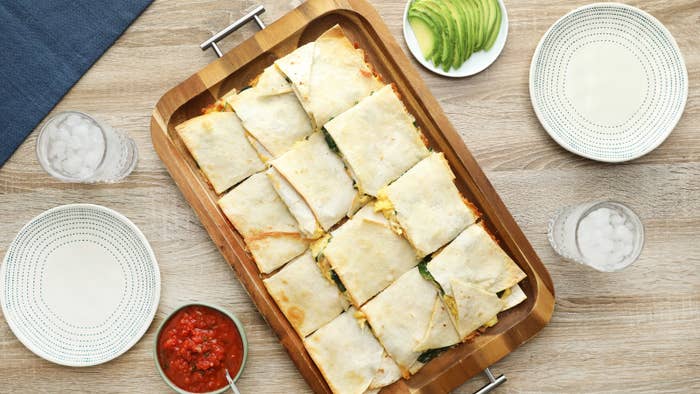 SHEET-PAN BREAKFAST QUESADILLA
Servings: 6-8
INGREDIENTS:
8 slices Simple Truth bacon

12 Simple Truth Cage-Free Eggs

2 tablespoons milk

2 teaspoons salt

1⁄4 teaspoon pepper

1 tablespoon butter

8 Simple Truth Organics burrito-sized tortillas

3 (6-ounce) bags Simple Truth Organic Mexican Style Blend shredded cheese 2 handfuls baby spinach

3 tablespoons melted butter

1⁄2 cup Simple Truth Salsa

1 avocado, sliced

PREPARATION:
Preheat oven to 400oF.

Heat a skillet over medium heat. Add Simple Truth bacon and cook until cooked through, 4–5 minutes on each side, flipping halfway. Remove Simple Truth bacon and pat off excess grease with paper towels. Roughly chop bacon and set aside.
Whisk together Simple Truth Cage-Free Eggs, milk, salt, and pepper. Heat the tablespoon of butter in a large nonstick skillet. Once melted, pour in the eggs and gently scramble with a silicone spatula until mostly cooked. Set aside (eggs will continue to cook in oven).
Line a half baking sheet with aluminum foil and spray with cooking spray. Cut 3 of the Simple Truth Organics tortillas in half. Lay down the halves, overlapping, so that they cover the entire tray. Cut pieces out of another Simple Truth Organics tortilla to fill in the corner gaps.

Spread out a layer of Simple Truth Organic Mexican Style Blend shredded cheese on the tortillas. Layer on the scrambled eggs and chopped bacon. Spread out the spinach, then top with another layer of shredded cheese.

Place the Simple Truth Organics tortillas on top in the same arrangement as the bottom tortillas. Brush with melted butter.

Bake quesadilla for 10–15 minutes, until tortillas are golden brown.

Remove from oven and let cool for 5 minutes before slicing. Serve with Simple Truth

Salsa and sliced avocado.