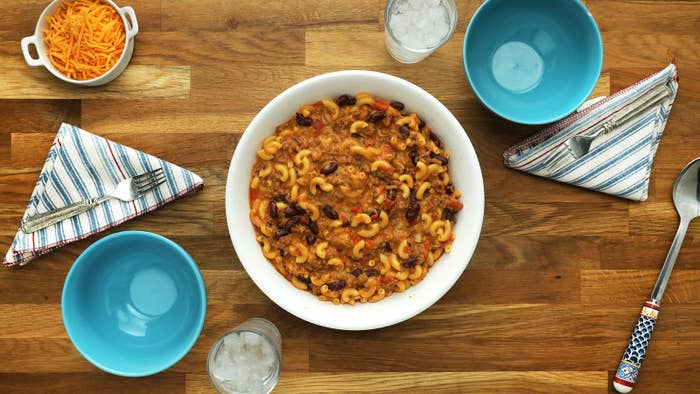 INSTANT POT TURKEY CHILI MAC
Servings: 8
INGREDIENTS:
1 tablespoon olive oil

1 yellow onion, diced

1 red bell pepper, diced

2 cloves garlic, minced

1 pound Kroger Brand Ground Turkey 85/15

2 teaspoons salt

1⁄2 teaspoon pepper

1 tablespoon chili powder

1 teaspoon cumin

1 teaspoon oregano

1 teaspoon paprika

1 (14.5-oz.) can Kroger Brand Diced Tomatoes

1 (15.5-oz.) can Kroger Brand Dark Red Kidney Beans, drained and rinsed

11⁄2 cups evaporated milk

11⁄2 cups shredded cheddar cheese, plus extra for garnish

8 ounces Kroger Brand Elbow Macaroni, cooked 2 minutes less than package instructions

PREPARATION:
Set the Instant Pot to "Saut é" setting and allow pot to heat up. Add the olive oil.

When hot, add onion, red bell pepper, and garlic. Saute 5–7 minutes, until onions and peppers begin to brown. Add in Kroger Brand Ground Turkey 85/15 and all the spices. Saute for another 3–4 minutes.
Add in Kroger Brand Diced Tomatoes and Kroger Brand Dark Red Kidney Beans. Stir well.
Put the cover on the Instant Pot. Be sure the pressure valve is set to "Sealing." Use the manual setting to set the timer for 18 minutes.
When the timer goes off, allow pressure to release naturally OR turn pressure valve to "Venting" to release pressure quickly. **Be sure to read all Instant Pot instructions carefully for safety. Be sure Instant Pot is turned off and unplugged before carefully removing the cover.
While the chili is cooking, make the mac 'n cheese. In a pot, heat evaporated milk until it begins to simmer. Whisk in cheddar cheese until sauce is smooth, then add macaroni and a 1⁄2 teaspoon salt. Cook for 2–3 more minutes, stirring while mac 'n cheese bubbles, then remove from heat.

Stir mac 'n cheese into the chili and serve, topping each bowl with additional cheese.