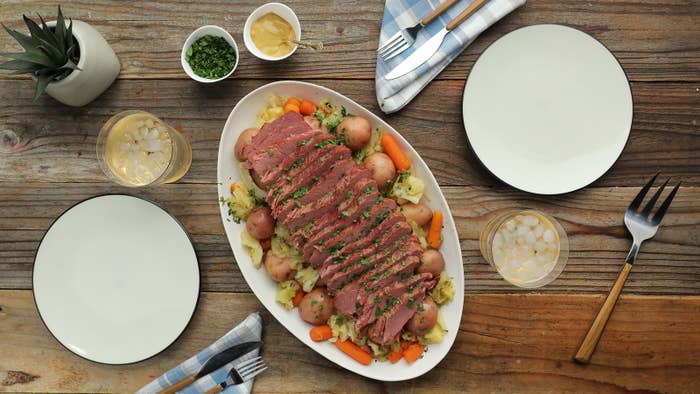 Instant Pot® Corned Beef & Cabbage
Servings: 6–8
INGREDIENTS
1 Kroger Brand Corned Beef (3–4 pounds)

1 yellow onion, diced

3 cloves whole garlic, peeled and smashed

Water

Private Selection Petite Red Potatoes, 11⁄2 pounds

2 cups Simple Truth Baby Carrots

1 small head green cabbage, core removed, cut into 8 pieces 2 tablespoons parsley, chopped for garnish

Dijon mustard, for serving

PREPARATION
Remove the Kroger Brand Corned Beef from the packaging and rinse well. Place the corned beef in the Instant Pot. Sprinkle the spice packet over the top of the meat.

Add the diced onion and garlic. Add just enough water to cover the corned beef.

Put the top on the Instant Pot® and close. Be sure the pressure valve is set to "Sealing." Use the manual setting to set the timer for 80 minutes.

When the timer goes off, allow pressure to release naturally. **Be sure to read all Instant Pot® instructions carefully for safety. Be sure Instant Pot is turned off and unplugged before carefully removing the cover.
When the pressure has released (the float valve is no longer up), remove the lid of the Instant Pot®. Remove the corned beef, then set aside to rest.

Add the Private Selection Petite Red Potatoes, baby carrots, and cabbage to the liquid in the pot. Put the lid back on and set to manual for 4 minutes. Release the steam. When the float valve goes down and pressure is released, remove the lid.

Slice the rested corned beef against the grain into slices about 1⁄2 inch thick. Serve with vegetables. Garnish with fresh parsley and serve with Dijon mustard.