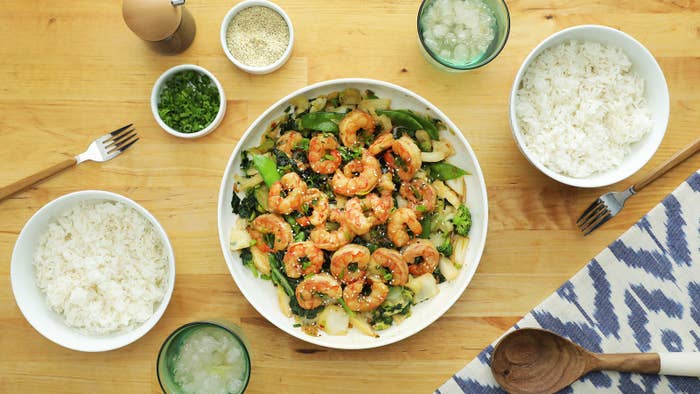 GARLIC SHRIMP STIR-FRY
Servings: 4
INGREDIENTS:
4 teaspoons vegetable oil, divided

3 cloves garlic, minced

1⁄4 teaspoon red pepper flakes

1 pound shrimp, peeled and deveined

1 teaspoon sesame oil

2 teaspoons soy sauce

Kroger Brand Ginger Garlic Stir Fry Kit 3 scallions, sliced, plus extra for garnish Sesame seeds, for garnish

PREPARATION:
In a large skillet, heat 2 teaspoons vegetable oil over medium heat. Add garlic and red pepper flakes. Once they start to sizzle, add the shrimp. Stir-fry for a minute, then drizzle in the sesame oil and soy sauce. Continue to stir-fry until shrimp is cooked through, then remove shrimp from the pan.

In the same pan, heat the other 2 teaspoons of vegetable oil. Add in the vegetables from the Kroger Ginger Garlic Stir Fry Kit, reserving the sauce packet. Stir-fry vegetables until softened, about 5 minutes. Add in ginger garlic sauce and toss to combine. Add in shrimp and scallions, then combine.

Transfer stir-fry to a platter and garnish with sesame seeds and extra scallions.