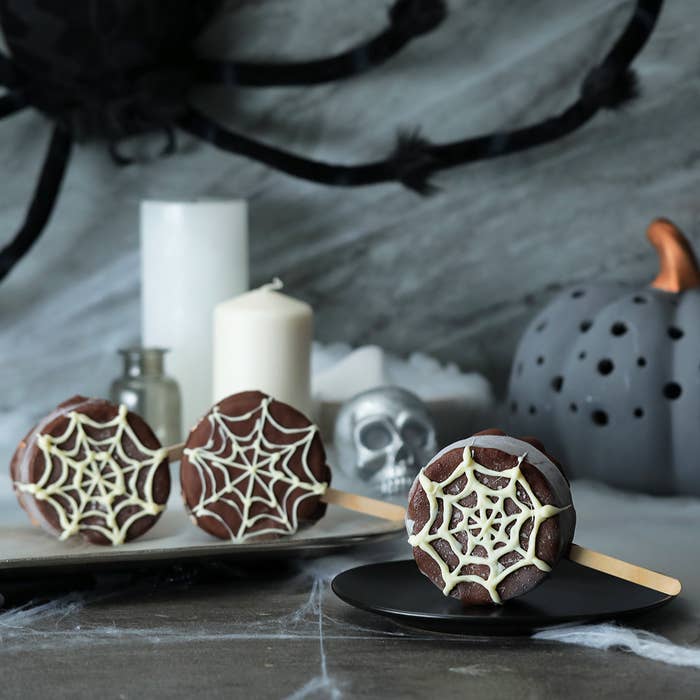 Makes 4 sandwiches
INGREDIENTS
1 package Betty Crocker Milk Chocolate Brownie Mix

1⁄2 cup oil

2 egg

1 pint of Private Selection Brown Butter Bourbon Truffle Ice Cream 1 11 oz bag of Ghirardelli classic white chips

2 cups chocolate chips

1⁄2 cup coconut oil

INSTRUCTIONS
Mix wet and dry ingredients until it forms a ball of dough.

Gently spread onto greased and lined 1⁄2 sheet tray to about 1⁄4" thickness and bake for about 15 minutes until sides are set and center is baked through, but still soft. Set aside to cool.

Take the pint of ice cream and evenly slice the pint horizontally into 4 disks. Freeze until solid.

With a round cutter, cut brownie into 8 rounds from the center (edges will be more brittle), sandwich the ice cream disks between two pieces of brownie. Skewer with popsicle stick and freeze until frozen solid, at least 2 hours, overnight preferred.

In a small deep bowl, microwave chocolate chips and coconut oil in 30 second intervals until fully melted.

Quickly dip the ice cream sandwich in the chocolate mixture, letting the excess drip off before placing on a lined cookie tray and freeze until ready to decorate.

Melt white chocolate in 30 second intervals, stirring in between, and place in a piping bag lined with a small round tip.

Take dipped sandwich and decorate with the webbed design and freeze until ready to serve!