Snickerdoodle Bread Pudding
Elevate your late-night study snacks with this delicious snickerdoodle bread pudding. Grab all the ingredients you need for this microwavable treat at your local Kroger.
Snickerdoodle Bread Pudding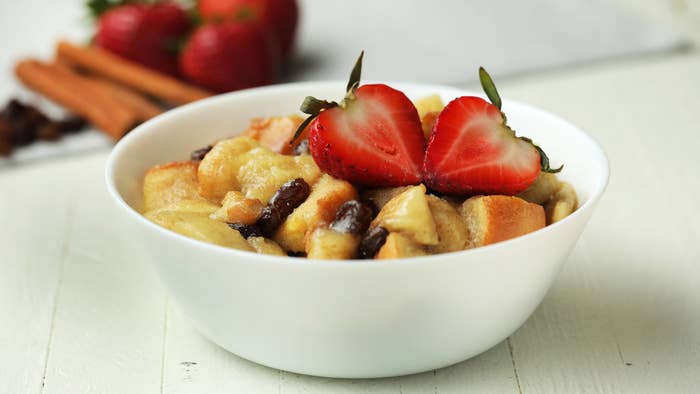 Snickerdoodle Bread Pudding
Servings: 1Prep time: 5 minutesCook time: 3 minutesTotal time: 8 minutes
Ingredients:
1 egg½ cup milk1 teaspoon vanilla extract¼ teaspoon cinnamon, plus additional for garnish2½ tablespoons sugar, divided⅛ teaspoon salt2 tablespoons raisins (optional)3 slices Kroger® Market & Mill™ Artisan Style White Bakery Bread3 strawberries, sliced, for garnish
Procedure:
Spray a small, shallow, microwave-safe bowl with cooking spray and set aside.

In a medium bowl, mix together egg, milk, vanilla, cinnamon, 2 tablespoons sugar, salt, and raisins.

Slice Kroger® Market & Mill™ Artisan Style White Bakery Bread bread into 1-inch pieces, add to egg-mix bowl, and fold bread to coat.

Pour bread pudding mixture into prepared bowl. Sprinkle the remaining ½ tablespoon of sugar on top of the bread.

Microwave for 3 minutes and when done let sit in the microwave for 1 minute.

Top with freshly sliced strawberries and a sprinkling of cinnamon.