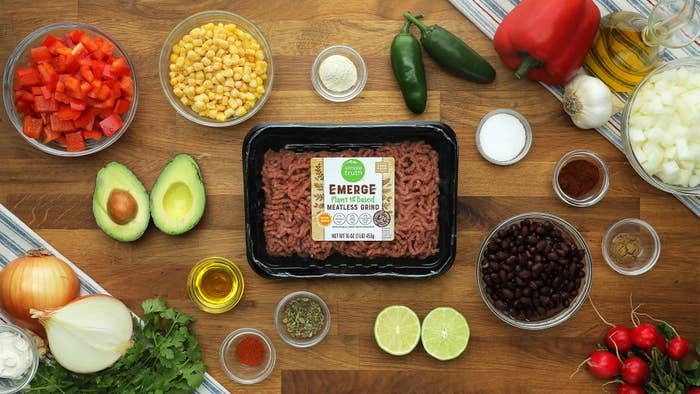 Plant-Based Burrito Bowl Meal Prep

Servings: 5
Ingredients:
"Meat"
2 tablespoons olive oil
2 red bell peppers, diced
1 yellow onion, diced
1 pound Simple Truth​TM Plant Based Meatless Grind 1 tablespoon kosher salt
2 teaspoons chili powder
2 teaspoons garlic powder
1 teaspoon ground oregano
1⁄2 teaspoon cumin
1⁄4 teaspoon cayenne
1 cup frozen corn, defrosted
1 cup cooked black beans
Creamy Cilantro Dressing
2 bunches cilantro, stems chopped off
1⁄3 cup lime juice
2⁄3 cup olive oil
1 teaspoon kosher salt
2 tablespoons sour cream
Assembly
4 cups cooked rice
Chopped romaine
Shaved cabbage
Sliced radishes
Sliced avocado
Sliced jalapeño
Preparation:
"Meat": Heat olive oil in a large skillet over medium heat. Add peppers and onions. Sauté for 10 minutes until softened and browned at the edges. Push the vegetables to the edges of the pan and add Simple Truth​TM Plant Based Meatless Grind​. Sprinkle with kosher salt, chili powder, garlic powder, oregano, cumin, and cayenne. Increase heat to high and sauté everything together for 5 minutes. Add corn and beans and sauté for another 5 minutes. Remove from heat.

Dressing: Combine all ingredients in a blender. Blend until smooth.

Assembly for meal prep: In 5 separate containers, arrange rice, romaine, and cabbage. Top with some of the "meat" and garnish with radishes, avocado, and jalapeño. Pack dressing separately.