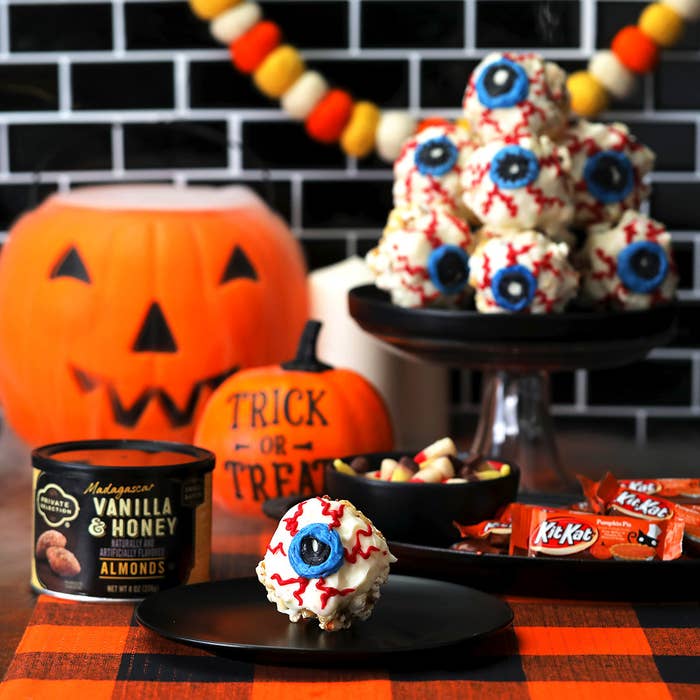 Makes 12 popcorn balls
INGREDIENTS
3 quarts (12 cups) popped popcorn

1 8 ounce Vanilla & Honey Almonds

1 cup granulated sugar

1/2 cup corn syrup

1/4 cup butter

1/2 teaspoon salt

1 teaspoon pure vanilla extract

1/2 teaspoon baking soda

2 11 oz packages Ghirardelli Classic White Chips Red, blue and black food color

INSTRUCTIONS
Preheat oven to 300°F and keep popcorn warm while syrup is being prepared.

In a medium saucepan, combine sugar, butter and salt and bring to a boil and continue to cook for 2 minutes.

Take popcorn out of the oven and pour into a large bowl and add in the Vanilla & Honey almonds.

Pour syrup over popcorn and nut mixture, and carefully toss with spatula until covered, and quickly shape into 12 balls keeping it as round as possible.

In a double boiler, melt the two packages of white chocolate in a heat safe bowl until fully melted.

Divide chocolate in 4 bowls, portion white chocolate to be food colored in 3, about 1 cup of chocolate and add blue, red, and black respectively, place in piping bags. Leave the remaining white chocolate in a small, deep bowl ready for dipping.

Dip 1⁄2 of the popcorn ball in white chocolate and let excess drip off, place on a lined cookie sheet.

Pipe an eyeball design by starting with black pupil, then blue iris, and red veins. Chill to set chocolate up.
NOTES: If chocolate seizes when adding food color, add 1 tablespoon of coconut oil and mix until smooth, if that's not enough add more coconut oil by the teaspoon until desired texture is met. Should still be thick, but stirrable.