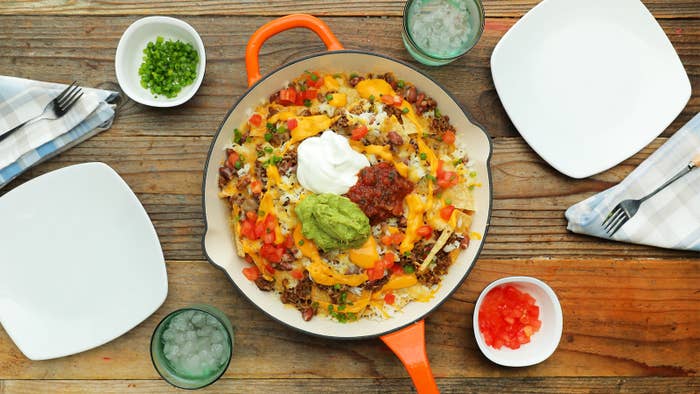 NACHO SKILLET
Servings: 6
INGREDIENTS:
2 teaspoons olive oil

1 pound ground beef

1 packet Kroger Brand taco seasoning

12 ounces tortilla chips

1 cup cooked rice

1 can pinto beans, drained

8 ounces Kroger Brand Mexican Style Blend Finely Shredded Cheese 1 can Kroger Brand Nacho Cheese Sauce

1⁄3 cup Kroger Brand sour cream

1⁄3 cup Simple Truth guacamole

1⁄3 cup Simple Truth salsa

3 scallions, thinly sliced

1 medium-sized tomato, diced

PREPARATION:
Preheat oven to 350 F.

Heat olive oil in a skillet. Add ground beef and Kroger taco seasoning. Saute until cooked, breaking the meat up with a wooden spoon. Once cooked, set aside.

In a 12-inch skillet, place a layer of tortilla chips. Top with ground beef, rice, beans and cheese. Repeat layering twice more (there will be 3 layers of the ingredients). Bake skillet in oven for 5-7 minutes, until cheese is melted.

While skillet is baking, heat Kroger Nacho Cheese Sauce in a small pot until bubbling and heated through.

Remove skillet from oven and drizzle with nacho cheese.

Place sour cream, guacamole, and salsa on top of nachos. Sprinkle with scallions and tomato. Serve immediately.