BBQ Chicken Mac 'N' Cheese Skillet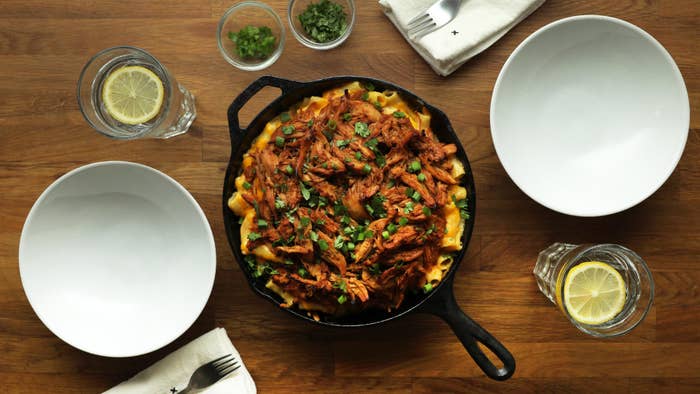 BBQ Chicken Mac 'N' Cheese Skillet
Servings: 6
Prep time: 20 minutesCook time: 40 minutesTotal time: 1 hour
Ingredients
:
3 Simple Truth Organic Boneless Skinless Chicken Breasts
3 teaspoons kosher salt, divided
1 cup barbecue sauce
12 ounces rigatoni pasta
3 tablespoons unsalted butter
3 tablespoons all-purpose flour
2 cups whole milk
1 teaspoon garlic powder
½ teaspoon onion powder
2½ cups shredded yellow cheddar cheese, divided
¼ cup Parmesan cheese
¼ cup heavy cream
Sliced scallions, for garnish
Chopped cilantro, for garnish
Preparation
:
Preheat an oven to 350ºF and spray a 10" cast iron skillet with nonstick spray.
In a small pot, place Simple Truth Organic Boneless Skinless Chicken Breasts and add just enough water to cover. Add 1 teaspoon of salt. Bring to a boil over medium-high heat and cook for 10–12 minutes or until chicken is cooked through. Transfer the chicken to a medium mixing bowl. Using two forks, shred the chicken while it is still warm for easy shredding. Toss chicken with barbecue sauce and set aside.
In a large pot, bring 3 quarts of water to a rapid boil and add 1 teaspoon salt. Add rigatoni to the boiling water, stir gently, and return to a rapid boil. Cook uncovered, stirring occasionally for 10 minutes. Drain the pasta and reserve ¼ cup of pasta water.
In a medium sauce pan, melt butter over medium heat and add the flour. Stir often with a wooden spoon until the mixture turns golden brown, about 5 minutes, to make a roux.
Add whole milk to the roux and whisk constantly over medium heat and bring to a simmer until milk has thickened, about 5 minutes. Add 1 teaspoon kosher salt, garlic powder, and onion powder to the mix and whisk until incorporated.
Turn off the heat and add 2 cups of yellow cheddar cheese and Parmesan cheese and whisk together until the cheese is melted. Finish the cheese sauce by whisking in the heavy cream.
Toss the rigatoni into the cheese sauce and mix with a spoon until well incorporated.
Transfer the mixture to the large cast-iron skillet and top with the remaining ½ cup of cheddar cheese and then the BBQ chicken.
Cook for 25 minutes or until the cheese on the sides of the skillet bubbles.
Garnish with sliced scallion and cilantro, then serve immediately.