Last week, queen of the Instagram aesthetic Lauren Conrad surprised the world by casually announcing she's pregnant in the most LC-appropriate way.
Which, naturally, had fans *extremely* excited.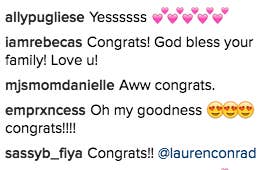 And last night, she finally gave us a first glimpse of her growing baby bump on her website's Instagram page, and it's too adorable for words.
There's about to be one cute as hell, Instagram-perfect baby shower in our future.