People With Big Boobs Are Making Hilarious Jokes About DIY Bra Masks For Protection Against The Coronavirus
"Use your bra as a face mask for coronavirus. I have seven people in each cup."
And even though creating a face mask out of a bra isn't a new discovery, DIY videos have resurfaced in response to coronavirus fears.
Some TV stations are even having segments about how to make them!
Making the bra masks includes cutting the straps and either sewing or hot-gluing them to fit around your ears:
So, Facebook user Ciara Frazier shared her experience trying to make some in a now-viral Facebook post:
Other people also started joking about how their bra masks would cover their entire face:
Or how they could protect multiple people in just one of their cups.
Honestly, it was just really funny to see entire faces covered with bra cups.
I did not talk to a medical expert about whether or not a bra would work as well as an actual face mask, but common sense tells me it is better than nothing! Also, my mom is a nurse, and here's what she said when I asked her: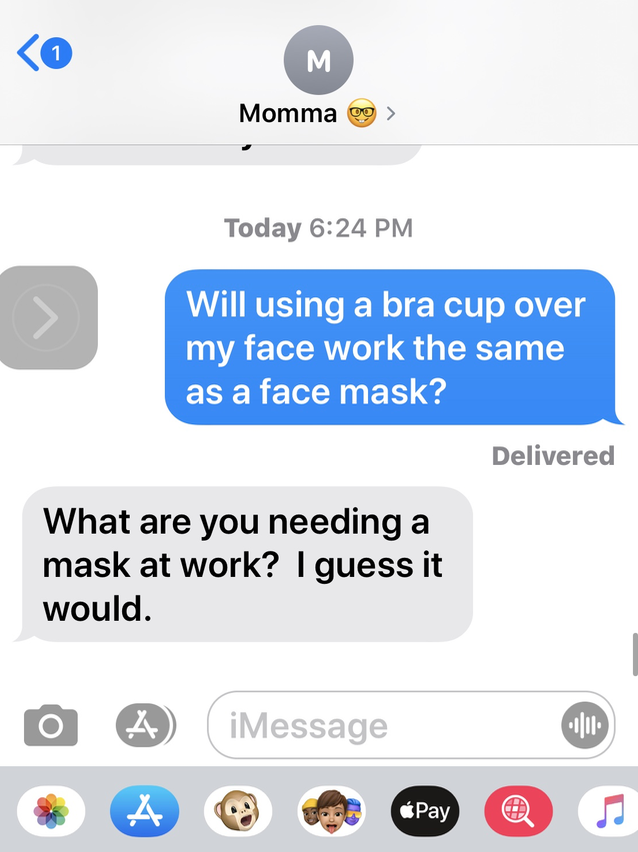 So, what's the next item to sell out after hand sanitizer, water, and toilet paper? Bras.