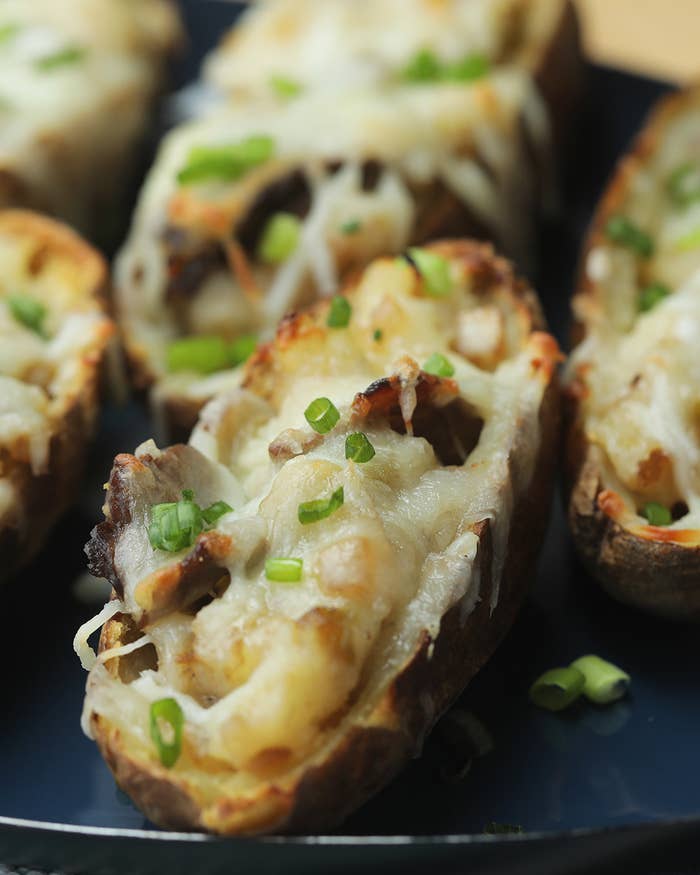 Philly Cheesesteak Mozzarella Potato Skins
Prep Time: 30 min. | Total Time: 1 hour 40 min. | Makes: 8 servings
What You Need 
4 baking potatoes (2 lb.)
  1 Tbsp. vegetable oil
  1/2 lb. beef sirloin steak, cut into thin strips
  1/2 tsp. garlic powder
  3 Tbsp. LEA & PERRINS Worcestershire Sauce
  1 green pepper, chopped
  1 cup chopped onions
  1-1/2 cups KRAFT Shredded Low-Moisture Part-Skim Mozzarella Cheese, divided
Make It
HEAT oven to 400°F.
PRICK potatoes in several places with fork or sharp knife. Bake 1 hour or until tender. Cut potatoes lengthwise in half. Scoop out insides of potato halves into medium bowl, leaving thin shells. Set bowl aside. Place potato skins, cut side up, on baking sheet. Bake 8 min. or until crisp but not browned.
MEANWHILE, heat oil in large saucepan on medium-high heat. Add steak strips; sprinkle with garlic powder. Cook 2 min. on each side or until steak is no longer pink. Add Worcestershire sauce; cook and stir 1 min. Remove steak from pan with tongs; place in bowl. Cover to keep warm.
COOK and stir peppers and onions in same saucepan until tender. Remove from heat. Cut steak strips into bite-size pieces. Add to cooked vegetables in saucepan; mix lightly.
MASH potato flesh. Stir in steak mixture and 1 cup cheese.
SPOON filling into potato skins; top with remaining cheese.
BAKE 8 to 10 min. or until cheese is melted and filling is heated through.
Substitute:
Prepare using KRAFT Shredded Mozzarella Cheese with a TOUCH OF PHILADELPHIA.
Special Extra:
Sprinkle evenly with 1/4 cup sliced green onions before serving.
Nutrition Information Per Serving: 220 Calories, 8g Total fat, 3.50g Saturated fat, 0g Trans Fat, 30mg Cholesterol, 270mg Sodium, 23g Carbohydrate, 2g Dietary Fiber, 3g Sugars, 14g Protein, 15mg Potassium, 2%DV Vitamin A, 25%DV Vitamin C, 0%DV Vitamin D, 2%DV Calcium, 8%DV Iron