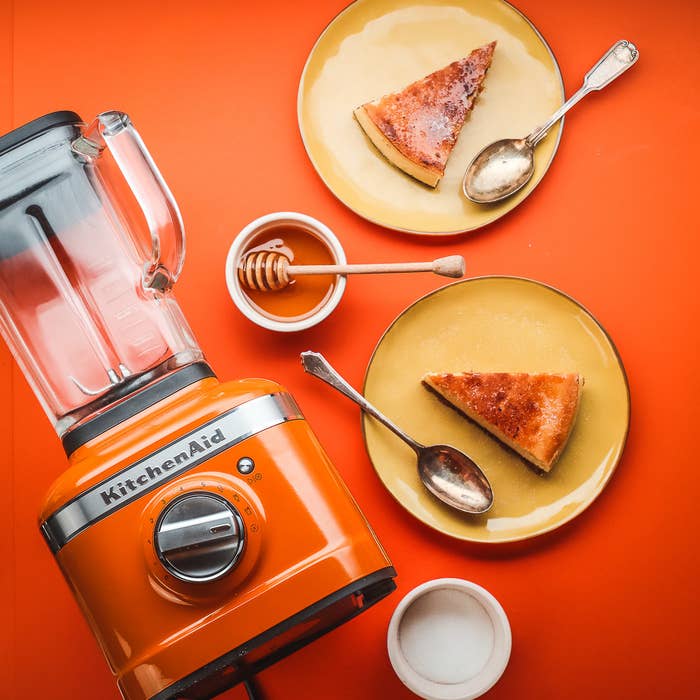 SERVES: 8
INGREDIENTS
BASE
85g butter, melted
200g digestive biscuits
½ tbsp ground ginger
1 tsp cinnamon
5g caster sugar
CHEESECAKE
750g cream cheese, room temperature
110g honey
110g caster sugar
2 tsp vanilla essence
2 large eggs
2 egg yolks
BRULEE TOPPING
45g caster sugar
PREPARATION
1. Preheat the oven to 160°C. Line a 20cm (8-inch) springform pan with baking paper.
2. Combine the digestive biscuits, ginger, cinnamon and sugar in the Kitchenaid Blender. Pulse into crumbs. Transfer to a bowl, and stir in melted butter.
3. Press firmly into the pan in an even layer. Bake for 8-10 minutes or until it begins to turn golden. Let cool.
4. Cover the pan with a layer of foil.
5. Meanwhile, make the filling: mix the cream cheese, honey, sugar and vanilla until smooth in the Kitchenaid Mixer.
6. Add eggs and yolks, one at a time until incorporated.
7. Make a water bath: Bring a pot of water to boil. Line the springform pan with kitchen foil or use a water tight springform pan. Pour the prepared filling overtop the cooled crust.
8. Pour water in the roasting pan to surround the cheesecake. Transfer to the oven, and bake for 70-80 minutes, or until the cheesecake is just set, being careful not to open the oven door.
9. Remove from the water bath, and let cool for 3-4 hours, or covered overnight in the fridge.
10. Before serving, sprinkle caster sugar on the top, and use a torch to melt caramelise the sugar. Let sit for 5 minutes before serving.
11. Enjoy!