Girls from Gilgal High School in Kenya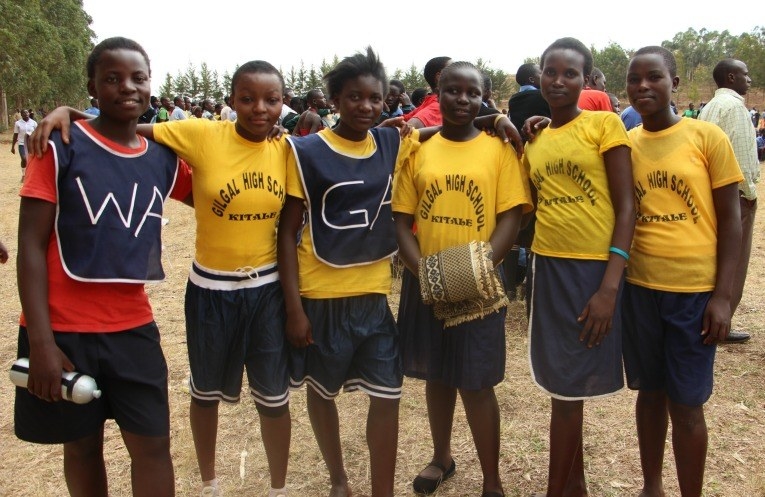 kinshipunited.org
Education in Kenya has improved over the years. As the country continues to develop, it is focusing on improving its educational systems. This gives Kenyan students a greater opportunity for quality education than they've had in the past. It also gives them a chance at receiving a college degree which they may never have been given before. In fact, there are 48 universities in the country of Kenya, and each year more students are going to college.
This is great news, because we know education helps a country to improve in many ways, including life expectancy, income per capita of the country, and gender equality.
Kenya is a country of 46.1 million people. The gross national income per capita is $1,340 and 33.6% of the population live below $1.90 a day. Lots of people in the country live in poverty, but education is an opportunity for them to work their way out of their poverty and into a more stable living environment.
This opportunity makes education an exciting prospect for young Kenyan students. They can't wait to see how they will be able to use their education to grow their futures.
But unfortunately, while Kenya has been improving their education system, it is also a system that favors families with money over those in poverty. You can get a great education in Kenya, but the likelihood of that education depends on where you lived while growing up, how much money your parents have, and your gender.
For example:
•Only 42% of children from the Turkana Tribe (who we work with in Lodwar Kinship) complete primary school, while 99% of the Kikuyu tribe (the largest tribe in Kenya) completes primary school.
•100% of children in Nairobi have at least 4 years of schooling, while only 60% of children who live in North Eastern Kenya have 4 years of schooling.
•The richest students in Kenya complete an average of 11.78 years of school, while the poorest students only complete an average of 6.15 years.
•46% of boys in Kenya complete their secondary education while only 37% of girls in Kenya complete secondary school.
In Kenya, where you live and who you are matter for your quality of education. And being a girl, especially a girl form rural Kenya, means you're lacking opportunity. There are 3 major reasons girls in rural Kenya have issues getting a quality education.
Menstruation
One major issue for girls in Kenya is something you may never have guessed: their period.
Poor girls in Kenya don't have access to sanitary napkins. So when they have their periods, they end up staying home from school. This can cause a high school girl to miss a week of school each month, and they fall behind in class very quickly.
Not to mention until recently when teenage girls in Kenya had a baby they were not able to readmit in high school. The rules were changed in 2007 and older girls are going back to school and finishing their degrees.
Some facts about periods in Kenya:
•When you live in a rural area it can be hard to find sanitary napkins. This is why girls make sanitary napkins out of their own materials, including old clothes.
•Girls miss up to 20% of their school time each year because of their period
You can read a story about one girl who had the opportunity to go back to school when she was given sanitary napkins here: https://kinshipunited.org/how-a-little-pink-package-changed-emilys-life/
Female Gentile Mutilation
Female Gentile Mutilation (FGM) is another reasons why girls in Kenya have trouble staying in school.
FGM is a practice of intentionally altering or causing injury to the female genital organs for non-medical reasons. The practice has no health benefits, and can cause a slew of problems including:
•Severe bleeding
•Problems urinating
•Causing cysts and infections
•Infertility
•Complications with childbirth and increased risk of newborn deaths
In fact, many of the girls who live in our Lumut Kinship Home are there because they ran away from home to avoid the practice of FGM and had nowhere else to go.
One girl who had to run away to escape FGM is Leah. Here's her story:
Leah is a fifteen-year-old girl and a daughter of an elder in the Pokot tribe. She was brought up with traditional Pokot customs, including the practice of FGM which her mother was in charge of completing to girls every year in their home.
Ever since Leah was a child she remembers girls coming into their home for circumcision. When Leah was younger she thought it was a fun event because older girls from the tribe would come over and stay for weeks at a time.
But as she grew up Leah started to look at circumcision in a different light. She hated it and especially hated watching girls become sick for weeks and sometimes even die.
Then Leah's time came. She had told her friend at school how her mother wanted to circumcise her in August. Leah's friend urged her to run away from home.
The idea clicked in Leah's head, and she started to make plans. So in the end of July 2015, Leah left a hand-written note on her kitchen table and abandoned her childhood home.
Leah ran into the forest and stayed there for two days and then she lived on the streets for the next few weeks. Even though Leah wasn't "safe" living on the streets, she was safe from FGM and in her mind that was more important.
Learn the rest of Leah's tragic story here: https://kinshipunited.org/this-may-be-the-worst-crime-towards-women/. You'll also learn how one of our Kinships is rescuing girls from FGM and teaching their neighboring tribe about the dangers of the practice, and why they should stop.
Child Marriage
Another reason girls in Kenya don't finish school is because they get married before they finish high school. In rural Kenya most girls are either seen as a financial burden for the family or as a way to acquire a source of income.
Girls are seen as a burden if they are not able to get married. If a girl doesn't get married it is thought that the family will need to pay for them for the rest of their lives. Since most girls don't finish school and get a job, they won't contribute to the family.
The opposite is also true. If a girl gets married, then her family will get a marriage price for her when she leaves the family to be with her husband. In Kenya, a women's family gets paid by her husband on their wedding day, so there is incentive for a daughter to get married in Kenyan culture.
In Kenya:
•23% of girls in Kenya are married before their 18th birthday
•Women from rural areas are twice as likely to be married under the age of 18 than women from urban areas
You can learn more about child marriage around the world here: https://kinshipunited.org/how-is-marriage-ruining-these-girls-lives/.
Conclusion
These three causes keep many girls in Kenya and other developing countries out of school, while their male counterparts have more opportunity to finish classes and create a career for themselves.
The country of Kenya is working to improve the opportunities for girls by creating laws around child marriage and FGM, both are now illegal in Kenya, but many tribes in rural areas still follow these ancient practices. Change will need to come from these local tribes and their personal practices.
Menstruation is a little trickier since it is something that will always be an issue for women. However, giving opportunities for girls to learn about their body, and their sexual health is proven to help keep them in school. Giving girls access to sanitary napkins and teaching girls how to use these products also helps to keep girls in school. Learn how we are working to get sanitary napkins here: https://kinshipunited.org/girls-in-kenya-cant-fight-this-but-you-can/.
The Kenyan government continues to work for educational equality in their country. They've made some enormous strides in the last years, and more girls than ever had the opportunity to go to college. But girls in rural areas are still far behind those in Nairobi. This change will have to come from the people in the rural communities. You can learn more about how Kinship United is helping to make change in rural communities, and especially to send a group of girls from a rural community to school here: https://kinshipunited.org/LP/keep-girls-in-school/.
Sources:
•http://www.education-inequalities.org/countries/kenya/indicators/
•https://en.wikipedia.org/wiki/Education_in_Kenya
•http://www.unicef.org/esaro/7310_Gender_and_education.html
•http://www.thecup.org/harsh-facts/
•http://www.girlsnotbrides.org/child-marriage/kenya/
This post was created by a member of BuzzFeed Community, where anyone can post awesome lists and creations.
Learn more
or
post your buzz!