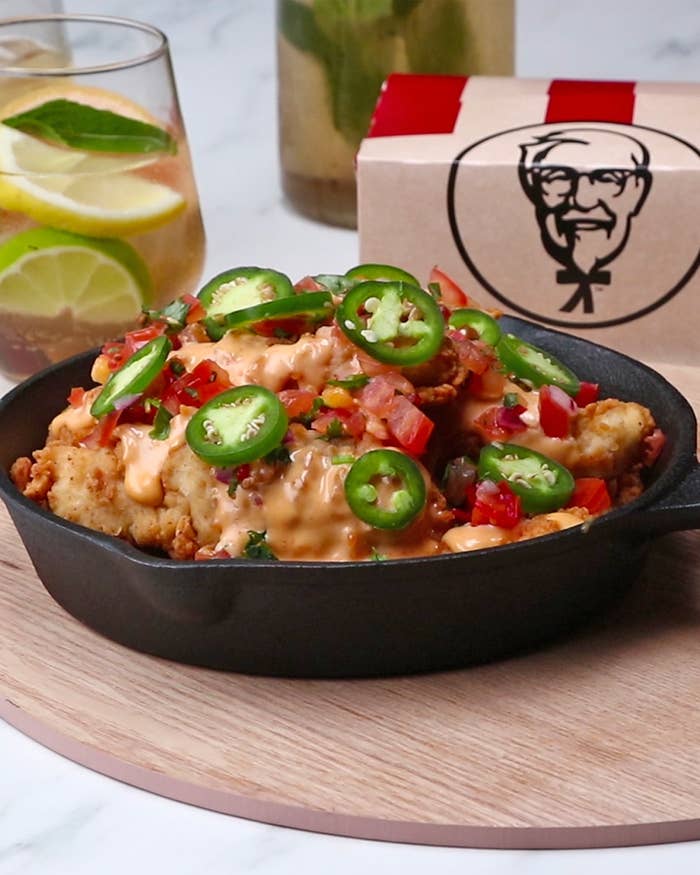 Ingredients:
10 KFC Original Tenders
For the salsa:
½ red onion, finely diced
2 tomatoes, finely diced
1 red chilli, finely diced
1 bunch coriander, finely diced
1 lime, juiced
1 tsp salt
For the guacamole:
2 avocados
1 lime, juiced
1 tbsp sour cream
1 tsp salt
1 tsp pepper
1 tsp paprika
For the nacho cheese:
375ml evaporated milk
100g grated tasty cheese
1 tbsp corn flour
2 tbsp taco seasoning
Method:
STEP 1: To make the salsa finely dice tomatoes, red onion, and coriander, then place in a mixing bowl. Juice 1 lime, then add salt and stir vigorously until the tomatoes soften and the mixture comes together.
STEP 2: To make the guacamole dice avocados and place in a mixing bowl. Add sour cream, salt, pepper, and lime, then mix with a whisk until fully combined and avocado turns creamy. Lightly sprinkle with paprika.
STEP 3: For the nacho cheese add evaporated milk to a saucepan and place on low heat. Combine the corn flour and tasty cheese together, then add to warmed milk and stir until the cheese dissolves. Once the sauce starts to thicken add taco seasoning and stir until combined.
STEP 4: To build the chachos place KFC Original Tenders in a heated skillet. Spread an even layer of nacho cheese on each tender, and top with tomato salsa. To complete the dish add thinly sliced jalapeño's on top and dollop guacamole in the middle to serve.
STEP 5: Enjoy!