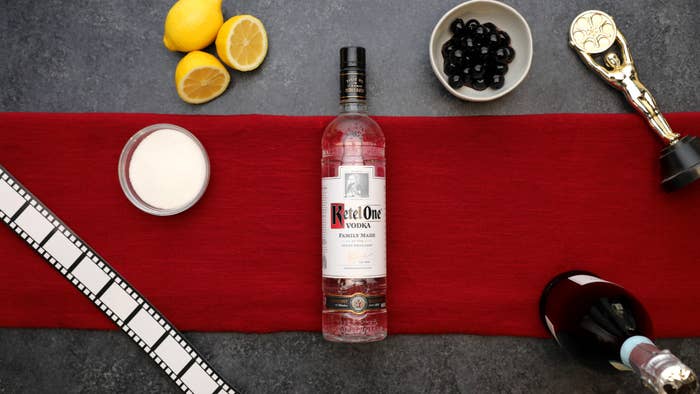 Ingredients
Lemon Simple Syrup
4 lemons
1⁄2 cup sugar
Cocktail (serves 1)
3⁄4 ounce lemon simple syrup
1 ounce Ketel One
1 ounce sparkling wine
Thin lemon slices, for garnish
Luxardo cherries, for garnish
Preparation
1. Lemon simple syrup: Slice off the tops and bottoms of the lemons so that you can stand them up flat on one end. Working your way around each lemon, slice off the entire peel, being careful to avoid the pit. Reserve peels for later.
2. Juice peeled lemons. Combine juice in a small pot with the sugar. Place over medium heat and bring to a light simmer, whisking to dissolve sugar. Simmer for 7–10 minutes or until liquid thickens slightly. Turn off heat and add peels. Let sit for 15 minutes. Strain through a sieve, pressing all the syrup through with a spatula.
3. Cocktail: Combine lemon simple syrup, Ketel One, and a handful of ice in a cocktail shaker. Shake well. Strain into a coupe glass. Add a champagne float.
4. Garnish: Fold a lemon slice in half, and then fold in half again. Skewer the folded slice onto a cocktail skewer. Add a Luxardo cherry. Place garnish on top of coupe glass. Serve!