The astronauts' spacewalk began at 12:48pm GMT today, and officially ended at 5:31pm after Kopra reported water inside his helmet.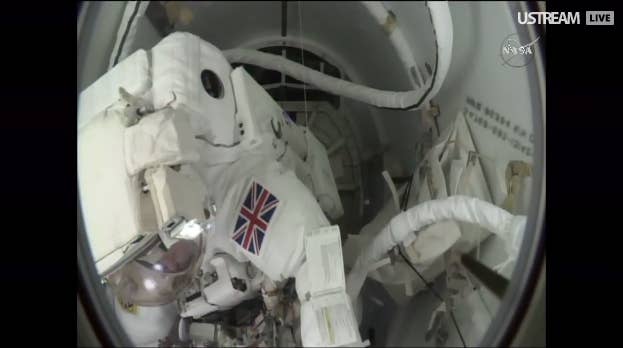 Peake and Kopra completed their main task, which was to replace a power unit that failed in November.
In the second half of their spacewalk, Peake began installing new cables on one part of the station while Kopra was to install a new vent at another part.
But when Kopra reported water inside his helmet, the spacewalk was cut short.
A commentator on NASA TV stressed that this was not an emergency situation, but was a precautionary measure following a more extreme event in a July 2013 spacewalk, when astronaut Luca Parmitano's helmet filled with water.
During the walk, Peake's wife, Rebecca, tweeted this view from his helmet camera showing a photo of their two sons that was attached to his spacesuit. 😍
UPDATE
After returning to the ISS, Peake tweeted a series of photos, including a spectacular spacewalk selfie.