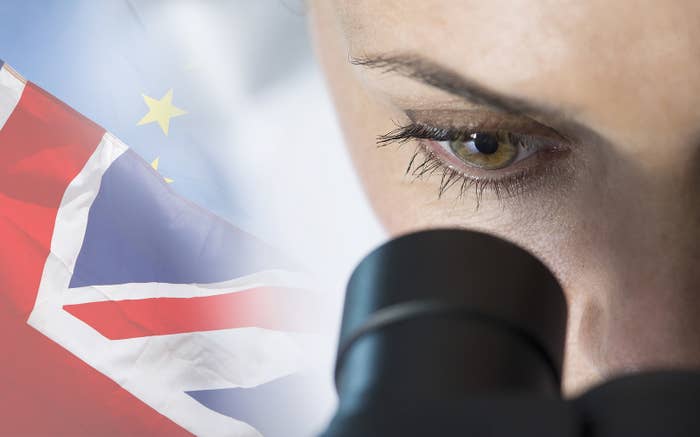 British scientists are facing fresh worries about losing access to EU projects and funding after the European Commission issued new advice to British applicants for grants. The advice warns that they could be cut off from money, and possibly cut out of projects altogether, once the UK leaves the EU, if there is no Brexit deal in place.

A European Commission spokesperson told BuzzFeed News that the aim of the update, which was published on Friday, was to "inform UK-based applicants and beneficiaries of the consequences of a no-deal scenario" for ongoing research grants.
"It is the EU's goal to reach a deal with the United Kingdom on its orderly withdrawal from the EU," she said.
The advice relates to Horizon 2020, a major EU science and innovation programme that British scientists typically win a lot of grants from. EU funding has contributed to high-profile scientific breakthroughs, including funding UK PhD students who worked on the discovery of gravitational waves, which last week won the Nobel prize in physics. On average 12% of UK research money comes from the EU, but in fields such as archaeology the proportion is as high as 40%.
Last year the government said it would underwrite all successful grant applications, so British participants would be able to put up any remaining cash themselves if the UK leaves the EU while a project is ongoing. But scientists are worried that stumping up the UK's portion of the money might not be enough to remain a part of all EU-funded projects.

Last month scientists warned that a long-awaited government paper on science after Brexit didn't address the real issues facing scientists as the country prepares to leave the EU. Freedom of movement and European Court of Justice oversight, they said, would be sticking points when it came to British involvement in collaborations after Brexit, because they are part of the eligibility requirements for many grants.
Tom Johnstone, professor of cognitive neuroscience at the University of Reading, told BuzzFeed News: "There are other rules that need to be satisfied for full participation in EU projects, especially certain types of projects," For example, Johnstone and his colleagues are in the process of applying for an EU grant to set up a training network for PhD students.
"A core feature of those grants is student mobility. You have to recruit students from outside of your own country, from somewhere else in Europe, and you can't discriminate against students just because they're from Italy, or they're from Bulgaria, or wherever. That works because any student in the EU has the right to go and live and work and study in another EU country, because of freedom of movement."
"If the UK doesn't strike a deal with the EU that gives freedom of movement, it seems that that would make UK institutions ineligible, because they wouldn't be able to recruit fairly throughout Europe," he added.
Mike Galsworthy, programme director for Scientists for EU, told BuzzFeed News the advice was worrying. "If May and her team enter a post-Brexit transition phase which honours all EU rules, as she has promised, then this disruption does not occur.
"However, if the UK walks away, crashing out with no deal, then this will disrupt many projects – not just for Brits but also their collaborators. Just that uncertainty hanging now will probably cause further disruption to project applications."
Galsworthy also said he thinks the advice shows the European Commission are now analysing "no deal" scenarios and their ramifications.
In a letter to the chair of the House of Commons science and technology committee, Robin Walker MP, the undersecretary of state for exiting the EU, said that the UK "would welcome discussion on future collaboration with the EU in some programmes".
He said: "The UK will remain an open and tolerant country; one that recognises
the valuable contribution migrants make to our society and welcomes those with the
skills and expertise to make our nation better still and that is exactly what this
Government will deliver.
"However, the precise way in which the Government will control the movement of EU nationals to Britain after we withdraw from the EU is yet to be determined."