Scientists Say The UK's New Paper On Science After Brexit Doesn't Address The Real Issues
The government just published its proposals for EU science collaboration, but academics said it ignored the big questions of free movement and European Court of Justice jurisdiction.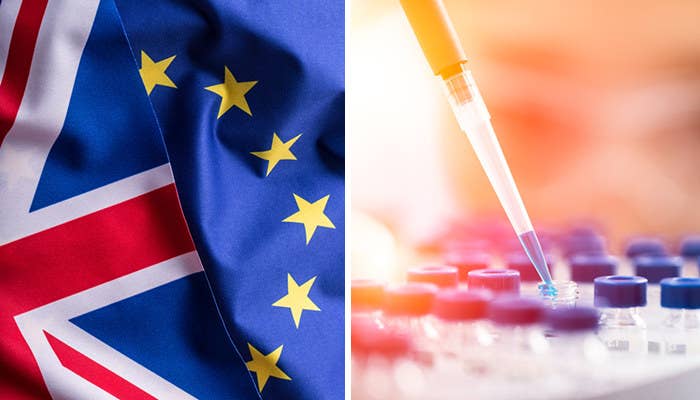 On Wednesday the British government released a long-awaited paper detailing its objectives for scientific collaboration with the EU after Brexit. Its "vision" is of a "new, deep and special partnership with the European Union" in which it continues to "remain at the forefront of collective endeavours to better understand, and make better, the world in which we live".
The paper promises that the UK will "seek agreement to continue to collaborate with European partners on major science, research, and technology initiatives", and will continue to fund the Horizon 2020 research collaboration framework, as well as other scientific projects such as the Galileo and Copernicus space programmes and various nuclear projects.

The paper has been heavily hyped by David Davis, the Brexit secretary, who said it "sends a clear message to the research and innovation community that we value their work", adding that it "is crucial that we maintain collaboration with our European partners after we exit".
But leading academics told BuzzFeed News the paper fails to properly address the two main issues vital to any UK collaboration with EU projects, including Horizon 2020: freedom of movement and European Court of Justice oversight.
Mike Galsworthy, programme director of the campaign group Scientists for EU, said freedom of movement, which gets just one fleeting mention in the government paper, is the "real sticking point" when it comes to continued collaboration.

He pointed to the experience of Switzerland, a non-EU member and a full member of Horizon 2020. Its membership of Horizon 2020 was partially suspended between 2014 and 2016 after it limited freedom of movement following a referendum.

"The Swiss had to jump through a lot of hoops," he said. "When they reneged on freedom of movement they were out of the science programme, then negotiated a partial deal to give them partial access."
Switzerland reinstated full freedom of movement last year, with minor concessions – specifically, that jobs could be advertised locally before being advertised Europe-wide. Its membership of Horizon 2020 was then fully reinstated.
Steve Peers, a professor of EU law at the University of Essex, agreed, saying: "With the Swiss, we have this example of the EU suspending Horizon 2020 membership. In the end, they compromised on freedom of movement. But it doesn't seem to be the way the UK is going."

The Brexit science paper only mentions freedom of movement once, saying: "The Government has made clear that, although freedom of movement will cease to apply in the UK, the UK will continue to welcome the brightest and best."
A leaked document obtained by The Guardian on Tuesday appeared to show detailed Home Office plans to end freedom of movement immediately after Brexit and to encourage UK employers "to meet their labour needs from resident labour".
It might be possible to negotiate a less comprehensive membership of Horizon 2020, said Peers. "There are some treaties with non-EU countries where the EU hasn't insisted on free movement," he said. "For instance, the USA participates in a research treaty. It's not as extensive access as you get as a member state; you can get some money but not as much as we get now." He does say that the UK might under those circumstances be able to contribute less – although between 2007 and 2013 Britain got about £3 billion a year more out of the EU science budget than it put in.
One advantage is that scientists and researchers are usually fairly highly skilled, said Peers, "so would get better treatment under the new system". But, he added, "early-career people don't earn that much and might not qualify as highly skilled".
Galsworthy said the Swiss situation shows that the EU is willing to be flexible with freedom of movement. "If like the Swiss we want to prioritise locals and nationals, then the EU are up for that," he said. He added that the Swiss use an existing EU rule that allows them to require EU citizens working for more than three months to get a residence permit, and that Britain is entitled to do that under current rules as well.
The European Court of Justice is another sticking point. The government has said Britain will not be subject to ECJ decisions. But, said Peers, all science collaboration treaties "say at the end that if there's a dispute over funding, then the ECJ has a role".
"It might not be a direct rule," he said. "The country may be able to enforce the rulings in its own law." But the ECJ would still be the final arbiter. "You wouldn't think that this is the core concern [for the government] about the ECJ. It's not about immigration or that sort of thing. But if you're a militant, and want no ECJ involvement at all, then they would reject that as well."
Galsworthy said there "would be movement" on the British side regarding the ECJ, because the recent government paper on dispute resolution took a less hardline stance, but that any dispute resolution mechanism will ultimately have to be under the ECJ.
Clare Moody, a Labour MEP and the party's spokesperson in the European parliament on research and nuclear issues, told BuzzFeed News: "This paper will have the EU negotiators with their heads in their hands because they have no idea what the UK wants when it comes to research and innovation.
"The government is displaying a dereliction of their duty to protect our hard-won reputation in this area. The paper is simply descriptive and provides no solutions. It does not say how we will repair the damage done by Brexit to our scientific community and our relationships across Europe."
She added that while the paper recognises the need for free movement of researchers, that is "completely undermined" by the recently leaked paper and other government statements. "The government is putting a 'Keep Out' sign on our borders, making the country look as if it wants to shut itself off from the world," she said.
Dr David Robinson, a space science consultant working on several European Space Agency projects, told BuzzFeed News that he welcomed the commitment to remain in the Galileo and Copernicus space programmes.
"That's the most pleasing thing for me, that they're offering to contribute," he said. "It's vital for the work the UK space industry does in those fields."
But the post-Brexit collaboration almost certainly won't be as good for British science. "We won't get a say in what the programmes do, and we're not going to get out more than we put in, as we do now," he said.
Both Robinson and Galsworthy noted that British science is very strong, and there is a real incentive for the EU to make it work. "Oxford and Cambridge have just been named the top two universities in the world," said Robinson. "It's a testament to the quality of UK research."
"UK-EU science is world-leading," said Galsworthy. "It's a big win, and important to both partners, in terms of getting ahead of the US as the best environment for science. It's in both parties' interests to make it work.
"The big sticking point is freedom of movement. There are solutions, but David Davis should follow his own instructions about being flexible and creative."
CORRECTION
Between 2007 and 2013, Britain took about £3 billion more from the EU for science funding than it contributed. An earlier version of this piece misstated the period during which that money was received.