10 Ways To Tell It's Time For A Social Media Vacation
Let pop star Stromae break it down for you.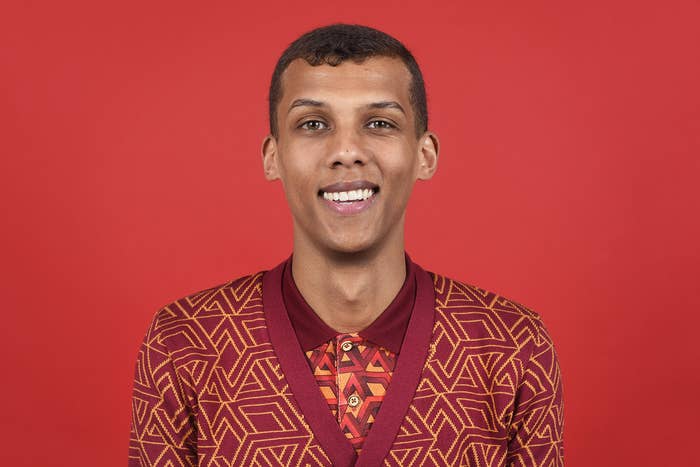 If you haven't heard of Stromae, you will soon. The Belgian singer has already conquered the French-speaking world with his unique brand of genre-defying pop music, and now he's set his sights on America. While he's known for his witty lyrics, you don't have to understand a word of his sophomore album, Racine Carrée, to appreciate its impossibly catchy hooks or the pop star's brilliant-in-any-language music videos. Earlier this week, Stromae premiered the animated clip for his Twitter-phobic single "Carmen" — so when he stopped by BuzzFeed's New York office for a visit, we asked him to help illustrate a guide to recognizing when it's time to take a break from social media.
10.
You can't stop and smell the roses because you've always got your nose in a phone.
Wasn't it Shakespeare who wrote, "That which we call 'finger grease' by any other name would smell as sweet"?
9.
When you're at the clubs you'd rather text than dance.
8.
Occasionally, though, you will bust out your signature move: the frantic "Oh no, where's my phone?!" wiggle.
7.
Life has been giving you lemons, but your hands have been too full to make lemonade.
Not even the fancy Pinterest kind.
6.
You spend more time stalking your ex on Facebook than you ever did in their company.
5.
You've changed your whole ~lewk~ for the 'gram.
4.
Walking has become incredibly difficult.
3.
You find yourself confused by nonswipe surfaces.
2.
There's nothing you won't share with your followers.
1.
You don't just fear that you're missing out on the best life has to offer, you know that you are.
It's time to ditch that phone and go live!