How Demi Lovato Learned To Love Her Body
The multi-talented star talks to BuzzFeed about health, happiness, and the advice she wishes she could give her teenage self.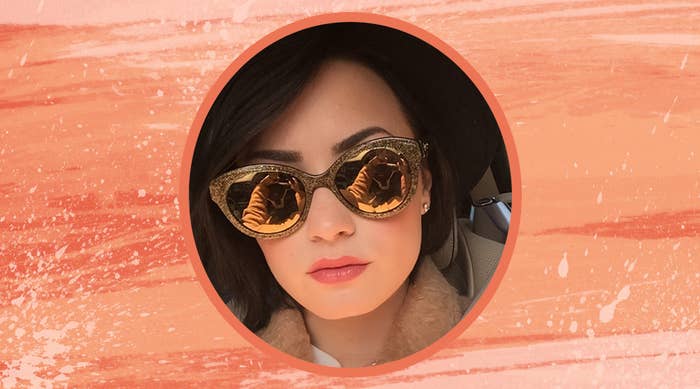 Demi Lovato is the rare pop star who uses her voice to do more than just belt. The outspoken singer has been impressively candid about her own struggles and become an advocate for young people battling eating disorders, mental illness, and addiction in the process. Recently, she took a break from her busy schedule to answer questions about feeling confident, staying active, and asking for help when you need it.
What does "healthy living" entail for you?
DL: For me, healthy living involves taking care of myself — both mentally and physically. It means surrounding myself with positive and supportive people, as well as exercising and maintaining a well-balanced diet. At this point, healthy living is just a way of life.
When do you feel the most confident?
DL: I feel most confident when I'm taking care of my body and my skin. I started posting #NoMakeupMonday selfies in hopes of inspiring other women to feel comfortable in their own skin. Embracing yourself is important and I wish that all women would realize how beautiful they are, inside and out. Aside from eating healthy and taking care of my body, I've always been passionate about skincare. It's an essential part of my daily regimen, which is why I decided to create my own skincare line, DEVONNE by Demi. When my skin is clean, I feel my best! There's no better way to take care of yourself than treating your body right.
What's your favorite way to stay active?
DL: So many things. Hiking, walking on incline or any chance possible — I especially love my daily walks with Buddy — and cycling! I recently purchased my own bike and took it on the road with me during my world tour. I also enjoy taking classes when I have free time.
Has the way you feel about your body changed since you were a teenager?
DL: It's only natural for your body to change as you get older. I have come a long way mentally, emotionally, and physically, and I'm proud of where I am today. When I look back, it saddens me to think that I was so hard on myself — when I was younger, I thought I had to look like everyone else, but I learned that beauty comes from how you feel about yourself. Once I started taking care of my mind, body, and soul, I realized that I didn't need to conform to what's "normal" and started to love myself.
What do you wish you could tell your younger self about health and body image?
DL: You can't live with regrets — every moment in my life has led me to where I am today, and because of my struggles, I'm able to serve as a role model and help others struggling with similar issues. If I could turn back time, I would tell myself that I'm beautiful every day, because we all are! And we need to start believing it!
How do you deal with insecurity when it strikes?
DL: We're all human so of course there are days when I'm feeling insecure. When that happens, I take time to reflect on how far I've come and how far I will continue to go — it helps me feel empowered and self-assured.
You've been very open about your struggles with body issues and mental illness — what has inspired you to be so honest about these subjects and what advice would you give someone who is struggling but scared to ask for help?
DL: I've been open about my struggles because part of my recovery includes being honest with myself and others, and I'm inspired to use my success as a platform to help others suffering. If you're hurting, don't be afraid to seek the help you need! Speak to someone — it may just change your life. As a mental health advocate, I created The Lovato Treatment Scholarship, which funds individuals that can't afford treatment for mental illness. A portion of the proceeds from my skincare line will go toward the scholarship. Ultimately, you can only help yourself — just know that you have a purpose and you are beautiful! Stay strong!
What's the best compliment you've ever received?
DL: You saved my life.
Resources:
If you or someone you know is struggling with an eating disorder, here are some organizations that have trained support staff available by phone:

National Association of Anorexia Nervosa and Associated Disorders Helpline: 1-630-577-1330

Binge Eating Disorder Association Helpline: 1-855-855-BEDA
National Eating Disorder Association Helpline: 1-800-931-2237