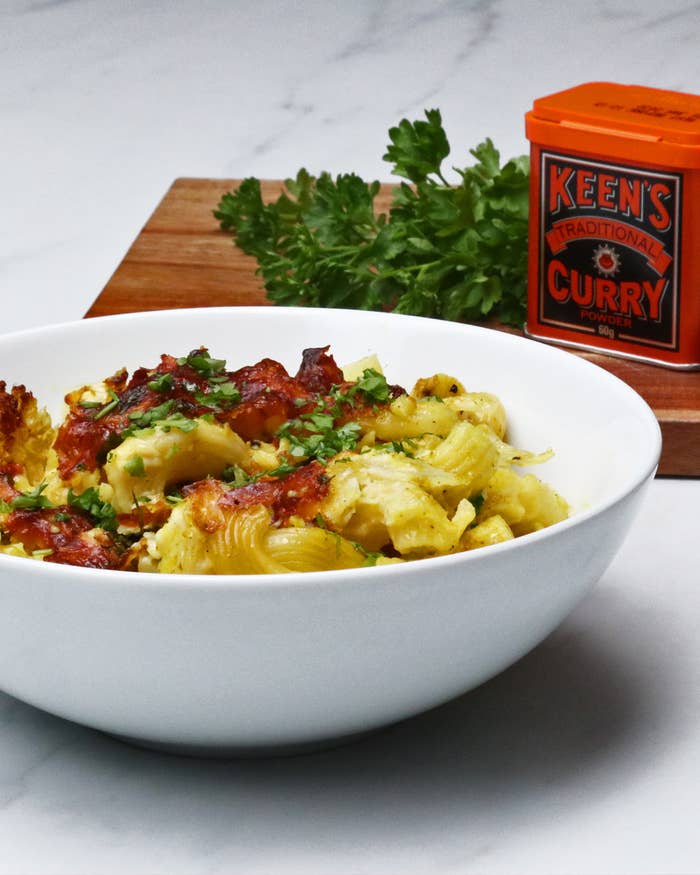 Ingredients
Serves 6
350g macaroni or curly pasta
½ cauliflower head
2 tsp Keen's Curry Powder
1 tsp white sugar
2 garlic cloves minced
2 tbsp Olive Oil
2 tbsp water
2 tbsp plain flour
80g unsalted butter
500ml milk
250g mozzarella
75g parmesan cheese
3 tbsp parsley fresh
Salt to taste
Pepper to taste
Preparation
STEP 1: Cut the cauliflower head into small chunks, including the stalk, then add to a bowl.
STEP 2: In a separate bowl, add Keen's Curry Powder, sugar, garlic, olive oil, water, salt and pepper, and mix.
STEP 3: Pour the curry mixture over the cauliflower and toss well to combine, then set aside.
STEP 4: To make béchamel sauce, add butter to a saucepan and melt until it bubbles. Add flour and whisk until it pulls away from the side.
STEP 5: Add milk and whisk continuously until the mixture starts to thicken. At this point, add 200g of mozzarella, salt and pepper, and stir until well combined and mixture stretches.
STEP 6: Boil pasta according to packet instructions, then drain.
STEP 7: Add curried cauliflower and pasta to a large baking dish, then lightly stir to combine.
STEP 8: Pour béchamel sauce over the cauliflower and pasta, then evenly spread. Top with remaining mozzarella, parmesan cheese and parsley.
STEP 9: Bake in the oven at 180C for 55 minutes, or until cheese is golden.
STEP 10: Serve hot and enjoy!