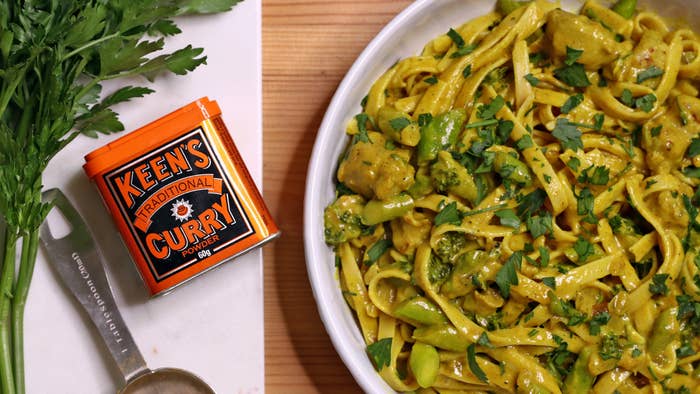 Ingredients:
200g spaghetti or fettuccine
1 tbsp oil
2 pork sausages, skin removed and sliced
1 onion, diced
1 tbsp Keen's Curry Powder
1 tsp garlic, minced
5 stems broccolini
5 stems asparagus
1 tin coconut milk
Salt to taste
Pepper to taste
1 cup mozzarella, shredded
To garnish:
1 tbsp parsley
Method:
STEP 1: Bring a saucepan of water to the boil, then add in fettuccine and cook until al dente. Drain well, set aside in a bowl and toss in olive oil so it doesn't stick together.
STEP 2: In a large frying pan, heat 1 tbsp of oil over medium heat, then add onion and sausage meat, stirring for five minutes.
STEP 3: Add Keen's Curry Powder, garlic, broccolini, and asparagus. Stir for five minutes until the broccolini starts to go tender.
STEP 4: Pour in the coconut milk, salt and pepper, then stir. Cook for ten minutes until the mixture starts to thicken.
STEP 5: Add mozzarella cheese and cooked fettuccine to the curry mixture and mix until fully incorporated.
STEP 6: Serve in a bowl and garnish with parsley.
STEP 7: Enjoy!