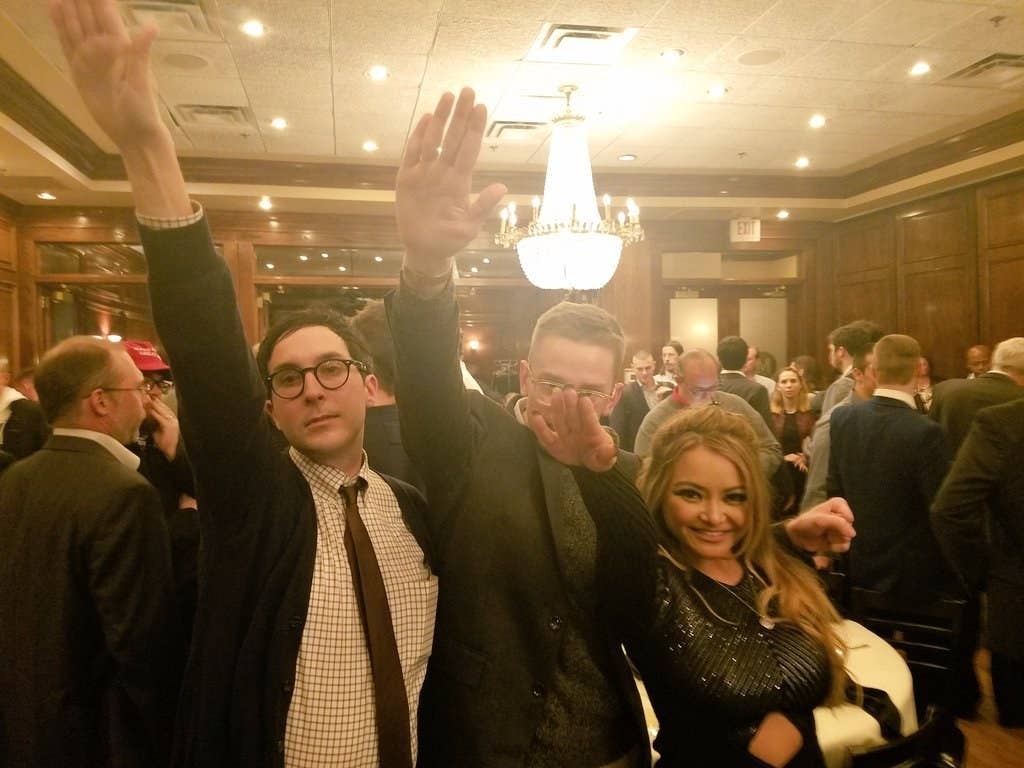 Tila Tequila, the former queen of Myspace and now a self-declared Nazi, has this as her pinned tweet: "Women who complain about Trump saying 'Grab her by the pussy!' are retards because I love getting grabbed by the pussy! LMAO!" It's adjacent to her Twitter bio, which reads in part: "Alt-reich queen! Literally Hitler!"
Tequila caused a small, sad stir over the weekend by posting a picture from the alt-right National Policy Institute conference, in which she and two white companions did a Nazi salute. "Seig heil!" she tweeted, misspelling "sieg." She also posted pictures with Richard Spencer, the NPI's head, and with Chuck Johnson, the racist internet troll. That Tequila is Asian-American made the snapshots all the creepier. But as she told The Daily Beast, "I think that's why I'm also invited here because I bring a little bit more diversity to the movement."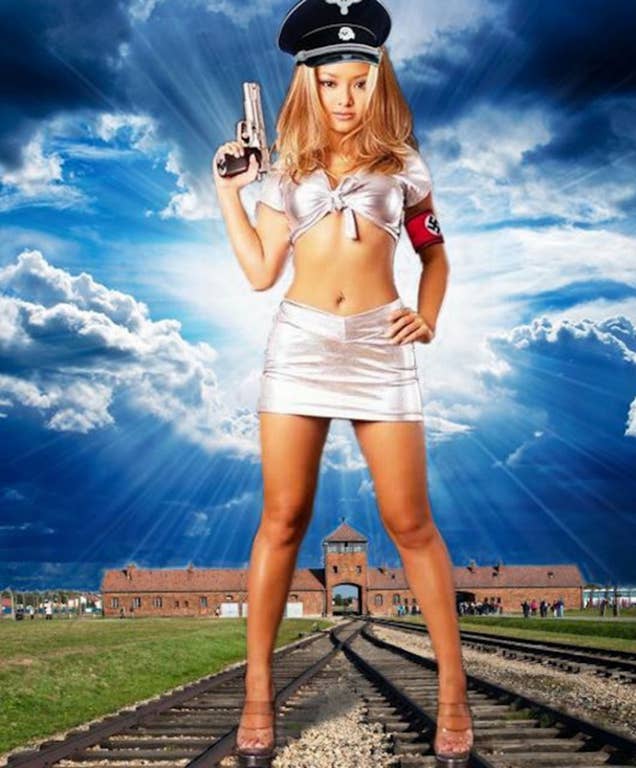 If you have opted out of news on Tila Tequila in recent years, you have missed this devolution. But it is not new. And to scroll through Tequila's timeline — and to look at the depressing detritus of her fall from her fame-ish heights in 2007-8, when she was the prize in MTV's reality dating series A Shot at Love With Tila Tequila — is to induce insanity.
Throughout her descent, Tequila, 35, has seemingly been fixated on Judaism. In 2012, she told TMZ she was "fascinated with Kabbalah" and was converting to Judaism. She added, "I just feel like the Jewish people have such a beautiful way about them, and I can't wait to officially be Jewish! Shabbat Shalom." That was then. The next year, in December 2013, she posted a photoshopped image of herself on Facebook in front of Auschwitz, with a Nazi armband and SS cap on. She called herself "Hitila," and wrote a post called "Why I Sympathize With Hitler: Part 1," in which she called him "not a bad person as they have painted him out to be."
The reemergence of that image and those declarations caused her to be kicked off the popular UK show Celebrity Big Brother in 2015 after only a few days in the Big Brother house. Tequila then issued an apology on Facebook, calling her sympathetic characterization of Hitler "a terrible mistake." She blamed her anti-Semitism on "depression" and years of "drug addiction."
"I am in no way, shape or form a racist nor antisemitic and absolutely not 100% a Nazi supporter," Tequila wrote in August 2015.
Since then, Tequila has retracted that apology in words and in deeds. On Hitler's birthday this year, she tweeted, "Happy birthday, mein Fuhror!" accompanied by a photoshopped image of her with Hitler and the hashtag #Soulmates, as well as an image of herself with an SS hat, a Nazi armband, and a Hitler mustache. When she isn't tweeting pro-Nazi declarations, she is praising Donald Trump, fighting with invisible enemies, and bragging about superpowers. If a psychotic break were a Twitter feed, it would be Tequila's.
Before she was a troll, Tila Nguyen — who was born in Singapore to a Vietnamese family and moved to Texas when she was 1 — was the first superstar of the social media age. She was the most popular person on Myspace, with nearly 2 million friends. She used it to launch her music career, but, as Lev Grossman noted in a 2006 Time profile of her, "As for what she does for a living, there isn't really a word for it yet." In 2007 and 2008, Tequila, an out bisexual, achieved mainstream fame with Seasons 1 and 2 of A Shot at Love, which featured both men and women as her suitors.
From there, things got dark. She dated the NFL all-star Shawne Merriman, but it ended in sordid allegations of physical abuse, which Merriman denied (and the charges were dismissed). She was then engaged to Casey Johnson, the daughter of Jets owner Woody Johnson (of the Johnson & Johnson family). Johnson, who had diabetes, died in 2010 after not taking insulin. Two years later, Tequila overdosed; she had a brain aneurysm, she told Us Weekly, and entered rehab. After that, she gave birth to a daughter, Isabella.
Two months after her apology to Celebrity Big Brother, Tequila posted a picture to Instagram of her daughter with a Hitler mustache. She wrote in the caption, "One day when you grow up, you're going to have to apologize for this picture, young lady!!!"
Earlier this year, she started a GoFundMe campaign to furnish her new home. The woman who once had more than 1.7 million friends on Myspace, her own television show, and a self-help book has fallen from great heights, and she's making a living any way she can these days. If 2016 has taught us anything, it's that trolling on social media can take you to the most unexpected places — for one former reality star, that's a white supremacist conference; for another it's the White House.