Which music artist would you jam to?

Via Amazon.com

Via stereogum.com

Via discogs.com

Via normanrecords.com

Via the1975.com

Via waytofamous.com

Via buddytv.com

Via dazeddigital.com

Via pinterest.com

I look angsty but I'm really not

I'm only angsty when I journal

*rolls down window to blast Rage Against the Machine when pulling into parking lots*

CUT MY LIFE INTO PIECES, THIS IS MY LAST RESORT !!!

Not at all, I'm rather content with life

Angsty? Oh, I thought you said anxious. I am very anxious.

The guy/girl you've been talking to ghosts you, what do you do?

Haha as if anyone would be romantically interested in me

Write a 20 page journal entry about it

Cry for hours, wonder if you'll ever be loved, contemplate the fragility of life

Honestly I'm more likely to be ghosting them oops

Pick an Instagram style icon

Via Instagram: @thestyleplaylist

Via Instagram: @prettylittlefawn

Via Instagram: @alyantorchaofficial

@antorchasantics (in her tumblr days)

Via Instagram: @sydn4sty

Via Instagram: @figtny

Via Instagram: @itsbabydash

What is your biggest anxiety/fear?

People thinking you're ugly

Your mom discovering your grades

Your mom discovering your online persona

Literally anything about the future

Where do you like to shop for clothes?

Via dailydot.com

Via blog.urbanoutfitters.com

Via goodwillaz.org

Via addictedtoeverything.com

Via fastcodesign.com

What TV show are you binging?

Via cartoonson.com

Avatar the Last Airbender

Via amazon.com

Via popcrush.com

Via tvtropes.org

Via pitchfork.com

Via blogs.indiewire.com

Via pinterest.com

Via pinterest.com

Via polyvore.com

Via kstoresusa.com

Via poshmark.com
What Phase Of Karis' Adolescence Are You?
You got:

Faux Scene Kid Karis
You are little Karis in her youngest form. You enjoy ironic tee shirts, checkered vans, pop punk music (MCR and the Used are life), painting your nails obnoxious colors, saying "rawr", and covering your cystic acne with your massive side swept bangs. Future you will most definitely cringe at this stage of your life. However, this is also the beginning of an important journey to discovering who you are. It is at this point in your life that you first discover Nylon magazine, fashion blogging, and online shopping. Plus, as much as you resent it a little bit, the music from this stage of your life is still just as important to you. #MCR4life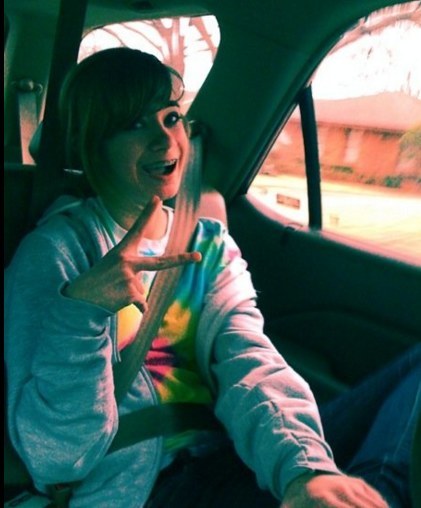 You're Karis throughout most of her young high school days. As an outsider in your community, you turn to the internet for style inspiration and music, which leads you into the world of tumblr and "hipsters" (a term that you, obviously, despise). You enjoy shopping for ugly tee shirts at thrift stores, finding new artists to listen to from the Bloc Party Pandora station, baggy sweaters, and literally anything under $20 from the Urban Outfitters sale section. Your long flowing hair is everything to you and you've been working hard to grow it out since that unfortunate chop at the start of high school. This is also the point in your life where you start gaining a little more confidence and realize that not all of your crushes will be unrequited. You will deal with your first "heartbreak", but it's at this point in your life that you discover the important cathartic properties of a pint of ice cream and an episode of Criminal Minds (to drool over Matthew Gray Gubler ofc).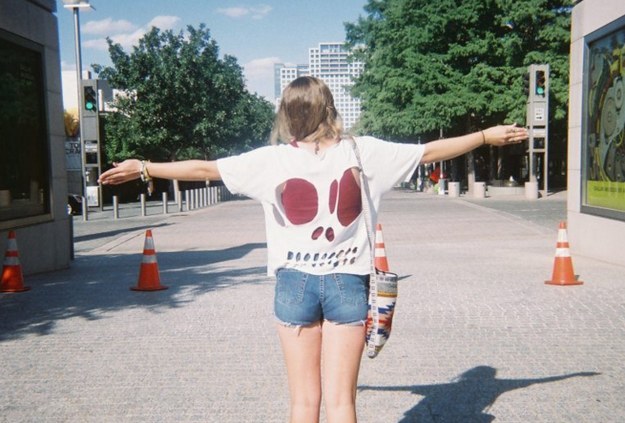 You got:

Grunge Goddess Karis
You're Karis in her late high school days. At this point you've basically stopped giving a crap what people think about you and have fully embraced what you believe to be your true self. The "90s Grunge/Alternative" Pandora station is everything to you and you own enough Nirvana tee shirts that you could wear one every day of the week and still have some to spare. While 90s alternative rock is your favorite music at this time, you're also discovering a whole new world of sad electronic music thanks to tumblr, which is also where you get your fashion inspiration. The XX is life and you have photos of Oliver Sim all over your school binder. At this point you're totally over high school and are looking forward to college where you can finally not be under your mom's constant scrutiny and maybe even meet a boy that's cool enough for you. After all, you've already had a crush on all the weird loser boys at school and that's going absolutely nowhere.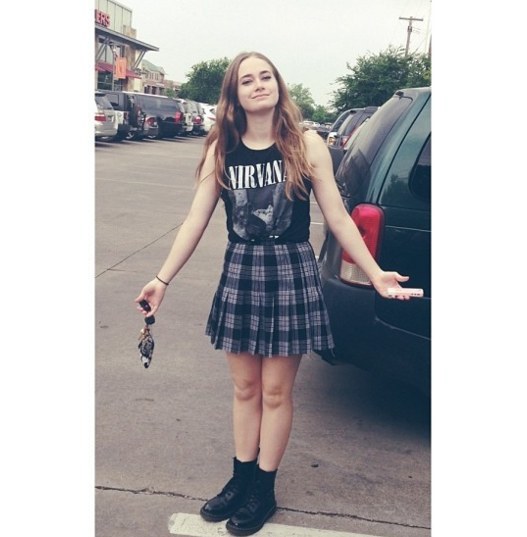 You got:

Freshman Year of College Karis
Looks like you're a bit of a wild child! College has given you a whole new world of freedom, and now that you're no longer under your mother's control, you'll try just about anything once (except literally any kind of drug). As far as fashion goes, you love anything with shock value. Shirts with obscenities or satanic symbolism? Sure! Bleaching your entire head of thick hair? Heck yeah! (a mistake) Your love life, and life in general, is a little bit of a mess, but it's fine because, well, it's not really fine. But stay strong young, naive Karis. All of this is a character building experience, and you're going to learn so much about what not to do in life. Very soon you're going to get your life together (somewhat), even if it takes a few sessions of crying in the shower.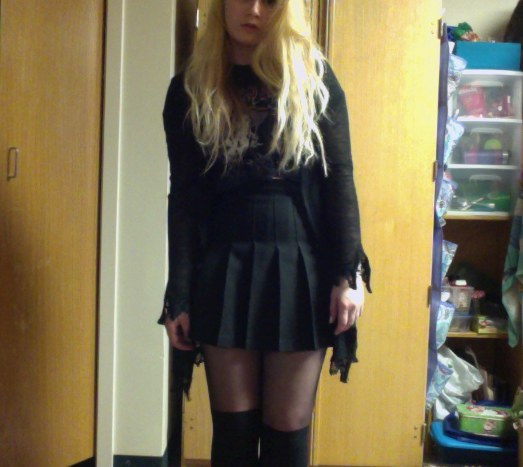 You got:

Pseudo Minimalist Karis
You're Karis in her middle years of college. Things are really looking up in your life. Your grades are awesome, your classes are enjoyable, you've found love, you've calmed the f down, and you feel like you are truly on the path to success. Your relatively curated wardrobe reflects your put together life, and simple silhouettes in black and white dominate your #ootds. However, things might not be as well as they seem. Rough waters are ahead, but you've learned so much in the past few years that you'll be more than equipped to deal with the challenges you face. However, trying to fit yourself into any kind of box will never be enjoyable, and you're going to have to do a little bit of soul searching to find your most authentic self. That's right, not every single outfit needs to be all black and white.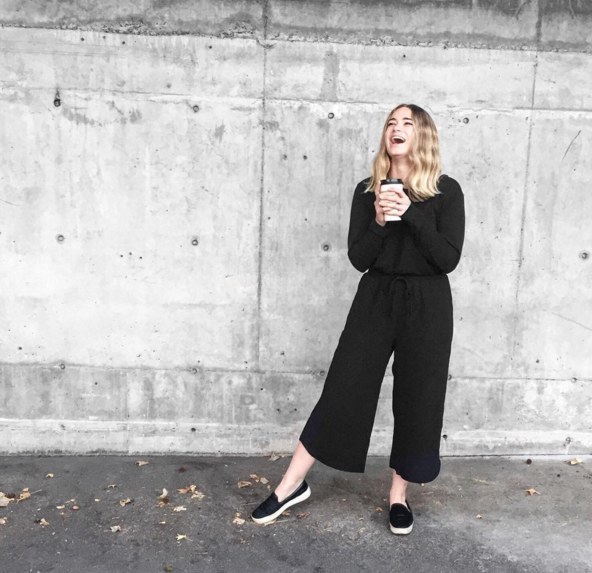 You are Karis in her most evolved state. At this point in your life, you are in many ways a combination of all your past personas. You've spent years discovering what you like and don't like in every aspect of your life: fashion, work, school, romantic partners, etc. Your style is a mix of many things, and you wear what you like whether its a sleek minimalist ensemble or underwear as outerwear topped off with a leather choker. However, while you are in some ways the most calm and sure of yourself that you have ever been, you're also extremely anxious about the future ahead of you. What kind of career will you have? Where will you live? Which relationships will you carry into the future? Who knows. What you do know is that you'll be able to deal with whatever hand you're dealt because you're a bad bitch.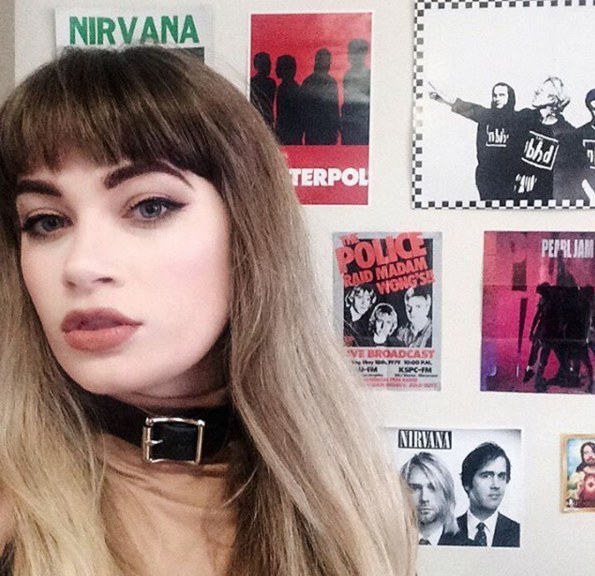 This post was created by a member of BuzzFeed Community, where anyone can post awesome lists and creations.
Learn more
or
post your buzz!