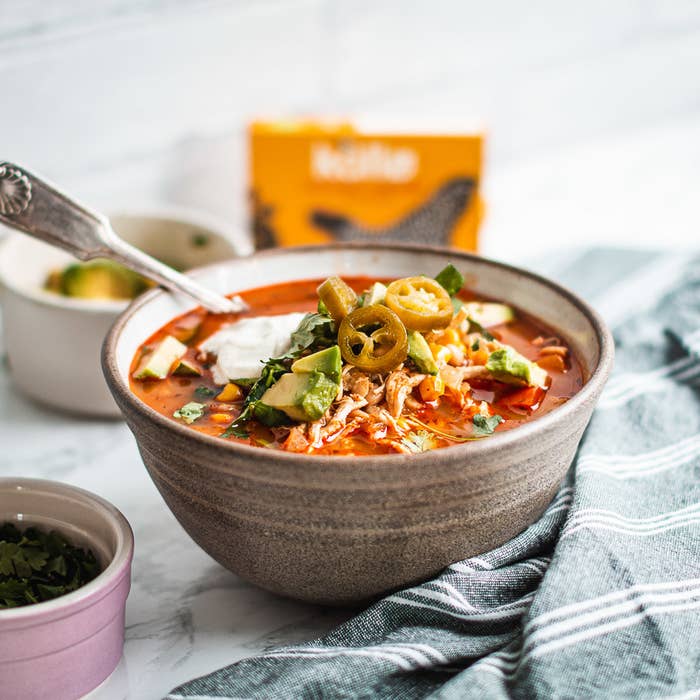 Ingredients
2 Kallo Organic Chicken Stock Cubes
4 tablespoons olive oil
2 chicken breasts
1 onion, diced
1 garlic, finely chopped
1 red pepper, diced
1 teaspoon smoked paprika
1 teaspoon dried oregano
2 teaspoons chilli powder
1 teaspoon cumin
1 courgette, cubed
350g butternut squash, peeled & cubed
240g white kidney beans
120g sweet corn
To serve
Sour cream
Avocados, chopped
Tomatoes, chopped
Tortilla chips
Jalapeños, sliced
Preparations
1. Preheat the oven to 190ºC.
2. Crumble a Kallo Organic Chicken Stock Cube into a bowl and pour 2 tablespoons of olive oil over it. Stir to fully combine.
3. Rub the mix over the chicken breasts and tightly wrap in a foil parcel. Place into a baking tray and cook for 20–25 minutes, or until cooked through.
4. Meanwhile, place a large pot over medium heat and add 2 tablespoons of olive oil. Add the onion, garlic, and red pepper. Stir and cook for 6–8 minutes.
5. Add the spices and cook for 2 minutes.
6. Add the courgette and butternut squash. Cook stirring for a further 2 minutes minutes, then add the beans and gently stir.
7. Add 1 litre of water and the remaining Kallo Organic Chicken Stock Cube. Stir and simmer for 10 minutes, or until the butternut squash is tender.
8. Once the chicken is cooked, remove from the oven and shred using two forks.
9. Add chicken to the chilli along with the sweet corn. Stir and bring to a simmer.
10. Cook for a further 5 minutes.
11. Season to taste.
12. Serve with all your favourite chilli toppings and enjoy!