1.
A facial essence toner for dry and combination skin types. Reviewers say that it absorbs quickly into the skin and is a great base when layering products. Don't miss out on all this hydrating goodness — especially if you want to take your skin from dull to radiant!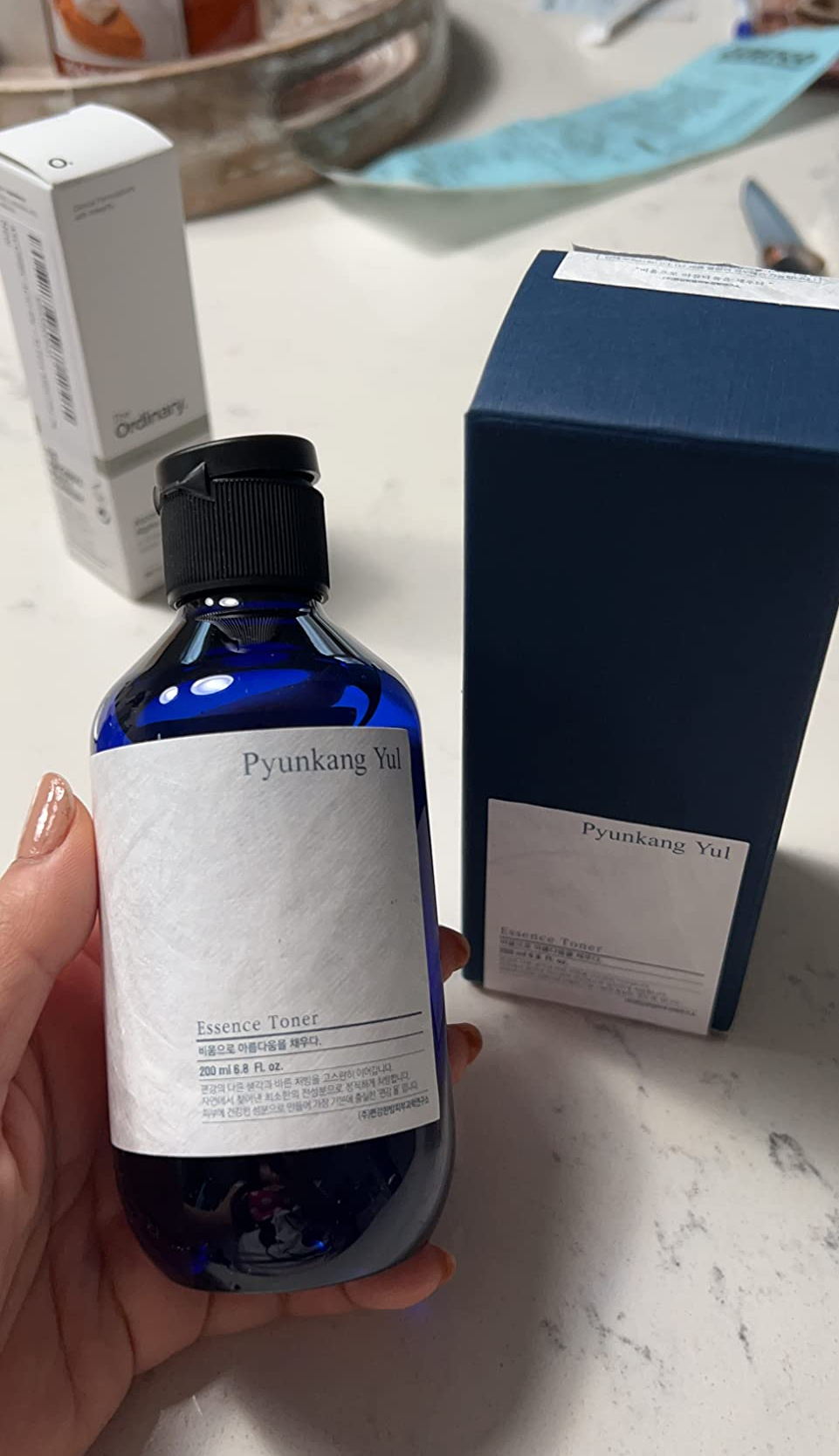 Promising reviews: "I've had hormonal acne since I was 13, I'm 20 now. I've tried dozens of products and I'm now just trying out K-beauty. I have never noticed such a difference in my skin! This product made my skin look so much clearer and healthier and I've only been using it for a week!" —Heather
"It's moisturizing, not exfoliating so it's perfect for the seven skins method (putting toner on seven times). I've been using this product for about a week and I have seen a change in my skin. The texture is like a thick water. My skin is smoother and it looks dewier and healthier. I see a really nice glow that I don't think I had before. I put this toner on between every skin care step that comes after exfoliating or cleansing. This is among the many many products that I've tried that I will be purchasing again. Highly recommend!" —Tina Tse

Get it from Amazon for $11.99+ (available in three sizes and a mist).
2.
Hyaluronic Acid Serum that'll help reduce the appearance of wrinkles and pores, clear up acne, prevent breakouts, and more. It's made with vitamin C, hyaluronic acid, ferulic acid, vitamin E, citrus stem cells, centella, and aloe. If you've been looking for a product to help you achieve radiant, youthful-looking skin, click add to cart right now!

Promising review: "This product has done wonders on my skin. My problem areas are my cheeks and forehead. They started clearing up immediately after starting this product. I use it in the morning and night and it is very lightweight and moisturizing. Definitely recommend." —Maya

Get it from Amazon for $20.
3.
A low pH gel cleanser to help maintain an optimal pH level for your skin by protecting it from irritants. It's made with BHA and tea tree oil, and transforms from a gel to a foam texture. This gentle cleanser is a perfect addition to your day and night skincare routine.

Promising review: "Love, love, love this cleanser. It works amazing with the other products I use daily (the Ordinary's Niancimiade serum and HA+ moisturizer) and it isn't harsh on my skin at all. I have sensitivities + allergies to common ingredients in skin products while also having oily/combo skin so I needed something light but effective. This cleanser hits the mark. Run, don't walk, to give this a try. And remember, everyone - get the product foamy in your hands, then apply it to your skin." —heckaroni

Get it from Amazon for $11.98.
4.
A multi-oil balm cleanser that is formulated to remove makeup, excess oil, and residue in your pores. When you apply the solid cleanser, it melts into an oily consistency and rinses off easily with water. This game-changing product is what you've been scrolling and clicking all over the internet to find.

Promising review: "I was worried about my skin having an oily residue after using it – not at all! It is soothing and leaves my skin feeling clean and soft. I especially love that I don't have to wet my hands first. You use the enclosed spatula to scoop it out and then melt in your hands to apply to face. When you rinse it off, it comes off clean and residue free. My new go to face cleanser!" —DAF
Get it from Amazon for $16.87+ (available in two formulas).
5.
A hydrating facial cream to provide a moisture barrier for your face. It's hypoallergenic and uses shea butter to hydrate and nourish your delicate skin. Just give yourself a few days to notice a difference in your face's appearance and texture — you'll thank me later. 
Promising review: "If you're trying to get glowy, dewy, glass skin, this is for you!!! Ever since I started using this, I've been getting more compliments on my skin than ever. Of course, the products you use underneath matter as well, this is just a great finishing touch that keeps your skin hydrated and glowing. My skin feels amazing and moisturized all day, which is incredibly necessary in the winter!" —marissa

Get it from Amazon for $14.50.
6.
A calming gel to slather on any irritated red patches. It'll hydrate all day long and is made with botanical ingredients such as centella asiatica leaf water, tea tree extracts, niacinamide, and adenosine. This fragrance-free, hypoallergenic gel might be your next skin-soothing staple.

Promising review: "I have very sensitive acne prone skin and this moisturizer has worked wonders for my skin! It is very soothing and moisturizing and it gives my skin a blurred effect almost like a filter. I use this at night along with the CosRx snail mucin essence and I wake up with the most beautiful blurred glass skin. I have repurchased this product so many times and will continue to buy it!!" —Lauren A.
Get it from Amazon for $14.99.

7.
A bottle of rice water face wash that'll effortlessly remove stubborn makeup, sunscreen, lotions, or whatever you put on your face. With ingredients such as rice water, rice bran, and jojoba oil, you'll have bright and nourished skin in no time. 
Promising review: "I've tried several first step oil cleansers over the last several years and this is my favorite. Removes waterproof mascara and sunblock so easily. Great texture, turns to "milk" with just a little water and washes off beautifully. Does not over strip skin." —Christie
Get it from Amazon for $15.
8.
A super-cute Etude House hair band so you can follow your skincare routine or apply makeup without your bangs disturbing the process.
Promising review: "IM SO HAPPY WITH THIS HEADBAND!!! I'm new to the skin care game and I've been trying to make myself get into a regimen. But I have really long hair and I hate tying it up because of the creasing and my other headbands fall down/don't hold my hair back/start to hurt after a while (the workout headbands especially don't hold back my bangs because they are essentially one pice of rubber band). This headband is cheap, cute, stays in place, doesn't damage your hair, is thick enough to keep bangs/long hair out of your face and DOESN'T HURT ... like literally one of the best things I have bought from Amazon. I use it all the time now when I'm at home: studying, chilling, etc. That's all she wrote so if you are on the fence I HIGHLY RECOMMEND." —Taylor
Get it from Amazon for $5.40.
9.
A pack of five Mediheal Tea Tree sheet masks to balance and clarify your skin in as little as 15 minutes. Each sheet includes herbal extracts such as willow bark, rosemary, tea tree oil, chamomile, and Asiatic pennywort (to calm redness). With these masks, you'll never have to set an alarm because the logo will become more visible when your treatment is complete.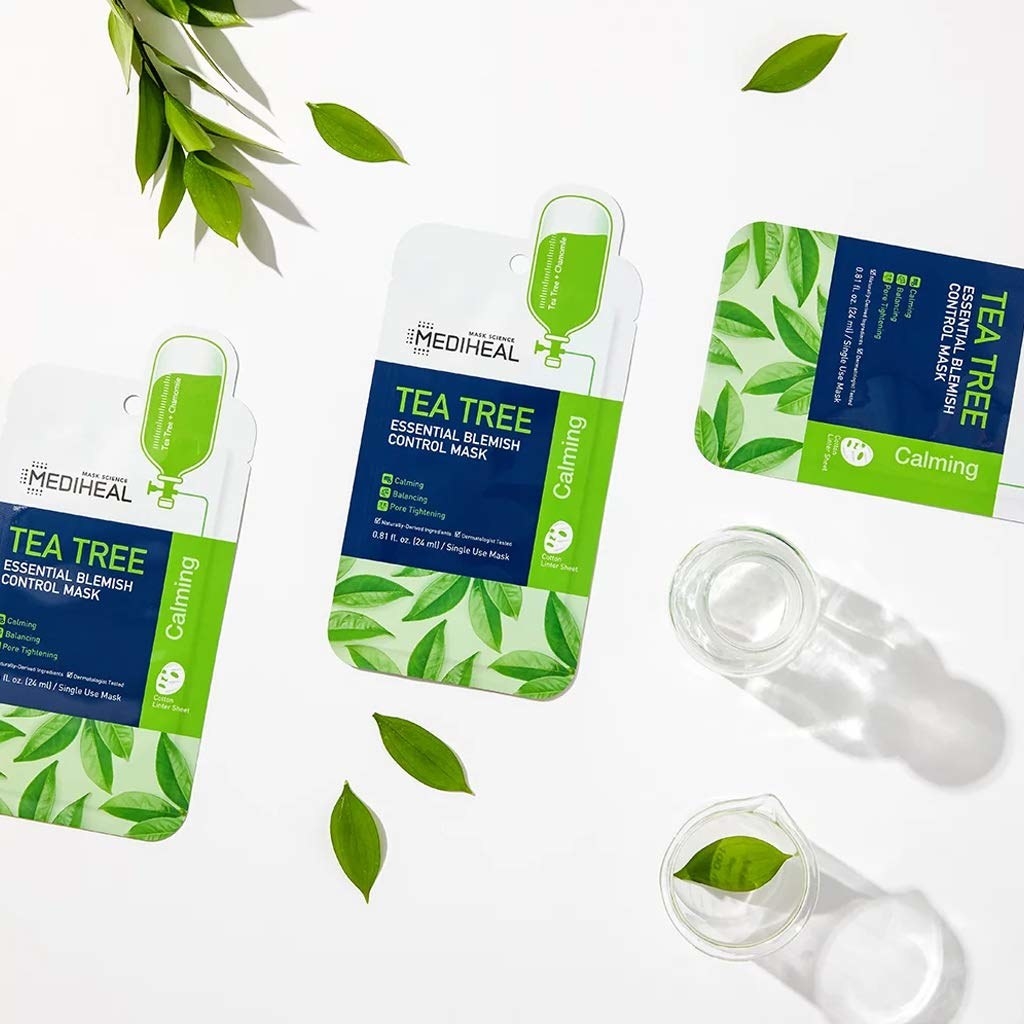 Promising review: "I love these masks! I have had a lifelong battle of fighting acne and combination skin. Some spots are super oily and others are super dry. Using this mask 2–3 times a week has improved my overall appearance and when I do have a breakout, it's nowhere near as bad." —Miranda
Get a five-pack from Amazon for $9.95.
10.
A tube of Etude House Sunprise Sun Milk with SPF 50+ — because are you truly taking care of your skin, if you don't wear sunscreen? It contains 20 plant-based ingredients (sunflower seed oil, baobab seed oil, cactus pear extract, aloe vera leaf extract, and Barbados cherry extract, just to name a few). This matte, mild sunscreen is great for anyone with sensitive and oily skin types.
Because this is matte, reviewers note to make sure you moisturize well before using and work in small sections because the sunscreen dries quickly! They also note that this can leave a slight white cast on darker skin — to remedy that, use moisturizer beforehand and rub the sunscreen in well. Shake before using.
Promising review: "This is a wonderful sun cream, and I recommend it to anyone and everyone that uses SPF daily. It wears exceptionally well under make up. It is beautiful on its own. It has adequate sun protection. You need to shake the product thoroughly before applying and layers well over other skin care. I absolutely love this sunscreen. It saves me a lot of money because I was using other really expensive sunscreens and this one performs just as well and is super lightweight. It has some light moisture to it. This would be great by itself for someone who is oily. As I am combination to dry, I always put it over serums and creams. This does not irritate my skin in any way. I highly recommend!" —Amazon Customer
Get it from Amazon for $12.
11.
CosRx Acne Pimple Master Patches that'll reduce the appearance of pimples. Now, if a zit makes a surprise visit, you won't be stressing about how to get rid of it. Just slap on a patch and call it a day.
Promising review: "This product is amazing! I don't usually suffer from acne but I have a few pimples pop up, and now I have a surefire way of getting rid of them. Even my BF with terrible acne uses them and it works perfectly. Pop a patch on the night before and the next day the pimple is gone, no more swelling or irritation. The patch is barely visible and you can see it pulling the dirty oils out your face. Once it's done, I see a white mark on the patch. So satisfying. Why don't more people know about this!? It's a life saver!" —Kevari
Get a pack of 24 from Amazon for $9.95 (available in two pack sizes).
12.
A foaming cleanser made to brighten, nourish, and hydrate dry and dull skin. It contains rice water, rice bran, and soap wort to restore and improve your skin texture. Use this when you want a glowing bare face.
Fun fact: Rice water was the most favored traditional beauty treatment among the women in the royal court of the Joseon dynasty! This cleanser is sulfate-free.
Promising review: "Moisturizing and foamy. I have never found anything to compare this to here so I have to send away to Korea for it! My face always feels amazing after using this and I really like the faint scent. My skin is very sensitive. I've had facials and it has burned. I get red splotches even from Neutrogena (which is supposed to be great for sensitive skin). This is the only thing that doesn't irritate me. Added bonus — cleared up blackheads and not one pimple since starting it." —L. Peck
Get it from Amazon for $13+ (available in two sizes).
13.
An Elizavecca Milky Piggy carbonated bubble clay mask for ultimate exfoliation without you having to do any real work! It removes blackheads, exfoliates pores, and detoxes the skin. Just apply on your face, wait for five minutes, enjoy the bubbles, then gently rinse it off.
Check out our full review of Elizavecca Milky Piggy Carbonated Bubble Clay Mask to see what we actually think!
Promising review: "I have very few skincare items I buy more than once. I LOVE this mask. It bubbles up upon application and the tiny bubbles bursting itch and tickle like crazy, but stick out the 10 minutes. The first time I used it, after washing it off you could literally see the junk and oil sitting on top of my skin as it had been pushed to the surface. The next morning my skin glowed. Def will be buying more." —Alice D.
Get it from Amazon for $9.98
14.
A Mizon Good Night White Sleeping Mask because you believe in multi-tasking and this product helps improve your skin tone while you sleep. This cream should be the last step of your skincare routine. It even has a delicate lavender scent to help you sleep.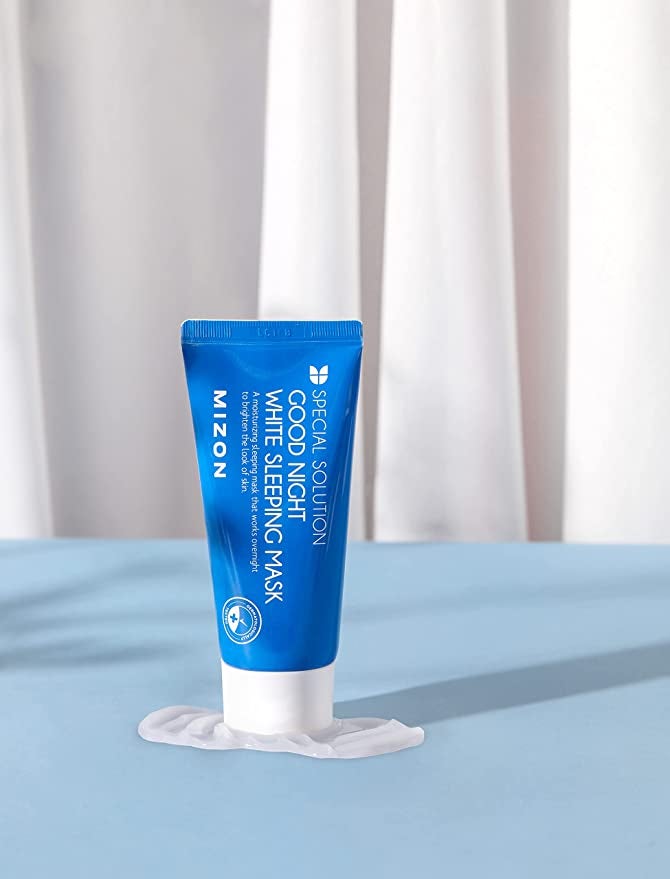 Promising review: "For the price, this product works very well. I see a clear difference in my skin. I wake up with plump, hydrated skin. I have been using it for three weeks. I usually break out from products but this product I have not for the thick layer I slather on. Good brand and recently purchased more from Mizon." —Marcin
Get it from Amazon for $9.
15.
A pack of two exfoliating shower towels — exactly what you need to give your skin a natural glow. Once you start scrubbing, you'll immediately see the dead skin roll off your body.