1.
A pair of lightweight gold earrings that look just like the ones being sold for thousands of dollars by Bottega. These gorgeous accessories will def help them upgrade their outfits and look more put-together for less than $15!

Promising review: "I have seen these trending on social media & knew I wanted them for a wedding I'm attending! They did not disappoint! The hype is SO real!! They don't weigh the ear down in the slightest!! I'm obsessed!!" —Debora C.

Get it from Amazon for $12.99+ (available in 11 colors and three sizes).
2.
The Unofficial Disney Parks Cookbook, because they are OBSESSED with Disney and you want them to have a bit of that magic in their home. This cookbook features over 100 movie-inspired recipes they can enjoy in real life. 
Try recipes such as fresh fruit waffle sandwiches, some carnitas tacos, or even a mangonada smoothie. 
Promising review: "Beautiful hardcover cookbook with so many yummy Disney recipes from the parks! There is lots of Disney foodie history in it, plus recipes that look easy to follow with high quality ingredients. There are fun maps of each of the parks inside where the food is located from which makes it fun. As an avid Disney fan, I have never seen a cookbook like this." —Nicole
Get it from Amazon for $11.99 (also available in a spiral-bound version).

3.
A guitar pick tin that will surely strum the heartstrings of any Beatles fan. This is literally the perfect stocking stuffer for the music lover in your life, especially if they appreciate the classics.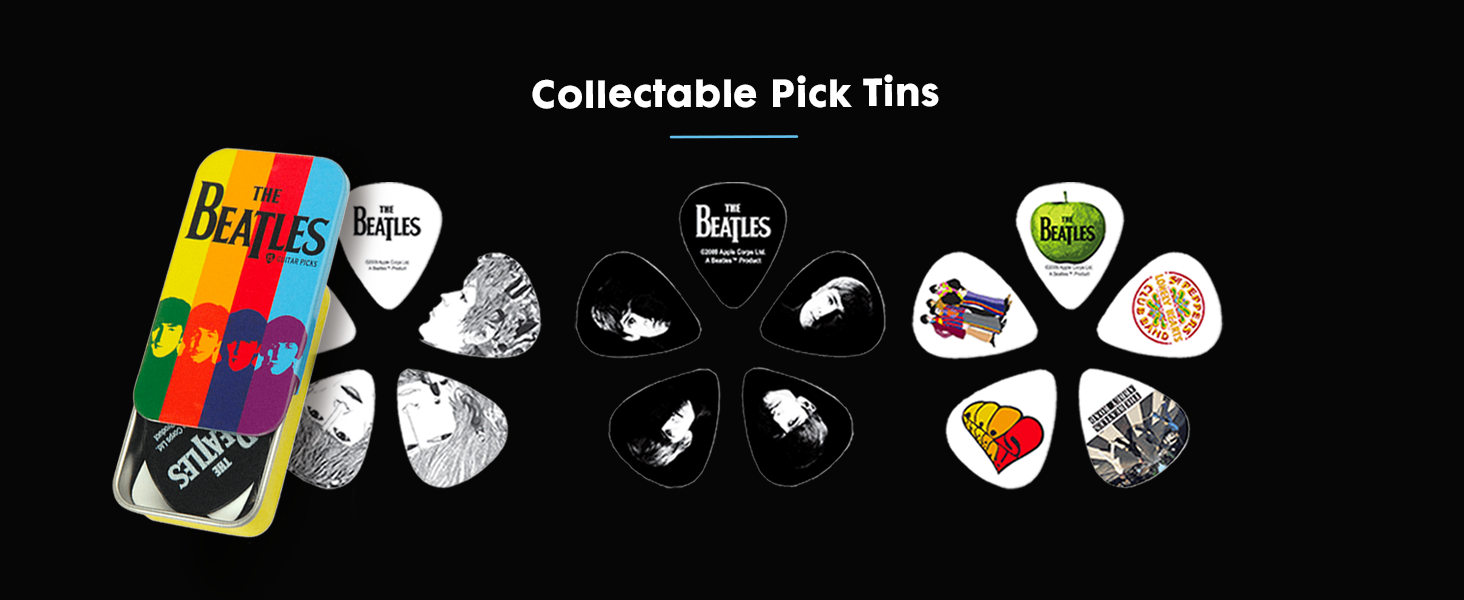 Promising review: "I bought these for our girls to give to my husband as a gift as he is a HUGE Beatles fan for when he plays his guitar. They are the perfect thickness for him, and he even gave a couple to our nephew who also plays guitar who actually has his music on Amazon Prime Music, so, it was great that he could share them, and they were perfect for both of them." —Roberta Garritson 
Get a pack of 15 from Amazon for $9.99+ (available in nine colors and four sizes). 
4.
A copy of Wreck This Journal, an easy way to ignite their creative side and pass the time if they've decided to take a break from social media. This book will literally force them to tap into their imagination with several exercises: sewing a pattern on a page, scribbling on the edge of the pages, coloring outside of the lines, and more!
Promising review: "I seriously love this journal! It is the most fun I've had with any journal or sketchbook and has really stretched my creativity. I bought two so my friend could do one too and she brings it over for our weekly get-togethers. We drink wine and do a page or two and have a blast." —S. Johnson
Get it from Amazon for $9.59 (also available in a spiral-bound option).

5.
A magnet set inspired by the hit television series, The Golden Girls. The box contains 25 magnets, an illustrated backdrop, and a 32-page booklet filled with interesting facts and behind-the-scenes secrets. They'll smile every time they see this sassy friend group.
6.
A butterfly puddler dish they can place in their garden to enhance its beauty. It's made from recycled glass, and comes with a packet of salt and sand mixture, and instructions. Now they can watch butterflies dwell among their gorgeous bed of flowers — what a breathtaking sight!

HL Sculpture is a small business that is based in California and sells butterfly-feeding accessories, guitar pics, and wine stoppers.
Promising review: "This is a beautiful small art piece for my garden. I am so excited to see the butterflies 🦋 it will attract!" —Sandi K.

Get it from HL Sculpture on Etsy for $32.50.
7.
Harry Potter playing cards your favorite Potterhead will surely love. They can revisit their childhood when they play their favorite card games with nostalgic characters: Harry Potter (duh), Hermione, Albus Dumbledore, Professor Snape, Tom Riddle (IYKYK), and more!
Promising review: "We bought this for our son's birthday as we've introduced him to Harry Potter recently. He loved this set so much he carries it around even when he won't be playing. He'll occasionally pull out the cards for his favorite characters and just admire them. When we actually play with them, they feel like quality cards and I really like their texture. While they have sets for each Hogwarts house, the only difference is the box. The cards within are exactly the same, except for the color of the back of the card. So there's no need to get the other sets, just pick your favorite house unless you're collecting it for the boxes and different back color." —My favorite Things
Get the Gryffindor deck from Amazon for $12.92 (also available in Slytherin, Hufflepuff, and Ravenclaw houses).

Editor's Note: BuzzFeed does not support discriminatory or hateful speech in any form. We stand by the LGBTQ+ community and all fans who found a home in the Harry Potter series and will work to provide a safe space for fans. If you, like us, feel impassioned about trans rights, learn more or donate here.

8.
A Taiyaki double pan for your bestie or family member who loves Japanese culture, or just loves a good snack. They'll enjoy trying different fillings like custard, chocolate, cheese, red bean paste, sweet potato, or whatever their heart desires. Oh and BTW, reviewers recommend using Morinaga hotcake mix for the batter.
Promising review: "Great pan, very nonstick, and easy to clean! Made delicious taiyaki just like I had growing up in Japan!" —Shannon Y Nelson  
Get it from Amazon for $24.99+ (available in two sizes).

9.
A dual-layered initial necklace they can pair with almost any outfit to make it look even more stylish. TBH, they'll probably love how quickly they can turn their favorite loungewear into something an Instagram model would wear.
Promising review: "Can't beat the price for these necklaces! Love the layered look and get many compliments when I am wearing them. Definitely recommend!" —Jennifer Koval
Get it from Amazon for $12.99+ (available in 26 letters and three finishes).

10.
A moon-shaped handheld light — probably one of the coolest gifts ever. It's a hyper-realistic moon inspired by images from NASA. I highly doubt anyone can get them a better gift than a replica of the thing that affects the tides, IJS.
Promising review: "These moons charge up fast with a cord (with a cool 'blue moon' color when charging) and then once charged, they are completely free from cords or any connection dependence. They light up with a very detailed real moon surface design in white or yellow, and it will totally mesmerize you. You can literally "hold the whole moon in your hand" and use it as a cordless and battery-free lamp, a nightlight, a lantern or quasi-candle in the dark. The wood stand is sleek and super easy to assemble, and is a perfect accent to any room décor. These moons are the best gift for friends, family, co-workers, kids, pets and spouses. My #1 purchase pick this year!" —Amazon Customer
Get it from Amazon for $13.59+ (available in four sizes and three styles).
11.
A cubic zirconia ring cleverly designed to distract them from anxiety-inducing situations, while looking stylish. It can be worn with any outfit and is great for discreet fidgeting.
Promising review: "I LOVE these rings. They're gorgeous, they sparkle beautifully in the sunlight, they fit well, and the spinning is so satisfying. It spins very smoothly and can go on for quite a while. I've been wearing the silver one daily for almost two months, and there's no sign of fading either on the metal or in the rhinestones. It looks as new as the day I bought it. I used to carry a fidget cube around, but this is much more discreet, prettier, and since I can just wear it all day I'm never stuck without something to play with. I highly recommend!" —Michelle
Get it from Amazon for $9.99+ (available in eight colors and a pack of two).

12.
Stainless-steel cuff links personalized with their initials that will make them feel special, and cover up the fact that you almost forgot to get them a gift.
Promising review: "My mom wanted to get my brother cuff links for Christmas. We looked everywhere for initial or monogrammed. She is 95 and on a budget but wanted something nice. These were perfect. Well-made, quality material. They were both pleased with the cuff links" —Jean A. Kirby
Get them from Amazon for $9.99 (available in all 26 letters).

13.
A galaxy projector if they are afraid of the dark and always need a light on. They can choose from several light settings that will make them feel like they're seeing a starry night, the aurora borealis, or the cosmos. It also comes with a Bluetooth speaker and a white noise machine. Gift them an experience that is ~out of this world~.
It comes with 16 colors and eight soothing sounds to choose from.
Promising review: "I liked this so much that I actually bought it again as a gift for a friend! I didn't know that I needed this until I bought it for myself because I had been stressed out and overworked lately, and I could not relax. Fortunately, after turning on the auroras at night, my bedroom instantly becomes a sacred space, and I can unwind quite easily. It is certainly a 5-star product because the price is relatively low. It's excellent value, if it means getting good rest each night." —Si-Uppercut
Get it from Amazon for $39.99+ (available in six styles).