Kahlúa White Russian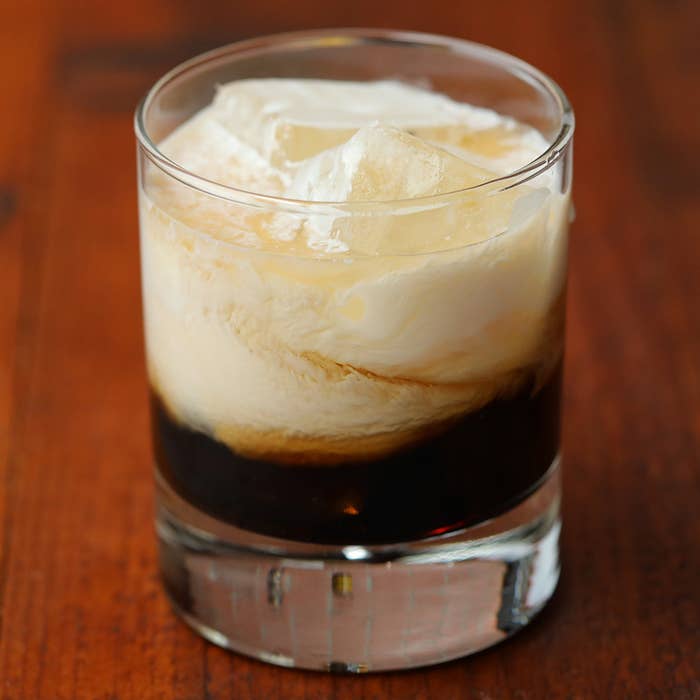 INGREDIENTS
Servings: 1
1 ounce Kahlúa
1 ounce Absolut Vodka
1 ounce heavy cream
PREPARATION
1. Fill a rocks glass with ice cubes.
2. Add Kahlúa and vodka.
3. Finish with the cream by pouring it over a spoon.
COFFEE CREAM BRITTLE
Servings: 6
INGREDIENTS
1½ cups sugar
¾ cup corn syrup (equal parts light and dark)
1 cup coffee
½ cup whole coffee beans, divided
1 tablespoon butter
½ tablespoon baking soda
1 teaspoon vanilla extract
2 tablespoons heavy cream
Flaky sea salt
PREPARATION
1. Grease a large cookie sheet covered in parchment.
2. In a saucepan, combine sugar, corn syrup, and coffee. Bring to a boil, stirring occasionally, and cook until the thermometer reaches 260ºF, continuing to stir. When temperature reaches 260ºF, stir in ¼ cup coffee beans. Keep cooking until mixture reaches 300ºF, then take pan off the heat.
3. Immediately add the butter, baking soda, vanilla and heavy cream. Stir well and quickly pour onto the cookie sheet and spread thinly using a spatula. Sprinkle the brittle with the remaining ¼ cup of coffee beans and a few large pinches of flaky sea salt.
4. Allow brittle to harden. Once the candy is set, break the brittle into pieces.